Bathroom Design Trends From Laufen and Roca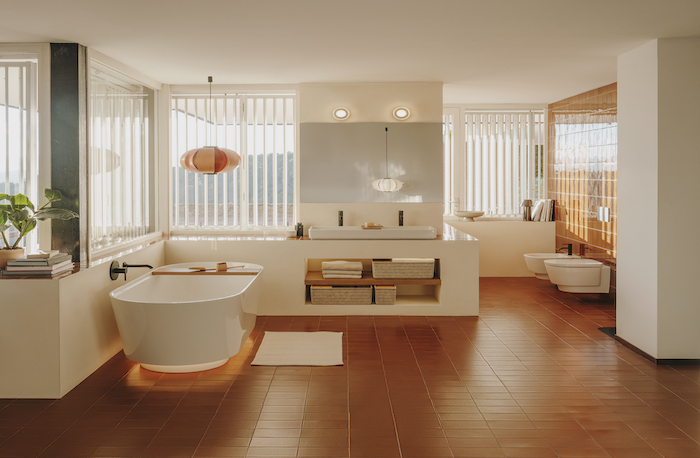 July 29, 2023
Bathroom Design Trends From Laufen and Roca
What are the current bathroom design trends? The teams at Roca and Laufen have drawn upon their expertise to make a few predictions.
Inevitably, some trends have been growing for a while – after all, we're talking bathrooms, not fast fashion. But the market and public tastes are always shifting, so the next 12 months are likely to bring as much change as the previous year.
Here are five key bathroom design trends for the next year: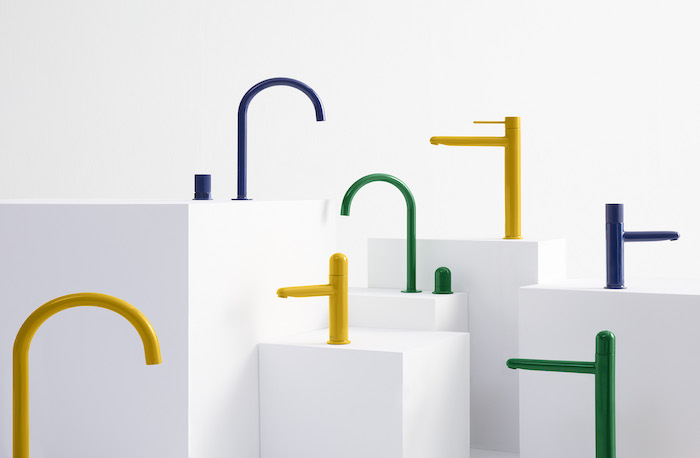 1. Playful Design
For a long time, the focus for bathrooms has been on functional designs that double as spa-like spaces, perfect for relaxation and rejuvenation after a long day. However, there is now an emerging trend of adding more fun to the bathroom. Playful designs that bring a touch of whimsy and personality to the space.
One way to add a playful flourish is with bold color. Enter Nu (above), the latest tap collection from Roca and designed by Inma Bermúdez and Moritz Krefter of Studio Inma Bermúdez, which comes in vibrant shades of mint green, cobalt blue, honey yellow, titanium black and glossy white. Inspired by the French word for 'nude', Nu features a minimalist design that eliminates unnecessary elements, leaving only what is essential. The result is a slender tap body with a diameter of 35mm.
Nu's playful nature is not only reflected in its colorful design, but also in its variety of handle options: pin, dome, and stripes. Pin has a thin, elongated handle that gives it a bird-like appearance, as though it is ready to take flight. Dome features a rounded, organic form, while the stripes design is inspired by the grooved knobs found on old stereos.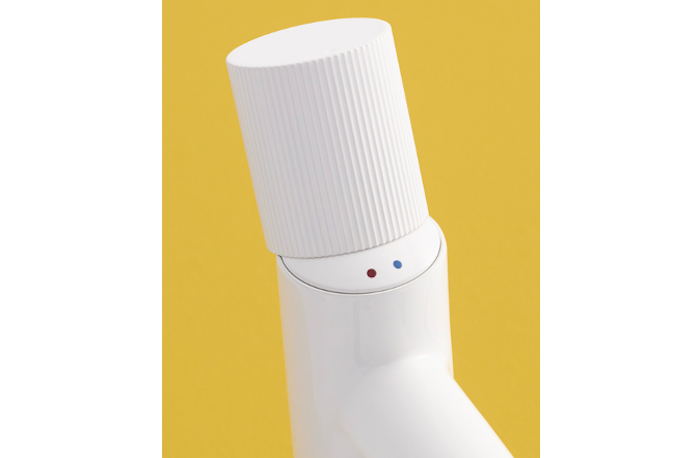 Another happy detail is that the Nu taps appear to smile at users! The red and blue dots to indicate hot and cold water are discreetly located under the handles. When the handle is tipped back to turn the tap on, it creates a smiling face (above), bringing a splash of joy to everyday ablutions.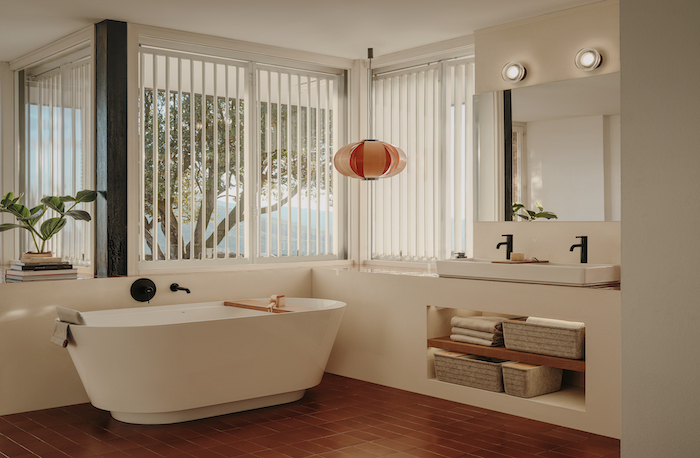 2. Sustainable Choices
With the increasing population and climate change, it's no surprise that the bathroom industry has stepped up with solutions to save water. These range from low-flow showerheads and dual-flush toilets to taps with aerators that mix air with water to maintain water pressure while reducing water usage.
While every small step towards water conservation in the bathroom can lead to significant changes in the long run, the Roca Group is eager to take bigger strides. One such stride is Roca Cold Start, which produces cold water by default when taps are turned on. Hot water is only introduced when the handle is turned to the left, engaging the boiler. This makes Cold Start an energy-saving option.
Cold Start is just one aspect of the sustainability story. The Roca Group has developed a PVD coating for on-trend finishes such as brushed platinum and titanium black. This coating is available on both Roca and Laufen brassware, and it is anti-corrosive, resistant to limescale, scratches, and cleaning products. As a result, these finishes last longer and reduce waste.
Another example of sustainability is Roca's new Tura collection (above), which prioritizes sustainability by using FSC-certified wood for the furniture and bath tray, 100% natural ceramic for the sanitaryware, recycled outdoor fabric for the height-adjustable bath headrest, and recycled cork for the lid of the storage boxes.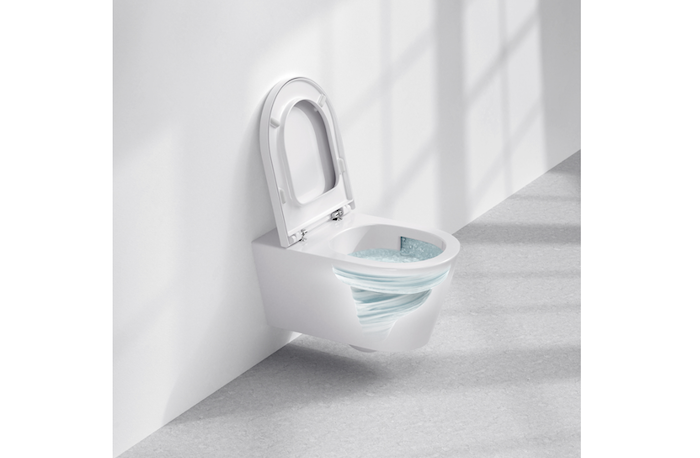 3. Making Daily Life Easier
Our bathrooms are expected to meet high hygiene standards, especially in this post-COVID world. However, we don't want to spend hours cleaning them during our precious downtime. To address this, Laufen's new Silent Flush technology (above) efficiently removes waste from the bowl with vortex flushing, using less water than traditional flushing systems. It is also ideal for night-time visits, as it is virtually silent. Additionally, Laufen's next-generation LCC Active dirt-repelling coating offers antiviral and antibacterial properties, killing 99.9% of germs within 24 hours and making it easier to wash away dirt with water.
Roca's In-Wash Insignia shower toilet has several features that make it a hygienic choice. Firstly, the seat opens and closes automatically, so is hygienically hands-free. It also has a self-cleaning nozzle with UV light that eliminates 99.99% of bacteria, a carbon filter that removes odors, and a descaling function to prevent limescale build-up. In addition to being easy to clean, it is also very convenient. You can program daily functions, adjust operating modes via remote control or the In-Wash Insignia mobile app, and personalize washing and drying functions for the ultimate WC experience.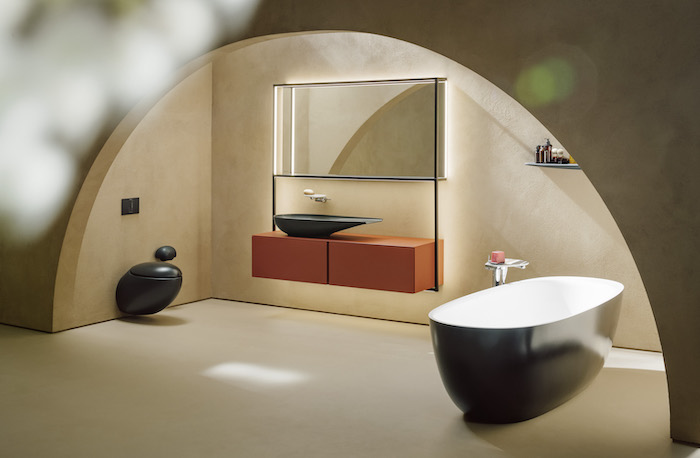 4. High-Performance Materials
The bathroom is one of the most frequently used rooms in the house, so it requires high-performance materials that can withstand constant use. Laufen is well-known for pushing the boundaries of what's possible with materials, resulting in Saphirkeramik. This high-performance material is strong, flexible, and allows for the creation of very thin walls, unlike the ceramic used for traditional sanitaryware.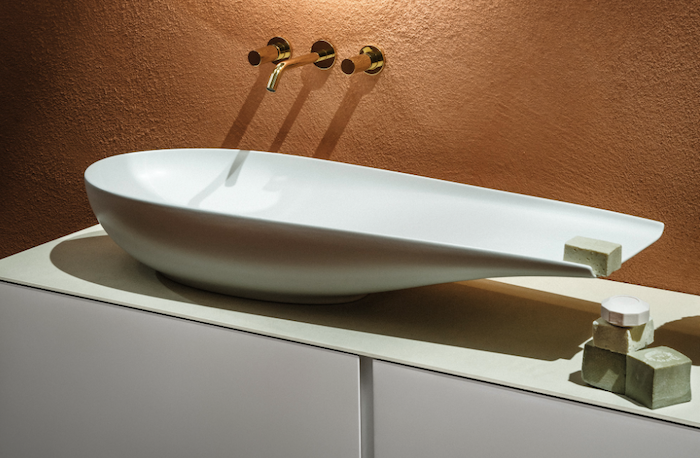 To put Saphirkeramik to the test, Laufen asked architect Stefano Giovannoni to revisit and evolve his ILBAGNOALESSI collection (above) using the high-performance material. ILBAGNOALESSI is one of Laufen's most successful and long-running collections. Even after 20 years, its pieces remain relevant, with a sculptural aesthetic that redefined bathroom design. As predicted, Saphirkeramik added a new, lighter dimension. For example, the new version of the Tuna washbasin (above) has its long, organic shape further accentuated by Saphirkeramik, creating an elegant piece that appears weightless.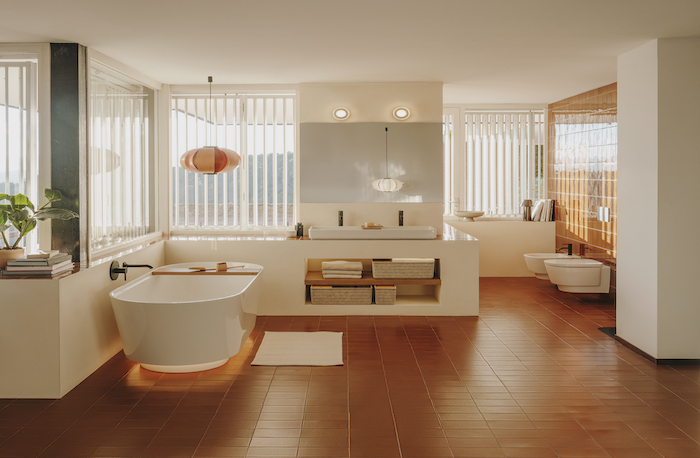 5. Earthy Hues
Describing earthy colors in the bathroom as a current trend feels misguided, as they have been popular for several years now. However, it would be remiss to ignore their ongoing popularity and their ability to create a calming and relaxing vibe. These colors are also a practical choice, as they can be used as the main color or as an accent, and they pair well with other colors, making it easy to create a cohesive design.
An example is Tura furniture (above), created by the Catalan designer Andreu Carulla for Roca. The collection comprises slatted shelves, waterproof felt storage boxes and drawers, available in matte white, light noble grey and light terracotta, a color that evokes the soft tones typical of the Mediterranean landscape.
To recap, the five bathroom design trends to watch are:
Playful Design
Sustainable Choices
Making Daily Life Easier
High-Performance Materials
Earthy Hues