Cambria Releases 2019 Issue of Style Magazine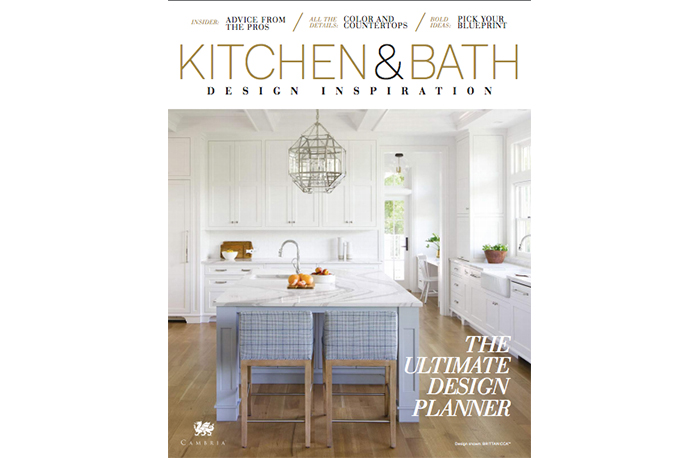 April 3, 2019
Cambria is expanding its editorial platform this spring with the release of its first-ever workbook supplement, Kitchen & Bath Design Inspiration: The Ultimate Design Planner. The Planner will be bound within Cambria Style, the brand's award-winning luxury home and lifestyle magazine, and will also be available to consumers for free download online at CambriaUSA.com.
Part inspirational guide and part project checklist, the Planner is a comprehensive guide to help consumers navigate the complex process of renovating the approximately 24 million kitchens and baths remodeled each year in the U.S. (a $147.3 billion industry for products in this sector that has seen double-digit growth since 2015).
At 28 pages, the new supplement is a useful tool for consumers and Cambria retailers, illustrating top kitchen and bath design trends, including features on popular styles and product roundups of fashionable accents and accessories. It delves into the most functional and popular kitchen floor plans, providing tips for planning the perfect layout, selecting the right materials, colors and finishes, and includes designs from Cambria's expansive palette in both elegant neutrals and bold patterns.
Focused on key tips from top experts, the Planner provides invaluable takeaways – both creative and practical – including the following:
Find Your Look: three on-trend styles to inspire your own projects.
California Dreaming: modern farmhouse vibes that blend with relaxed West Coast style.
Hamptons Classic: a picture-perfect coastal retreat that is light, airy and cozy.
Into the Woods: combining industrial materials and an urban aesthetic to blur the lines of interior and exterior.
Know Your Pro: how to choose and work with a professional to take the guesswork out of kitchen and bath design.
Draft Picks: five layouts for designing your dream kitchen and which one is best for you.
Splurge-Worthy Investments: the five areas of your renovation where you shouldn't cut corner on spending and why.
The 3Cs Buying Guide: color, cabinets, and countertops — the magical trifecta to incorporate color, storage and durability into your kitchen.
Surface Area: select a surface that showcases your personality, making your house a home.
Midnight Blacks: ranging from inky blacks and subtle soft-gray hues to striking veins and splashes of gold.
Organic Neutrals: best used to create a classic look with understated earthy hues ranging from simple white to regal browns.
Amazing Grays: offering sophistication and versatility, these gray shades offer a range of airy translucence to hazy opaque designs.
Edgy Movement: make a statement with veins of charcoal, gold, gray and black.
Saturated: rich and vibrant, these color-ways are guaranteed to make a statement.
Bright Ideas: ways to incorporate your favorite designs throughout the home beyond traditional countertops.
Kitchen & Bath Design Inspiration: The Ultimate Design Planner will be available as a pullout bonus section within the Summer 2019 issue of Cambria Style magazine on newsstands May 7 through Hudson News and select Barnes & Noble stores nationwide, online on April 17 and available as well in private FBOs, hotels and through a targeted subscription base. A digital version of the Planner will also be available for free download at CambriaUSA.com/Planner.