Choosing the Right Flooring for a Project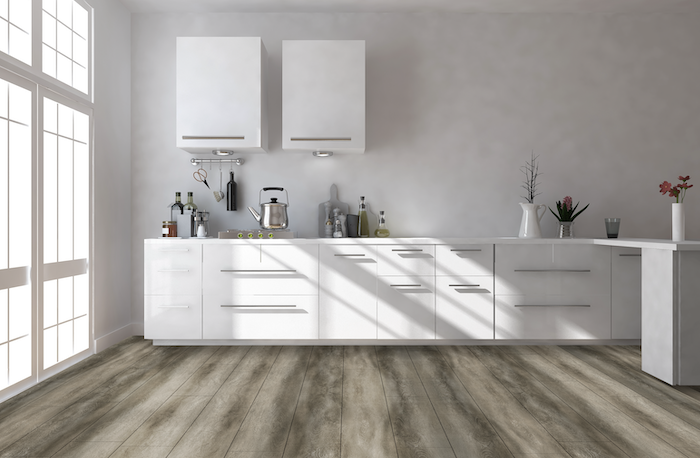 August 17, 2023
The decoration of one's home is an important part of creating its identity, but many homeowners fail to realize the role that their floor plays in their home's design. Floors serve an important functional purpose, and while it is necessary to consider factors that may influence their function – positively or negatively – it can be difficult to navigate the many options available and what they may signify for a home's aesthetics.
As a professional designer, a key component of your job is to find flooring options that work with the unique styles of your customers' homes.
The Classic Look of Hardwood
Hardwood is one of the most traditional materials for flooring, and for those seeking a more traditional, elegant look for their floors, wide-plank hardwood is an excellent option. Although it is important to consider certain factors when considering wide plank designs – such as its more expensive price point and increased susceptibility to warping in humid climates and environments – this style offers some unique benefits when it comes to a home's look and even its appraisal value.
While traditional hardwood flooring tends to be glossy, some designers have begun to explore hardwood with other looks, such as matte finishes. Matte-finished hardwood is finished with a sealant with a low sheen, allowing one to see the detail in the grain and texture of the wood more easily and evidently. For those who look to emphasize the character of their wood floor, there is no better way to accentuate its unique properties.
Some companies are beginning to emphasize sustainable flooring options. By manufacturing with sustainably harvested, recycled or reclaimed surfaces, these brands can substantially reduce their carbon footprint. As technology continues to improve, companies can create floors that have the same durability as traditional flooring options, without as much environmental impact.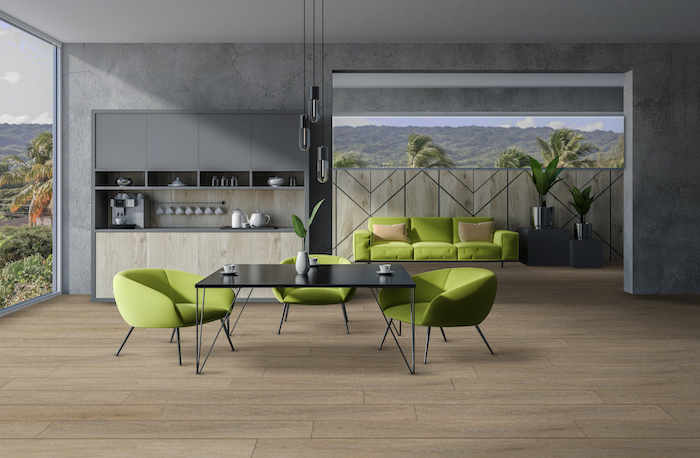 Water-Resistant Flooring Options That Look Great
For clients concerned about their wood floors getting damaged in areas of high humidity or precipitation, there are water-resistant hardwood options. Some woods, such as oak, western red cedar, cherry and maple – as well as heat-treated woods – tend to be more resistant to the warping that can occur in hardwood floors because of moisture. For projects in these types of climates, it is likely better to find another type of flooring that is better suited to the environment.
Engineered hardwood provides some advantages of hardwood without some of the downsides. Because engineered hardwood has an underlayment of plywood placed in opposite directions to the grain of the hardwood, it is less prone to warping while still offering the same look as true hardwood.
For homeowners who wish to avoid the weaknesses of wood altogether but still wish to have its desirable look, there is the option of wood-finished concrete. With this type, a concrete floor is installed, then cut, finished and stained to look like wood. This style of creates a smooth surface with a three-dimensional look, as if it had been stamped.
Another non-wood option for flooring is wood-look tile. Because patterned tiles come in so many varieties, there is likely to be a design to fit the needs and style of any room. Additionally, as a durable, versatile design option, patterned tiles are an excellent choice for homeowners looking to decorate their bathrooms and kitchens.
Luxury vinyl flooring is gaining in popularity. This is designed to emulate the look of natural materials, such as hardwood or tile, while offering easy maintenance and installation. The durability, affordability and versatility of LVT have made it a preferred choice for many clients looking to maintain an elegant look without the wear and maintenance headaches that traditionally "luxurious" flooring options tend to cause.
Solutions to Fit the Unique Style of Any Home
These days, customers may even seek out designers who will work with them to create a custom and personalized flooring option that meets their unique needs, both functionally and aesthetically. From custom patterns, inlays and designs to treatments and finishes that allow the floor to be more durable or water-resistant, designers can easily find solutions that meets their clients' needs.
Finding the solution that is right for your clients' needs involves not only understanding the stylistic advantages (and disadvantages) of each flooring type but also their functional pros and cons. Whether you choose hardwood or another option, such as engineered hardwood, luxury vinyl flooring or patterned tiles, work with clients to find a solution that meets their home's unique needs and style.
—By Rotem Eylor, CEO of Republic Floor