Color My World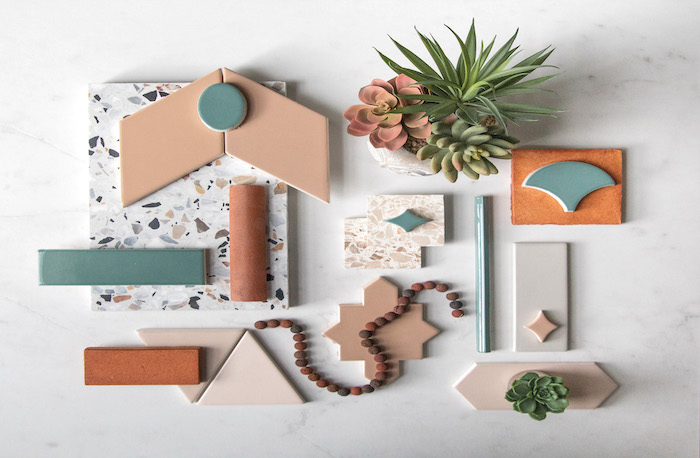 February 28, 2022
Almost two years later, and we are still navigating our way through a global pandemic. One positive that has come out of our collective experience is the desire to persevere and move forward, which I think we can say is a true movement these days.
And one of the ways in which that is manifesting itself is through our ever-changing color choices. "Certainly, there are fads that flash up and capture the attention of the consumer, but color preferences are more of an evolution,"said Peggy Van Allen, president of the Color Marketing Group. "We have been spending more time in our spaces, and color has become an extremely important component of creating environments that make our home a place where we want to spend time and that provide benefits to our well-being."
When we interviewed the experts for this article, the words they used to describe what consumers are gravitating toward in terms of color in their homes included strength, resilience, comfort, hope, healing, balance, confidence, calming and soothing.
Popular Hues for Homeowners
Overall, there is a desire toward neutral, calming hues for overall spaces with bolder pops of color in smaller elements. Even though they may only be considered baby steps, consumers are looking at more colorful options. These pops of color can be seen in appliances, light fixtures and accent walls, and designers are even experimenting with bolder shades for floors, doors and ceilings.
The consensus is that neutral shades are still in the top spot, but clients desire warmer, earthier tones. According to Van Allen, grays won't go away completely but are shifting from the blue side to a warmer one, and designer Andrea Liston-Jones of Liston Design Build in St. Charles, Mo., says she is seeing a desire for warmer taupe-grays, also known as greige.
"I do think there was a moment where people had fun with bright and bold colors to show personality,"said Santa Monica, Calif.-based designer Breegan Jane, who also commented that she is seeing the use of a lot of green and blue hues lately. "But after a bit of time with all that stimulation, there's a return to a more soothing space. Neutrals are the must-have ingredient for that."
Colors of the Year
Farrow & Ball doesn't choose one winning color annually but rather a palette, and this year's shades represent the need for more simplicity than what we have undergone over the last few years. The paint brand's color curator, Joa Studholme, calls it an eclectic mix of colors to celebrate the new year with warmth and harmony.
The Sherwin-Williams Color of the Year – also part of a broader series of palettes – is Evergreen Fog, a medium-tone green with a silver-gray undertone. According to Sue Wadden, director of color marketing at Sherwin-Williams, the brand's global forecast team decides on the annual Colormix Forecast after months of research.
"Green is the color of nature, revitalization and growth, and our Color of the Year points to a fresh and reimaged version of a nostalgic green," she explained. "If you think of a seedling emerging,it doesn't come out intense – it's subtle. Evergreen Fog helps us to begin again."
Another nod to the popular shade is Olive Sprig, PPG's Color of the Year. It is an elegant yet muted green that emulates a feeling of hope, healing and balance.
"When deciding on our Color of the Year during PPG's annual Global Color Forecasting Workshop, our global color stylists agreed early on that green would be prevalent in 2022 given it symbolizes regrowth and rejuvenation – something we are all craving after sheltering in place and living through the ongoing pandemic," said Ashley McCollum, associate color marketing manager at PPG Paint.
Behr's 2022 choice is Breezeway, a gentle sea-glass green that symbolizes peacefulness. Erika Woelfel, VP of color + creative services for Behr, describes it as a movement away from our pres- ently altered state,and the color team found inspi- ration much closer to home in the great outdoors.
Choosing Your Clients' Palette
Designers have a variety of methods they use to determine the best use of color in their clients' homes. Paula Kennedy of Seattle-based Timeless Kitchen Design and a Certified Architectural Color Specialist assesses such things as where the windows face and how many trees are outside because the landscape reflects on the interior colors inside. She also pays attention to the style of the home, what art the clients collect and the clothes they wear to determine what they gravitate toward.
Liston-Jones creates spaces that seamlessly transition with the rest of the home and visits other rooms her clients love to determine their design inspiration – both in person and online via various platforms. Jane says she attempts to tap into who her clients are and what kind of space they're looking to create.
"I try to encourage them to have fun with color in ways that can easily change, like a bright bold handle, an edgy pillow or artwork," she added. "This way they can continue to rediscover themselves and what they like without the commitment of removing pink tile from their bathroom floor."
For Van Allen, it's all about talking to her clients to see what their instincts reveal. She says she wants to understand from their experience what their gut is telling them. Liston-Jones starts by asking her clients how they want to feel in a space and then chooses color and finishes to accomplish that feeling.
Made in the Shade
There are several benefits to color when used correctly. It can enhance a mood, reduce stress and promote relaxation, and Van Allen agrees that it is an element in the home that can maximize one's sense of well-being.
"Color psychology is something I love to use when I'm designing spaces," added Jane. "I gather inspiration from spas because they are an example of optimal relaxation. I think we can draw a lot from that feeling when it comes to color in our homes."
McCollum says homeowners also desire spaces that promote productivity because of the increase in remote work and learning. She suggests that painting a wall or nook a different color from the rest of the room can transform a space and instantly create boundaries.
According to Wadden, pink, green and yellow color families are inspired by nature and give homeowners a sense of health and growth that encourages positive thinking.
"We tend to associate colors with certain things, such as places we've been and memories, so decorating your client's home according to their associations that bring joy to their life is important to creating a happy space," she explained.
Adding the Personal Touch
Color can also be used to convey a homeowner's personality, and it is refreshing to see them taking more risks these days.
"By adding a favorite color or a color that sparks joy for a client, a designer is highlighting a family's personality," said Liston-Jones."Choices are endless, and I am happy to say that no color is off limits right now; it is truly up to the client and what they love the most. We are seeing people embracing that and using design to express themselves."
Jane admits that in her own discovery of self-identity, there were moments she allowed her true self to show up and applies that when it comes to her clients and choosing their color palette.
"I encourage them to truly connect to who they are, so I'm able to actually see their personality and tastes in those moments and then select a palette that reflects their essence,"she added.
A home's resale value used to be the number one priority when undergoing a kitchen or bath renovation, but consumers are beginning to pay more attention to their own tastes and needs.
"We are seeing a shift in concerns about resale value and the need to remove color when selling a home," said Van Allen. "Tasteful and well-placed color enhances and increases a home's value. Taking priority over the fear of using color is the desire to take some risks to really make it your own personal space for as long as you will be in the home."
The Near Future of Color
Kennedy says she is getting a lot of muted aqua and green requests that will continue this year in the kitchen, while Jane expects an "about face" from creamy whites to darker tones in the black and gray families. Van Allen thinks we will see an increase in color overall in kitchens and less of the "white-out," including blues and greens, as well as medium to light wood tones. On the other hand, Liston-Jones says she is still seeing a lot of classic white in St. Louis.
"White kitchens allow clients to incorporate personality with those fun touches of color and options to easily make changes to update the space over the years," she added."We are seeing white-on-white-on-white kitchens trending out, but not white cabinets with a bold countertop, fun backsplash and a unique light fixture. There are tips and tricks we can do as designers to help clients move away from the 'traditional white kitchen' and bring theirs into the 21st century."
For bathroom, the consensus is all over the map with warm, golden tones; soft blushes; and classic whites and neutrals. Matte black and brushed brass are popular plumbing finishes as we move into 2022.
"The desire for personalization is where the opportunity for color lies," said Van Allen. "Consumers want to use it to improve their state of mind and provide that sense of connection. They want to put a personal stamp on their home and share their tastes. Color can be used dramatically or subtly, and homeowners are embracing its power."