2023 Color Trends: Hues You Can Use
---
---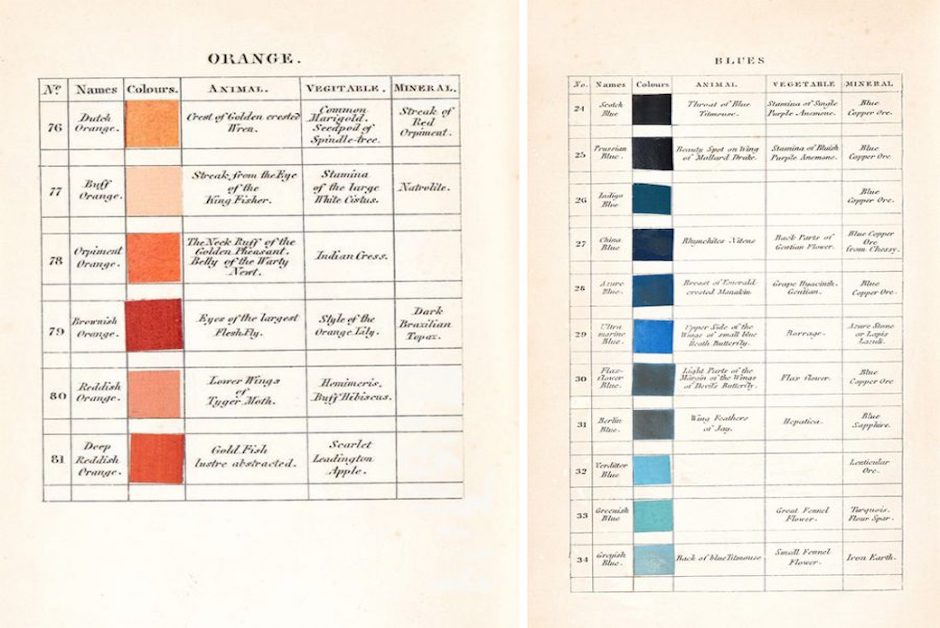 February 27, 2023
The annual hubbub surrounding the colors of the year is once again at its height. In 2023, though, the 2023 color trends forecast has taken a distinctly dimensional turn, in a way that pioneering color theorists could not have anticipated.
Color science and systemization has come a long and interesting way. In the 18th century, German geologist Abraham Gottlob Werner set out to establish a standard reference guide to color for use in the general sciences. Published in 1814, "Werner's Nomenclature of Colours" was a collection of 110 watercolor swatches representing the colors found in the animal, vegetable and mineral kingdoms. Each hue was accompanied by an example of its occurrence in nature; for example, "greyish white" was found on the "inside Quill-feathers of the Kittiwake" (animal), "white Hamburgh grapes" (vegetable) and "granular Limestone" (mineral). The book was used by many scientists, explorers and anthropologists to further their studies, including Charles Darwin during his time on the HMS Beagle.
Now, 204 years later, some industry forces are looking less to flora or fauna for color cues, and more to the metaverse.
Or, as Pantone puts it, the "magentaverse."
"To embody the spirit of Pantone 18-1750 Viva Magenta, our 2023 Color of the Year, we embarked on a new approach of collective creative collaboration," said Laurie Pressman, vice president of the Pantone Color Institute. "Leveraging the power of technology and Pantone's expertise in color to curate a new interpretation of the Pantone Color of the Year, we created the Magentaverse, an unexpected and exciting color universe we look forward to sharing with the world to experience as well."
Bold & Bright
Leaders in the kitchen and bath industries have had strong reactions to the nuanced crimson-red tone and point to their own portfolios to track customers' evolving preferences as well as Viva-compatible products.
Commentary from cabinet shops evidence a range of responses.
"Viva Magenta is a perfect infusion of the moment's energy and vibrancy into color! These unconventional times call for a hue that brings a shift in how people perceive their spaces and the colors within," said Stephanie Pierce, director of design and trends at MasterBrand Cabinets. "As it relates to cabinetry within our homes, color has been on the cusp of a revolution. Although nature-inspired colors spanning an array of blues and greens are becoming comfortably common, we have been watching the dawning of colors full of vibrancy and warmth emerge and are excited to see such a bold statement of color confidence with Pantone's 2023 Color of the Year. Spirited tones like Viva Magenta are not wallflowers but rather the centerpiece and can play a bigger role in the color palette of a room, such as through being showcased as the main cabinetry color, or by being used in cabinetry interiors for that surprise 'wow' factor."
Peter Ollestad, vice president of sales for vanity manufacturer Strasser, concurs that the interest in strong shades is continuing to grow. "Homeowners are ready for color – we're seeing that clearly in the increasing demand for our darker hues and the reception we've received since introducing Lapis Night and our newest finish, NW Green," he said. "Along with their modern appeal, blue and green go so well with the polished brass, polished gold, and champagne fixture families that are popular right now."
The product development manager of Elmwood, Jennifer Paul, takes a more guarded view. "When it comes to cabinetry, the most significant influence on colors, finishes and materials are coming out of Europe and the furniture industry. This influence is what dictates cabinetry trends. Although not directly correlated from what we see with our sales and color requests, many times, the color-of-the-year announcements reaffirm European-inspired designs, along with the colors, finishes and materials we've already introduced at Elmwood."
Reaction from paint and coatings producers, who often develop their own color of the year campaigns, offer some alternative perspectives.
"Part of the fun of forecasting is capturing the continuum of color trends. Last year, we were all about ephemera and nostalgia," Sue Wadden, director of color marketing at Sherwin-Williams, tells KBB. "For 2023, our Origin palette, which is about creative expression and using the brightness of color to reenergize a space, is a continuation of that in a new way. Another example of how we view color trends is the evolution of navy. This is maybe the first time we don't have Naval SW 6244 in a recent Colormix Forecast after it had been in the forecast leading up to and after we named it the 2020 Color of the Year. I pull in our past colors of the year for a few seasons because the colors are still relevant. They have a different position in the ranking but they're still relevant colors."
At Benjamin Moore, Andrea Magno, color marketing and development director, said, "People are ready to bring color back into the home, taking a step outside their color comfort zones. Our Raspberry Blush 2008-30 and the 2023 Color Trends palette empower the use of statement colors that deliver delight and personality, while transforming rooms for incredible results."
Practicing designers also weigh in on the possibilities – and limitations – posed by Viva Magenta.
"The annual color announcements don't always impact my design and cabinetry choices as the colors of the year are often very trendy. Some of the rich tones I feel will work with the cabinetry colors I design, and I do feel a movement towards deeper richer tones with cabinetry like deep blues, greens, charcoal grays and black," said Lisa Brooks, principal of Atlanta-based Lisa Brooks Designs. "In my market, white and lighter stained white oak rift cuts are still very popular choices as they are classic, and clients can interchange colors with furnishings and decor as the trends change."
Gena Kirk, VP of design studio at KB Home, one of the nation's largest homebuilders, sees several avenues for including the latest bright hues in the home. She tells KBB, "Viva Magenta is an exciting color that can serve as great inspiration for home design. I've incorporated a similar hue in some of my newest art pieces and even throw pillows in my living room. It's a color that can be used in any room of the home and is a particularly good fit for bedrooms, living rooms and dining rooms. Because magenta is found in nature, it's bold and daring while still feeling in place paired with neutrals. To try it in your space, consider wallpapers, geometric art or even a large ottoman."
On the Quieter Side
Simultaneously, the IRL-based palette continues to appeal, with nature and neutrals holding strong across wide swaths of the marketplace.
A recent study by Behr Paint Company shows that nearly all U.S. homeowners want their home to be a space where they can completely unwind (92%) and believe that it's important their home feels like an escape from everyday stress (90%). A large majority of homeowners agree that the color white makes them feel positive (77%) and even lowers their stress levels (71%). Three-quarters of homeowners also agree that the color white promotes relaxation (75%), creates a sense of calm (74%) and renewal (74%), and makes them feel focused (75%). 63% of homeowners agree that the color white is mood-boosting.
"As we look to 2023, we understand that comfort will still be a driving force behind design decisions and style statements," said Erika Woelfel, vice president of color and creative services at Behr, which named Blank Canvas as its color of the year. "Blank Canvas effortlessly offers a clean and inviting blank slate that allows individuality and creativity to flow freely. This white easily harmonizes with a wide range of hues, including neutrals, earth tones and pastels for a charming and cozy appeal. Blank Canvas also pairs beautifully with black for a dramatic impact, and with bright accents like green or cobalt blue to instantly lift your mood."
Philippa Radon, C2 Paint color and design specialist, tells KBB, "Our C2 Paint Color of the Year is a contemplative collection of earthy hues, which we presented as a capsule of interchangeable, related colors. Our feature color, Tiramisu, is an embracing color that's rich and restorative, implying a grounding sense of belonging to self and home, while the sultry richness of Stout brings an intensified, intoxicating, velvety feel. Its contrast is En Pointe, a luminous and nuanced off-white. Each of these can be used as an accent or can stand alone in its individual strength.
"It's also crucial that our colors are approachable and natural, so while we've seen a lot of bright, whimsical colors that reflect the digital world, we felt the need to speak to home as a place where we become grounded; a place where we restore and renew mind, body and soul and nurture our authentic selves (much needed in a world full of filters and likes, curated feeds, and metaverses)."
Using Color in the Home
When looking at 2023 color trends, there's more than just pretty (or provocative) palettes to appreciate; where and how to use color in the home is also evolving. In its Paint and Color 2023 Trends Report, home improvement and remodeling resource Fixr.com surveyed interior design experts on the best ways to integrate color into a home setting.
Painting an entire room topped the list, with 57% of respondents endorsing that route. Using textiles – drapes, floor coverings, throw pillows – was the second most popular strategy, supported by 44% of the designers. These were followed by wallpapering a whole room (36%), selectively using furniture (34%), papering an accent wall (32%) and painting the ceiling (24%).
Owner and principal designer of ChristopherCharles Interiors in Houston, Tex., Christopher Charles, said, "The ceiling is seldom treated as an accent wall. As interior design creativity continues to be stretched and challenged, I think the ceiling will become the element that takes a space from great to spectacular."
Killy Scheer, founder of Austin-based Scheer & Co., said, "We've found that smaller spaces such as a closet, or long hallway can be a great place to test a moody palette – I love a mix of deep blues and grays with a pop of red, green and black – without taking on too much."
Another Austin-based designer, Sarah Stacey, of Sarah Stacey Interior Design, said, "The mix of neutral wood and matte black details look great with a moody palette. In our market, we've noticed an increase in these earthy and organic elements for the home. The kitchen and bathroom can be a great place to implement these shades without your whole home feeling too overwhelming in darker tones."
The Future's So Bright…
For those who really want to get ahead of the color curve, design-trend forecasters WGSN teamed with Coloro to develop the 2024 Color of the Year: Apricot Crush.
Clare Smith, color strategist at WGSN, said, "Apricot Crush signifies the importance of nourishing the mind and body. It is the perfect hue for a world seeking calm and optimism, bringing a necessary pick-me-up as consumers continue to grapple with a range of emotions and uncertainty about the future.
"It's exciting to see orange, with its gender-inclusive and trans-seasonal flexibility, gaining – and maintaining – momentum as a key color," said Sansan Chen, managing director of Coloro. "We are seeing brands take ever more care in choosing palettes with lasting appeal to minimize environmental impact. Apricot Crush is a highly achievable color that can also deliver an emotional lift to consumers in uncertain times."
—By Leslie Clagett, KBB Managing Editor
Editor's Note: Article was originally published on 2/27/23 but was updated on 4/10/23