Cosentino Releases First Home Design Trend Report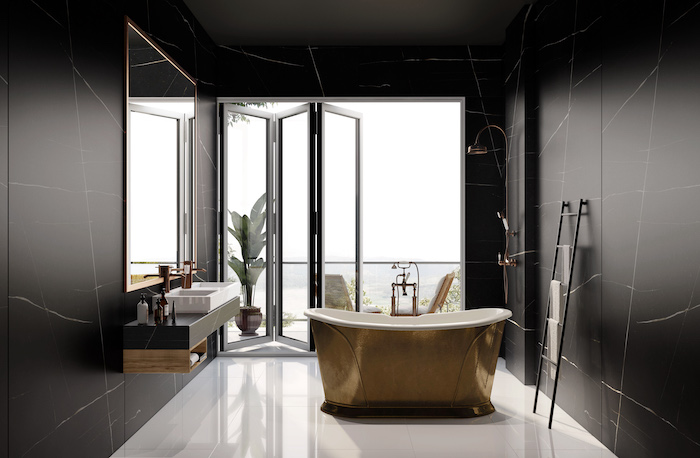 October 9, 2023
This article was originally published on October 9, 2023; it was updated on October 16, 2023.
Cosentino Group, the Spanish global leader in the production and distribution of innovative and sustainable surfaces for the world of architecture and design, today released its 2024 North American trend report. Informed by an IPSOS survey, one of the largest market research companies in the world, the report includes insights from renovation-inspired homeowners, designers, and top architects, and unveils the latest trends and movements in design, including the rise of resimmercial, the "spathroom," metallics, sustainable solutions and more.
Eduardo Cosentino, executive vice president of global corporate sales and CEO of Cosentino Americas, told KBB, "As an industry, we must keep a constant pulse on trends, market shifts and designer voices. This report was created to give direct access into these valuable insights and we are proud to share them as a resource to support the design community as a whole."
Cosentino also partnered with top designers Richard T. Anuszkiewicz, Laura Kirar, Barry Dixon and Sarah Brooks Eilers to share exclusive insights that inspire consumers to try these trends in their own homes.
Below are the top seven report findings, providing a look at how design trends will help shape the home renovations of 2024.
1. The Rise of "Resimmercial"
In a post-pandemic world, the lines between home, work, and play are blurring further. This has led to the rise of resimmercial design (above) across both commercial and residential spaces, giving consumers luxury, comfort, and convenience – whether at home or in a hotel room.
When asked which top three elements from a resort or hotel they'd most like to incorporate in their home, both homeowners and design professionals shared that a spa-inspired bathroom and indoor/outdoor walkout patio are the top choices. What's more, 70% of designers look to resorts and hotels for renovation inspiration, and 58% find ideas from a specific travel destination.
At the same time, the comforts of home are also influencing the look and feel of commercial spaces, especially as more consumers take "work-cations" or look for inspiring longer-term accommodations. Specifically, homeowners and designers say they are most attracted to luxurious lounge areas or reading nooks and high-end kitchen spaces in terms of features that help them feel at home in hotel suites.
Designer Laura Kirar said, "As residential design elements integrate into commercial spaces, there's been a trend towards more inviting and comfortable hospitality environments. For example, the use of warm and cozy textiles, open and flexible layouts that encourage interaction and relaxation, and nature-inspired elements like natural materials, which contribute to a soothing and rejuvenating ambiance."
2. Transforming Bathrooms into "Spathrooms"
As more Americans prioritize health, the bathroom is moving beyond practicality and transitioning into a haven for wellness and relaxation. Enter the "spathroom"—the ultimate retreat (above). In fact, 69% of designers and 53% of homeowners reported a spa-inspired bathroom as the number one hotel design element they'd like to see in their own home. To get the look, both designers and homeowners said they would incorporate large tile/stone slabs (46% designers, 42% homeowners), a high end vanity (45% designers, 39% homeowners), an oversize bathtub (41% of designers, 39% of homeowners) and luxury flooring (37% designers, 35% homeowners) to create a spathroom.
Design expert Sarah Eilers of Lucas/Eilers Design Associates weighs in further, noting, "Every spa-inspired bathroom needs exquisite stone slabs, an oversized bathtub and a high-end vanity. The cornerstone of a spa-worthy bathroom is a soothing color palette. Think soft, muted colors like pale blues, greens, beige, and pastel shades. These colors create a serene and calming atmosphere that mimics the tranquility of a spa."
"From countertops to flooring, shower walls and tray, sinks, custom furniture and more, there are endless possibilities to use surfacing to elevate the bathroom," said Elizabeth Ramos, marketing director for Cosentino Americas. "C-Bath is Cosentino's comprehensive approach to reimagining the bath space through design and technology offering our full product offering and inspirational project imagery."
3. Kitchens are King
It's no secret the kitchen (above) is the heart of the home—and designers and homeowners agree that it's their number one renovation priority. As kitchens continue to be a hub for dining, entertaining and relaxing, a personalized, functional "dream kitchen" is more important than ever. In fact, nearly one-quarter of the total home design budget is dedicated to kitchen updates.
Meanwhile, integrated outdoor kitchens are still a favorite design element, with more than 83% of designers and 70% of homeowners citing it as a top focus area for their outdoor space. Luckily for homeowners, scratch and UV-resistant surfaces like Dekton can make any kitchen – indoor or out – a space that is both stylish and functional.
"Our clients believe quality will stand the test of time. We are seeing more high-end appliances and cabinets than ever before – as well as multiple sinks, a special "trophy" range, lots of counter space and hidden appliances," said designer Barry Dixon.
4. Metallics Are Making A Statement
From countertops to showers and fixtures to textiles, metallics add a touch of elegance and glamor to any space. For many, it's the perfect way to add a personal touch.
This year, the gilded look (above) will continue to influence design elements. In fact, designers selected metallic accents as their top up-and-coming trend, while homeowners rated it as number two. When it comes to how they're being used, nearly 80% of designers say they would incorporate metallic accents in their shower projects, followed by cladding, fireplaces, and kitchen countertops.
For effortless expression, Cosentino's latest Silestone introduction – Le Chic – features eye-catching veining and metallic accents, including both silver and gold tones. These diverse colorways can easily be used to create a variety of statement looks, from contemporary to traditional spaces.
"I use metal and metallics to make spaces feel more glamorous and luxurious" said designer Richard T. Anuszkiewicz. "When you subtly balance these elements in, it can deliver high impact and allow the space to truly shine. The Le Chic collection with Silestone is a perfect balance for a striking accent."
5. Sustainability in Design is a Mainstay
Environmental impact continues to be a top priority for discerning homeowners and designers – whether using sustainable products, environmentally friendly practices, or long-lasting materials that don't need to be replaced as often. In fact, 84% of designers prioritize products made with responsibly sourced materials, while more than 70% of Millennials and Gen Z value products made with minimal to zero water waste or responsibly sourced materials, respectively.
"The industry shift towards sustainability is a huge priority for future generations, and we have to work together to make it happen. For us, sustainability is not just about the materials we use or the way we produce our products, it's about considering the entire lifecycle of our products and maintaining a business model that supports innovation and environmentally safe practices," said Eduardo Cosentino, EVP global corporate sales and CEO of Cosentino Americas.
When it comes to environmentally-conscious materials, Dekton offers a functional yet sustainable solution as a carbon-neutral surface product made of raw materials, while Cosentino's Silestone with HybriQ Technology (above) introduces a new product category of mineral hybrid surface made with 99% recycled water, 100% renewable energy and a minimum of 20% recycled materials, ensuring environmental conservation without sacrificing style.
6. Earth Tones are In, Rustic is Out, and Retro is… Polarizing
Designs are always changing, but one thing's for sure: earth tones and neutral palettes (above) are the in-style trend for both homeowners (56%) and designers (72%). Interestingly enough, 70s-inspired design is the most polarizing. Designer opinions conflicted, with respondents selecting it as both an up-and-coming and an out-of-style trend.
One thing everyone can agree on? That rustic and modern farmhouse looks are going out of style.
7. Luxury – Inside and Out
Americans continue to look for ways to transform their outdoor spaces. In fact, designers and homeowners are investing in upgrades like fire features and outdoor bars & entertaining spaces (90% of designers, 74% of homeowners). Beyond these upgrades, designers are also focusing on outdoor kitchens, pools and plunge pools to create a backyard oasis (above).
Elizabeth Ramos, marketing director of Cosentino Americas, said, "We've seen a growing number of homeowners seeking surfaces that can withstand outdoor elements, while providing an elevated, cohesive look to their interior design choices. Dekton is excellent for outdoor use due to its resistance to UV rays and thermal shock. It can be used for pavers, facades, patios, firepits, pools and more, leaving homeowners with endless design options for all of their outdoor projects."
—By Leslie Clagett, KBB managing editor