Cosentino Showcases New Pietra Kode Collection & More at KBIS 2023
February 21, 2023
Kitchen and bath designers don't need to worry about compromising on aesthetics while also seeking sustainable solutions for their clients these days. Mindful manufacturers such as Cosentino illustrated at the recent KBIS 2023 event, held in Las Vegas Jan. 31 – Feb. 2, that both eco-friendly practices and elegant luxury can meld as one with the right designs and innovation.
Massimo Ballucchi, Vice President, Kitchen & Bath Channel at Cosentino North America, shared with KBB and visitors to the company's booth at the Las Vegas Convention Center, how Cosentino manages to stay at the forefront of design trends and sustainability.
Within Cosentino's 3,500-sq.-ft. booth, designers could see and learn about the Dekton, Silestone and Sensa families, this year highlighted by the Dekton Pietra Kode Collection, which stems from the partnership between the company and renowned designer and architect Daniel Germani.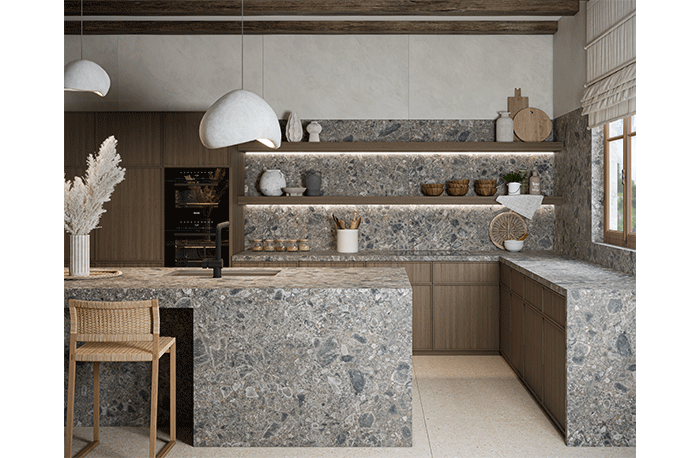 Pietra Kode Collection
"This is something that is strategic, it's a response to the market. We collaborated in this case with Daniel Germani, our friend and architect who has been very successful developing other products for us," noted Ballucchi. "We want to show his new travertine look – this is classic travertine, this is the beauty of natural stone coming back to our world, to our families, to our homes.
"What's new is it's made with Dekton technology – so you have all the features and advantages of Dekton, the outdoors coming indoors, heat resistance and new technology called Quick Cut, which cuts Dekton in one-third of the time," he added.
Another version, called Sabbia, is a cross-cut travertine that Ballucchi says underscores the need and demand for natural stone product on floors, on countertops and even on walls.
The natural, warm earth tones and stonework in Cosentino's booth echoed a KBIS trend of manufacturers implementing more organic colors and textures. Other new offerings in the collection shown in the booth featured more limestone-like aesthetic and a new take on classic terrazzo.
Meanwhile, the Silestone quartz surfaces Cosentino showcased represent what Ballucchi refers to today as "Silestone 2.0" because he says it's essentially been reinvented.
"First of all, it's hybrid surfaces that are done with extremely sustainable practices, but also it's the innovation of the aesthetics, it's something unique that we have," explained Ballucchi.
He says the new Silestone Le Chic color collection "showcases the best of what we have at Cosentino. It's our most innovative line, it looks like minerals and glass and precious materials really are inside our slabs."
The veining on the Dekton and Silestone beautifully brings out the natural elements and feel to the latest offerings. Balluchi notes that the company can swiftly cater to changes in market trends, while proprietary technology such as its HybriQ surfaces, which enlists recycled water, materials and renewable energy, enables it to do so in an environmental-friendly manner.
"The trends in our surfaces tend to be a little more natural; we're going toward a more welcoming, very organic world with a little bit warmer colors," he said. "That's the beauty of it, having a factory with so much capacity and capabilities we can really provide so many different looks."
Hear more details about the company and its booth highlights from Ballucchi by watching the video above.
Editor's Note: This article was originally published on 2/21/23 but was updated with new content on 4/10/23.