Cosentino Unveils 2019 Global Kitchen Study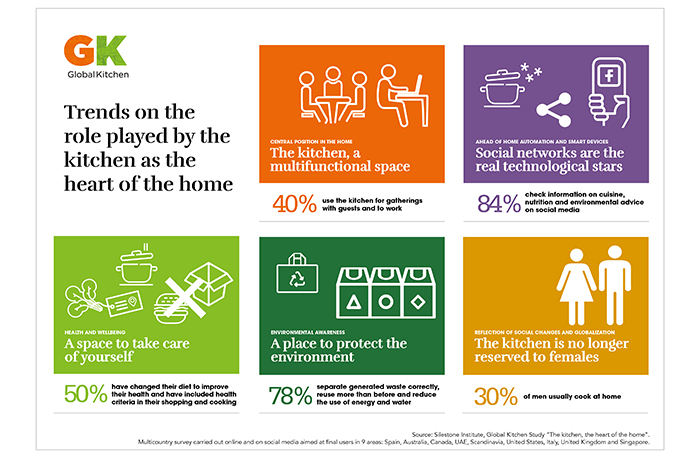 October 2, 2019
Cosentino Group is pleased to unveil its 2019 Global Kitchen Study. Informed by a year of in-depth, cross-discipline research from the Silestone Institute, Cosentino's research platform on the kitchen space, the study compiles findings from a survey of kitchen studios around the world and insights from 23 distinguished experts spanning design, cooking, domestic technology, sociology, nutrition and sustainability.
This year's study, titled "Global Kitchen: The Kitchen, The Heart of the Home," is the second report of its kind from Cosentino, following the success of its first-ever study released in 2017. Key experts interviewed provide a truly global perspective, including sociologist Nita Mathur from New Delhi, India; architect María González from Chile; New York City-based interior designer Megan Pflug; Spain's own chefs José Andrés and Albert Adrià, as well as architects Laura Dominguez and Juanjo López de la Cruz; and many more.
"Cosentino Group's continued commitment to kitchen innovation has led us to become world leaders in the manufacturing of architectural surfacing," said Santiago Alfonso, marketing vice president for the Cosentino Group. "With this great power comes great responsibility as we work to both inform and inspire our audiences. Cosentino's ongoing research in partnership with its Silestone Institute allows us to empower architects and designers with these leading insights – a transfer of knowledge on domestic kitchens in the 21st century for both the industry and society as a whole."
In support of this global initiative, Cosentino will host a series of panels at it each of its Cosentino City Centers around the globe, including Los Angeles (Nov. 12), San Francisco (Oct. 10) and Miami (Nov. 13). A panel took place in New York City on Sept. 18.