Creating a Luxury Kitchen on a Limited Budget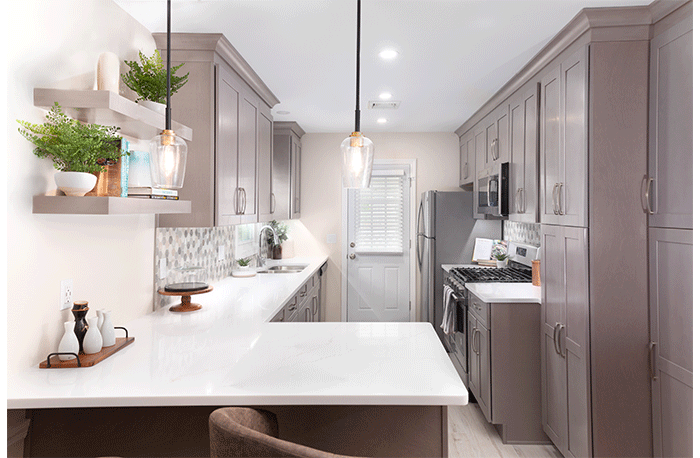 August 22, 2023
Luxury can equate to the cost of things, but even a reasonably priced space can be lavish. We achieved this for the kitchen in my client's Long Island home she has lived in for 20 years. The budget was not grand, so determining what was most important was key. The homeowner's idea of opulence in this kitchen was having a more functional, aesthetically pleasing space in which to host gatherings with family and friends as often as possible.
Above photo: This kitchen designed by Denise C. Pough gives off a luxury vibe through a lighter color palette, ceiling-height cabinets that make the space feel larger and a mosaic backsplash instead of paint. Photo: Livia Gao, Li Gao Photography, ligaophotography.com
Analyze What You're Working With
Even with the limited budget, we still needed to achieve the client's goals, which were to provide an open concept and a better flow and include a peninsula, as the original kitchen did not have space for one. In this project, my client's idea of luxury was to be able to engage with others while in the kitchen, and the peninsula allows seating for guests. She also wanted more functionality and storage, which was accomplished by removing the wall between the kitchen and dining room and a window on one wall to accommodate upper and lower cabinetry. Removing the wall also provides an open-plan layout and brings sight lines to the rest of the home.
Creating a Sense of Indulgence
Stainless-steel appliances exude a luxury feel no matter the brand. Since the client's were fairly new, we didn't have to buy new models, and the gas lines for the stove and water lines for the sink and dishwasher did not have to be relocated. These were a big savings on the investment and allowed the opportunity to provide luxury elsewhere.
An additional feel of opulence in this kitchen was achieved with the color palette. Light-colored walls and cabinetry automatically brighten a space, making it look larger and feel grander. The cabinetry – from Fabuwood – was extended to the ceiling to bring height to the space, and it provides a higher-end feel with soft-close ability, a utensil drawer, a lazy suzan and hidden garbage storage.
Wood floors look great in a kitchen but can cost more and add maintenance issues, such as scratching and water damage. In this kitchen, we chose a wood-look porcelain tile, which is less expensive, lower maintenance and gives a luxurious feel with its light color. The wider-size planks laying lengthwise make the space feel longer and larger.
A warm, white durable quartz countertop with a polished finish and gray veining complements the gray cabinetry, flooring and mosaic backsplash from The Tile Shop. It also adds a clean, bright aesthetic to the kitchen. Using a backsplash instead of paint elevates the look as well.
We were able to install a double sink (Kraus) with a low divider in a 36-in. base cabinet, making the dishwashing process easier. The Pfister faucet has a pulldown capability and includes a soap dispenser. I chose a polished-chrome finish, which reflects well in the space.
The lighting plan in the new kitchen also needed an update, as the former florescent fixture did not provide sufficient illumination. Proper lighting adds functionality and improves mood in any space. We installed recessed LED lighting, a task source, undercabinet lighting and two pendants from Quoizel Lighting above the peninsula for visual interest. As a bonus, all the lighting is dimmable.
Your client's idea of luxury is not always how much something costs; it can also be about functionality, look and feel. You can add luxury simply by enlarging the length of a space, adding more height to cabinetry, providing a proper lighting plan and installing a beautiful backsplash instead of using paint.
By Denise C. Pough, interior designer and founder of A-Jay Interiors by Dee LLC