Decorating on Trend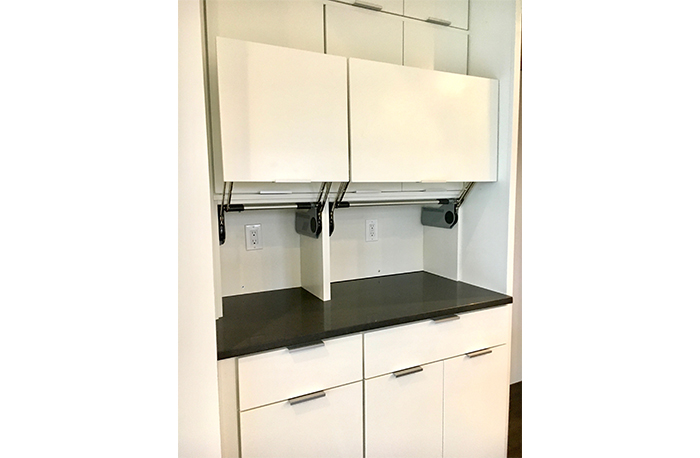 February 3, 2020
We've all seen the Top 10 lists of electronics, colors, wellness features and other design elements that are supposed to be key if you want to give your projects a fresh, up-to-date look for the new decade. But how do you do that if you're scared the interior in question isn't compatible with the trend or you think its inclusion will simply be too much?
Four established, educated East Coast designers, all members of the American Society of Interior Designers (ASID), offered some of their favorite new trends and how easy it is to incorporate them into your decorating plan for 2020. To belong to ASID, members need to have completed rigorous design training and to refresh their training every year.  They are better than a best friend, they are educated, creative professionals whose talent, creativity and skills can positively impact the design of a home or place of business.
Following are their insights:
Go Natural & Be Well
"The major design trend I foresee for the decade is incorporating natural elements into the home," said Marina V. Umali, ASID. "I feel it is so important not only to create a beautiful look for my clients, but a calmer, healthier environment in which to live. Most people are unaware of how simple it is to do.
"I like placing such plants such as Areca palms, Boston ferns, bamboo and rubber plants in various areas throughout the house. If the client is willing to try something more original, I suggest some version of a 'living wall,' made of a variety of green plants or even moss, which requires little maintenance. They can fill an entire wall, be a stand-alone display or when framed, become an art piece."
Another trend Umali is keen on is wellness.
"Everyone agrees that wellness and design go hand-in-hand," she said. "But they often think it's too complicated to do or won't be pretty." Among many of the suggestions she makes are sit/stand desks and ergonomically designed chairs. "They've been scientifically proven to be beneficial to one's health and are as perfect for the home office as the corporate one."
Technology
Both designers Ivee Fromkin, Allied ASID, and Karen Topjian, ASID, put technology at the top of their 2020 trends lists.
"I believe that we designers will increasingly include technology in our projects, an important part of each plan, whether for security, climate control, remote access, food prep or ways we don't even know about yet," said Fromkin. "For the client who may be reluctant to learn about smart home technology, I'd suggest starting small with something really useful, like a simple home-monitoring system perhaps with camera security both inside and outside the home."
Topjiian considers another aspect of technology.
"If one wants to update a room, start with the lighting," she said. "If you have recessed lights, change bulbs to LEDs, which will eliminate the dull, yellowish light cast from 50- and 75-watt bulbs. Use either 2700 K or 3000 K. The quality of light emitted will be brighter and crisper and fabrics and furnishings will look refreshed. Test different LEDs to see which color (Kelvin/color temperature) works better with your furnishings." An added benefit of using LEDs? "Dollar savings."
Light Sources
"As the decade unfolds, I believe the use of light and its effects on our mood and health will be analyzed by scientists in depth," said designer Mary Catherine McCarthy, Associate ASID. "There will be many more developments and opportunities to create with lighting.
"Lighting has become the anchor of a design plan, requiring special attention in all areas of the home. The play of light across walls, floors, fabrics and counters adds additional energy or calm, controlled with dimmers to attain the desired effect. Lighting is actually becoming a sculptural artistic statement not only a functional one. The play of light on such materials as forged metals, glass and crystal are all artworks on their own."
Fabulous Kitchens
"An open floorplan of kitchen, dining and living zones is a new must for modern life's dynamic," Fromkin explained. "Socializing while cooking is a trend that this addresses while also increasing communication among family members and guests."
Texture will play a bigger role in the kitchen, according to McCarthy, provided by patterns and most often seen in backsplashes.
"Clients are beginning to value layering on different elements to create more visual interest," she said.
Fromkin also sees more vinyl being used on kitchen floors and throughout the home. Unlike 1950s vinyl, today's version is durable, moisture-resistant, comfortable under foot, less expensive and increasingly interesting with patterns reminiscent of wood, tiles and marble among other things.
A new trend for large kitchens that McCarthy has adopted is the two-toned kitchen.
"You could pair a navy cabinet with a wood-toned island featuring raw edges," she suggested. Another concept is black cabinets with a white island or vice-versa. "To encourage the clean, minimalist, clutter-free look now in demand, are 2.5 – 3-in. thick countertops and garage door-style storage. Anything to make the workspace a new landscape for cooking, eating and foodscaping presentations is in!"
Mix and Match
"Comfort will be a top priority in the 2020s, along with sustainability, durability and ease of maintenance," said Fromkin. To create a softer, more comfortable contemporary look, she recommends adding an antique you love, perhaps a family heirloom, an end table, ottoman, desk or chair. Any of these will add an eclectic feel and help to change transitional mindsets into more modern ones.
"Lastly, patterned rugs and scattered cushions will subtly introduce different design eras and cultures into the space, adding interest as well," she said.
Color on the Rise
"What comes after gray?" said Topjian. "Gray has been popular for so long that we now have a hunger for color! Change a color, change the mood. And just a little will do; try an accent wall, pillows or throws."
Citing a December 2019 article in Forbes, McCarthy said she agrees that the desire to introduce more vibrant colors into the home is a new direction. Aligned with that is the comeback of wallpaper, used as an accent. She shared a recent project to illustrate these trends.
Her client had recently moved into a new home, primarily gray and beige, and wanted more color, more excitement. But she was timid as to how to accomplish this, and also experiencing "decision fatigue," McCarthy began by papering the dining room's tray ceiling in a teal blue that reflected the dining chair upholstery. As the client saw the gentle progression of teal that McCarthy employed in the adjoining kitchen, then on into the foyer and finally the nearby bedroom, which is ceilinged in a companion paper to that used in the dining room and Roman shades with of the same palette, she was indeed, timid no more.