An In-Depth Look at the Innovation at ICFF 2018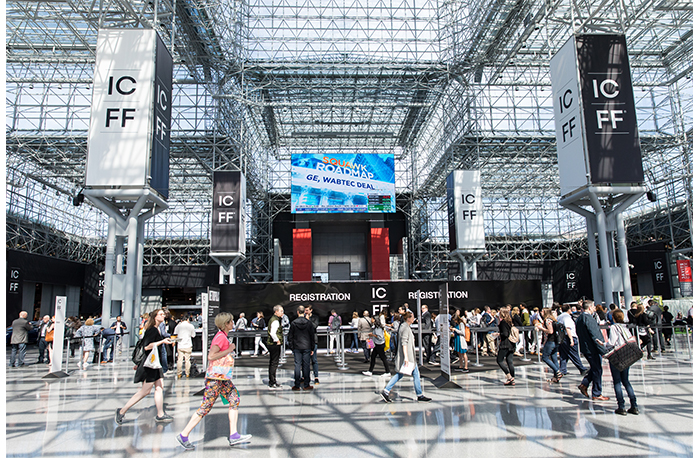 May 25, 2018
The 30th-annual International Contemporary Furniture Fair (ICFF) took place last week at the Jacob K. Javits Center in New York City. The show, known as North America's platform for global design, hosted more than 36,000 interior designers, architects, retailers, representatives, distributors, facility managers, developers, manufacturers, store designers and visual merchandisers.
Click HERE for a gallery of this year's product offerings
ICFF 2018 featured a variety of wonderful innovations in products and trends, including:
The resurgence of stainless steel
Fingerprint-resistant surfaces
Complete customization
Matte black & brushed nickel finishes
Voice controlled-fixtures
Experience showerheads
Wood-look materials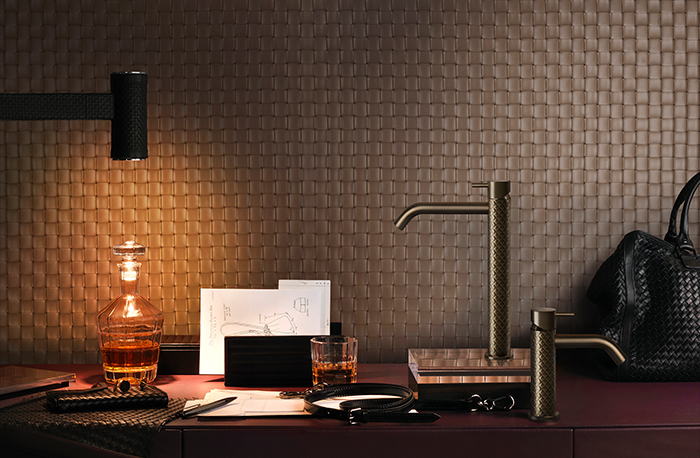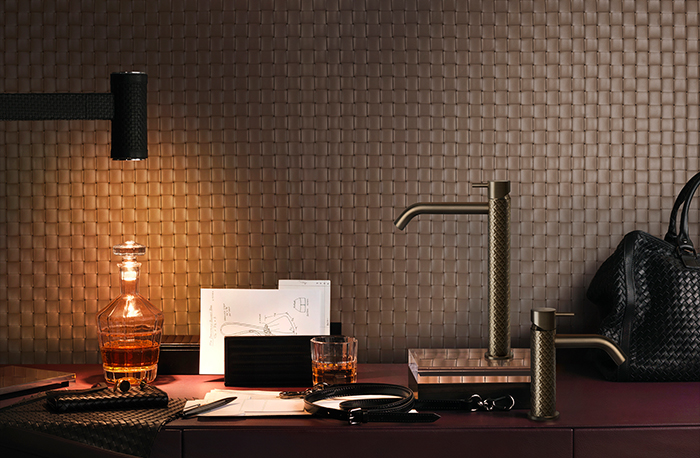 Pictured is the 316 Program of bath tapware from Gessi.
Get Smart
ICFF 2018 also featured a variety of educational programming – ICFF Talks included – that covered everything from social responsibility to how technology is shaping architecture and design to marketing yourself in our ever-changing design industry.
I moderated the "Smart Business Ideas for Our Ever-Changing Industry" panel with speakers Christopher Grubb of Beverly Hills-based Arch-Interiors Design Group and Andrea Pompei of ASH Interiors and Design. The discussion focused on how to stay relevant in the design industry with today's educated consumer and the never-waning presence of the Internet.
Topics included:
How to set appropriate fees
The importance of sticking to the contract
Building relationships with the client, other members of the design team and vendors
Tips for marketing your skills and your business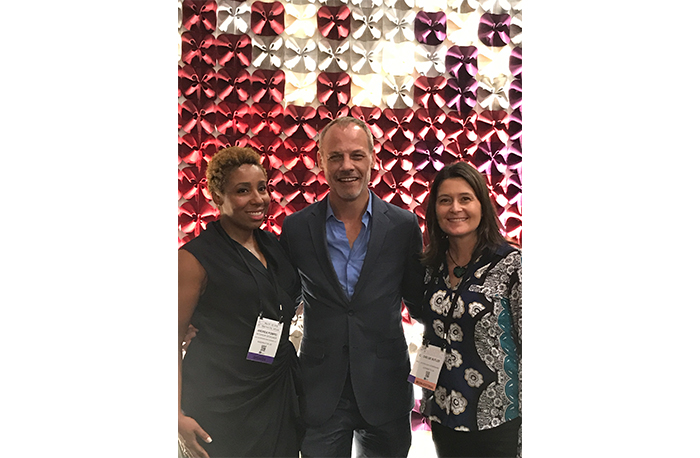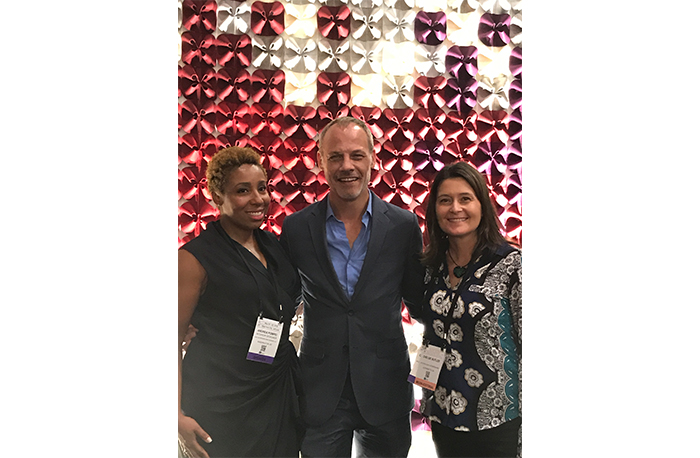 Exhibitor Anne Kyyro Quinn sponsored and designed the installation of the ICFF Talks stage this year. Pictured from left to right are Pompei, Grubb and Butler.
Other conference programming included the ASID Business and Practice of Design CEU Series, Luxe Interiors + Design @ ICFF and the Metropolis CEU Conference.
Special Events/Initiatives
Wilsonart hosted its 14th Wilsonart Challenges Student Chair Design Competition, which encouraged Maine College of Art students to explore a forest theme to stress the importance of Maine's timber industry and the company's dedication in educating the design community about responsibly sourced wood. More can be read on the winning and runner-up entries HERE.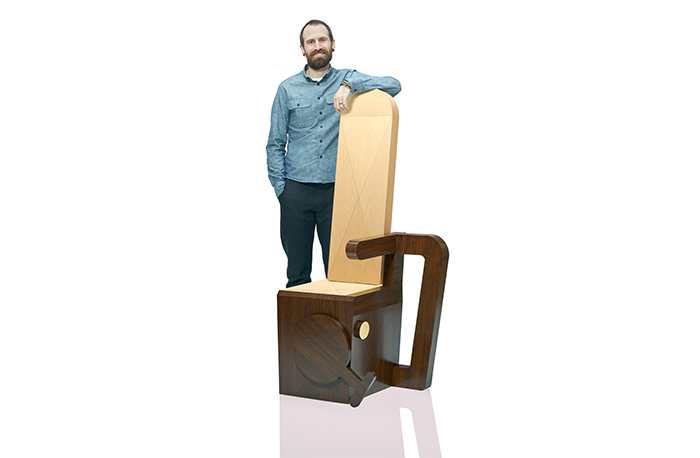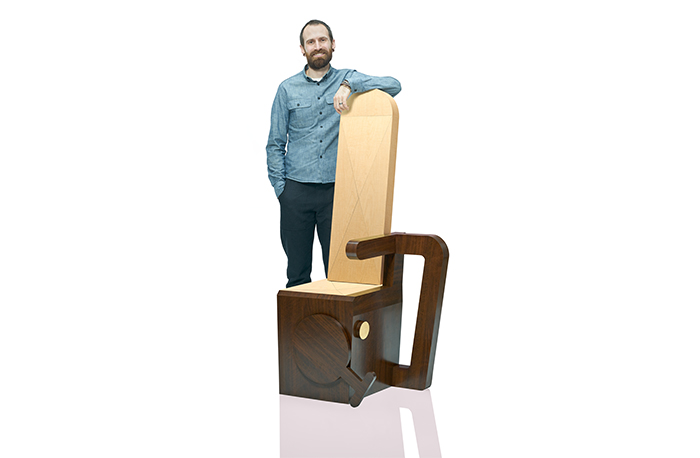 Joesph Goodwin's "Tool for Translation" was the winning chair in the competition. His inspiration was a chainsaw.
The Opening Night Party and Awards Ceremony took place after the second day of ICFF 2018 at Pier 17 in the Seaport District. There was also a silent auction near the Talks Stage to help raise funds to end Alzheimer's. Bid-on items were donated by ICFF exhibitors, and all proceeds went to the Alzheimer's Association and the Anna Hernandez/Luna Textiles Education Fund Award.
A variety of international exhibits were featured, including "VIA French Design – No Taste for Bad Taste" – showcasing the heart of French design and Handmade in Germany, a selection of items manufactured in Germany, pictured below.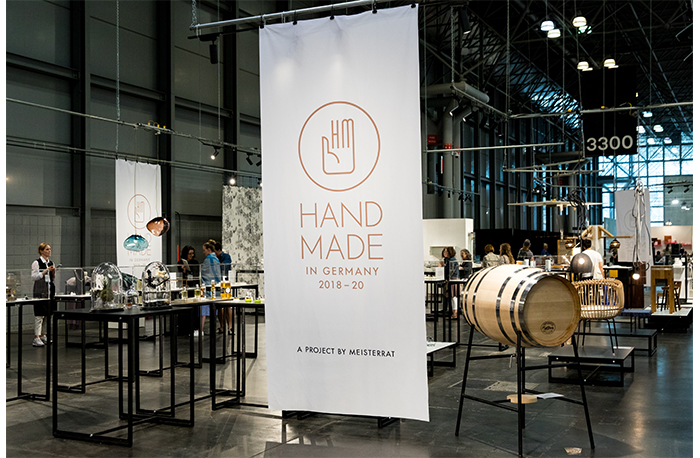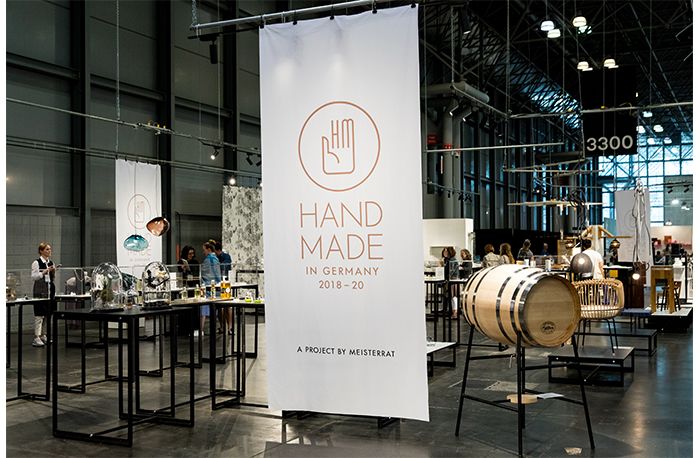 The 2018 ICFF Studio Competition winners were announced as well. The 13-year partnership with Bernhardt Design highlights the next generation of talent. To enter, the designer must have been working in the industry for less than five years and have a working prototype not in commercial production. Submissions were reviewed based on design aesthetics, the ability to be mass produced, marketability and commercial viability.
This year's winning class includes:
Zhang Cecilia | Discrete Shelf/Stool
Fan Chenchen | Lavida Chair
Xiong Jialun | Back Kaleidoscope
Leelachart Sasipat | Sensi Chair
Haridas Nupur | Snug
Kim Kelly | Mokum
Kim Haeun | Fog Table
Markowitz Adam | Assegai
Golden Christian | Stackable Wooden Rocker No. 1
Guo Yeling | Nostalgia
Pei Huan | Froz
– By Chelsie Butler