Designer Laura Umansky Launches Line of Livable Luxury Surfaces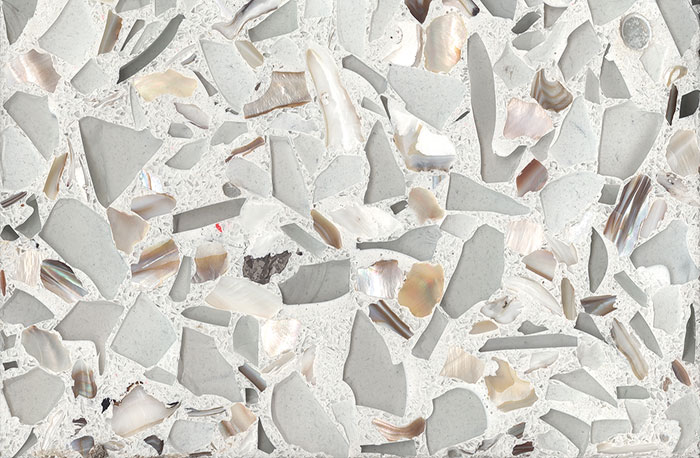 May 12, 2017
Laura Umansky, president and creative director of Laura U Interior Design, has partnered with Vetrazzo to create a new four color designer curated edition of recycled glass surfaces: Vetrazzo By Laura U.
The Laura U product line is part of Vetrazzo's Designer Collection, which is made with bio-resin instead of concrete. The ultra-durable resin allows for diverse applications like thin counters and tiles. The colors are non-porous, stain resistant and never need a sealer – ideal for busy kitchens and high-traffic floors.
The recycled glass surfaces are also made to measure and can be used on countertops to large-format floor tiles, even pulls and knobs in traditional and modern styles.
At the center of all Laura U designs is the notion of livable luxury. "Homeowners love a beautiful space and, at the same time, they need to be able to truly live in their home," Umansky said. "I believe that if my designs can stand up to my active family then I can confidently propose the same materials and products to my clients."
Laura U Interior Design is known for its bold use of color in design. Whether she is designing a traditional historic home or a contemporary new build, Umansky begins with a soothing neutral base and adds layers of rich colors and cheerful metallics to create exuberant spaces.
"I love the way color adds life to a space," Umansky said. "Designing with color simply makes me happy. It's an innate motivation within my firm's design aesthetic."
The Laura U product line of colors range from neutral to vibrant – each embodying Laura's design ethos: Stay classic. Be current. It features mixes of aqua, black and white, purple and a pearlescent neutral shade, Fair Pearl, which was the jumping off point for the collection. A crisp white background runs through all four.