Designers Share Technology in Their Own Homes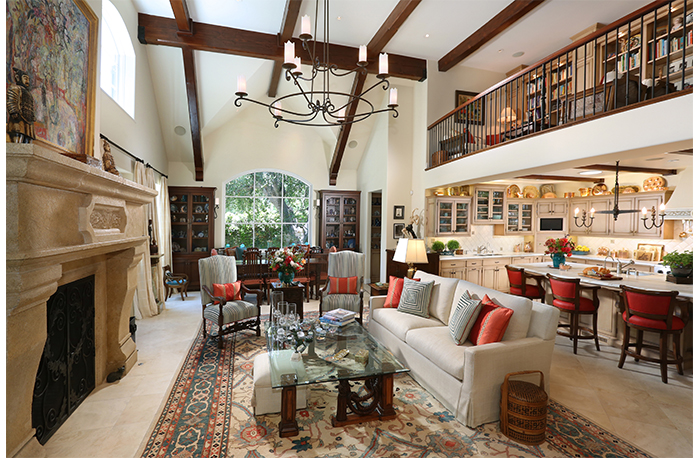 August 6, 2018
Elements like smart lighting, electronic door locks, intelligent thermostats, automation systems and whole-house audio and video setups are becoming increasingly mainstream. As home tech becomes more widely available, less expensive and less complicated to install, consumers are clamoring for cool gadgets to make their homes environments safer, more efficient and easier to manage.
Home tech manufacturers have also focused much of their attention lately on the cosmetic design of their products. Instead of sticking out like a sore thumb, they are able to blend in nicely with the surrounding environment. It's a movement that's particularly inspiring to designers, giving them a way to differentiate their designs and create new sources of revenue.
The following two interior designers have fully embraced a smart home lifestyle by fusing various high-tech products and systems into their own abodes. They prove that design and technology can coexist quite peacefully in even the most stunning of home environments.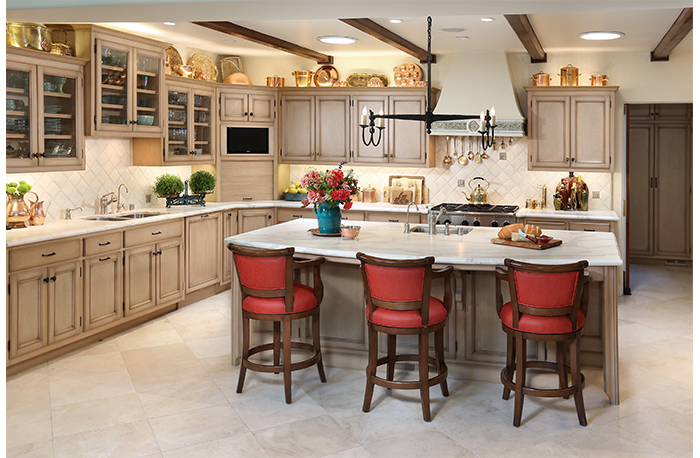 This and main photo by Douglas Hill
Modern American Cottage Goes Whole-Home Tech
Cynthia Bennett's heart and soul beats interior design and architecture, but she's been a huge advocate of technology for most of her 30 years as a professional interior designer. Her proclivity for smart home products could be credited largely to her son, Michael Fehmers, who runs CBA Technology, a home systems design and integration firm nearby her Pasadena home and business, Cynthia Bennett & Associates, Inc.
"We've participated in the Pasadena Showcase House of Design for years and have always teamed up to combine design and technology in the show homes," said Bennett. "Technology is an obvious fit for all homes, especially those with fantastic interior designs, and it's something I recommend to all of my clients."
Bennett definitely practices what she preaches, as her 3,600-sq.-ft. "modern American cottage" has functioned as a test bed of sorts for Fehmers and his wide portfolio of smart home systems.
"I've been a willing guinea pig for Michael as he brings on new products and systems into his business," she said, explaining that she already experimented with three different brands of home automation setups, the latest being a fully integrated system from Savant.
The transition from one system to the next has exposed Bennett to a variety of high-tech conveniences, and this most recent iteration focuses largely on the control of whole-house music components, thermostats, security system, surveillance cameras and lighting – the latter of which Bennett notes as having a big impact on her cottage's overall look and feel.
"Good design requires good lighting," she added. "I have a great lighting scene in my family room that illuminates the paintings and glass cabinets beautifully. The scene can switch to something appropriate for reading, entertaining and quiet time, and I don't need to touch a half-dozen light switches on the walls to alter the visual environment."
Under the aegis of the Savant system, Bennett uses her iPad, iPhone and a few handheld Savant remotes to monitor, manage and control the lights, as well as the music and security devices. Just as the iPad- and iPhone-based mode of home control has helped clear the walls of traditional switches, so have the Savant audio and video systems freed rooms of obnoxious black boxes. Hidden neatly inside a closet are a variety of A/V components, including a Roku box, Apple TV and a Savant music server, that feed music and video over cabling that was installed inside the walls to speakers and TVs in nine listening zones and three viewing areas.
Even the Sonance architectural speakers and TVs manage to maintain a low profile, having been recessed flush with the ceiling, walls and cabinetry. Fehmers integrated a DSC/Viking security system with the Savant audio/video distribution system so that images from surveillance cameras appear automatically on every active screen anytime someone presses the doorbell button at the front gate. This setup effectively negated the need for an intercom system – another high-tech element that could have cluttered the walls of this casually comfortable Dutch-inspired cottage.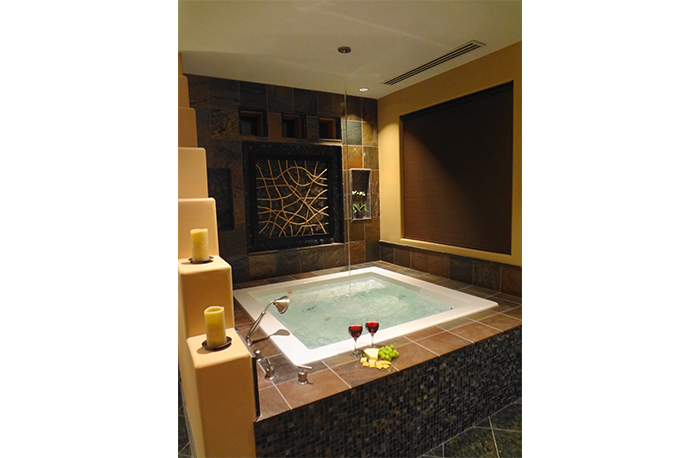 Photo by Nicholas Nikforuk
Let there be Light at Casa Bella Verde
Interior designer Briana Alhadeff of Casa Bella Verde in El Dorado Hills, Calif., left nothing lost in translation when she designed and built her new 8,500-sq.-ft. home. Infused with her trademark contemporary design and packed with a myriad of cutting-edge electronic systems, it lives up to its name; Alhadeff made sure of this, not only designing the architecture and interior but actually constructing the house.
"I put on my hardhat and worked 14-hour days, seven days a week for four-and-a-half years fulfilling a lifelong dream," she said. "It wasn't easy, but the results were well worth it."
Consider it a labor of love, as the home possesses everything near and dear to Alhadeff, incorporating "every possible smart home feature" she could get her hands on. The main brains of the house – there are actually two – are automation systems from AMX and Vantage.
"They both have their strengths," explained Alhadeff, "Vantage's being lighting control, interior climate control and energy management, and AMX's being control of audio and video equipment. And both systems have outstanding and beautiful user interfaces."
No stranger to high-tech home systems, having attended numerous industry trade shows, Alhadeff felt confident with her choices. What she needed help with was integrating these systems into her home's design in a way that would actually enhance the look and feel of the beautiful, sustainable environment. For this all-important part of the project, she enlisted the help of David Teel from Design Avenues of Richardson, Texas. Contributing largely to the beauty and energy-wise aspects of this house is the lighting.
"With the Vantage system, I can press one button on my smartphone, and the lighting in my home will come on to all of my desired preset levels, the fireplace will come on, and the music will come on – allowing me to enter my home to an inviting scene," said Alhadeff. "In seconds, I've made a beautiful space even more beautiful. You can have the most expensive, luxurious furniture and fabric, but without the proper lighting controls, you have lost the ability to enhance everything you've worked so hard to create."
While the lights are accentuating the home's architecture and design, they are also saving energy. Alhadeff selected Dasal Architectural LED light fixtures for the residence, in keeping with her commitment to maintain a green lifestyle. It's not just the main living spaces that received Alhadeff's designer touch. She applied special lighting effects to niches where artwork reside, a stone wall in the bathroom and the kitchen peninsula to "make the food look its tastiest."
"There are no throwaway spaces in my design; in my book, even the laundry room has to look beautiful," she added. And, of course, every light can be controlled from a Vantage app on a smartphone or tablet, as well as on one of several touchpanels and keypads recessed into the walls in strategic locations throughout the house. There were no worries about these wall-mounted controllers conflicting with the design.
"The Vantage Axulote keypads, in particular, caught Briana's eye," said Teel. "We were able to choose faceplates in marble, slate, leather, wood, glass and other materials; she chose the appropriate style of faceplate for each room environment."
Every environment was also outfitted with in-ceiling speakers from Polk, which were painted to match the ceiling surface, and quarter-size temperature sensors, which unlike traditional thermostats are small enough to go unnoticed. These sensors monitor the temperature of each room and report this data to traditional thermostats hidden inside a utility room in the basement.
The utility room also serves as home base for the control processors, switchers, amplifiers and other gear that make this home tick. These black boxes stay completely out of sight yet make a huge impact on Casa Bella Verde's style, smarts and sustainability. From the second the shovel hit the dirt to the last keypad installed, this project has been a powerful testament to the importance of technology to a home's design.