Designing Hope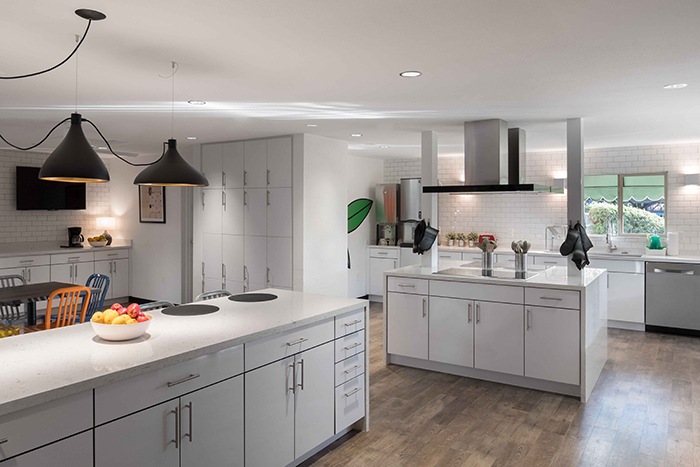 February 27, 2017
When a child is seriously sick or injured, the treatment they need might not be close to home. Rather than be separated during a critical time, families can stay at a nearby Ronald McDonald House – where parents can better communicate with their child's medical team and focus on their family's health.
One such house in Phoenix was just renovated by designer and architect Daniel Germani of Phoenix-based Daniel Germani Designs. Made possible by funds from the Phoenix International Raceway's 50th anniversary, the project involved transforming a 1985-dated home into a multi-family complex. KBB spoke with Germani to find out more about this cheerful and colorful design.
The Goal
Germani: When Phoenix International Raceway (PIR) approached me to assist in the design of the space, we realized we were both on the same page. The main goal was to provide the families with a warm, welcoming space where they can – even for just a second – be inspired and distracted from the daily struggles. More importantly, the home should give the kids a fun place where they can get distracted while putting a big smile on their faces.
Challenges
Germani: Finding the right partners was our biggest challenge. PIR made this task a breeze because they gathered a great group of companies to work in this project. All the work had to be done pro bono. Vendors from Cosentino to Sub Zero/Wolf, Pro-Source to Danver, Jose Reyes Remodeling and the list goes on – all of them generously donated their time and materials to make this dream project a reality.
Favorites
Germani: My favorite part of working on the Ronald McDonald House of Phoenix was providing the families with an amazing space for them to enjoy.
The Kitchen Design
Germani: The kitchen is the heart of this project. We used cabinets that could withstand heavy use and that were easy to clean and maintain. Silestone countertops were chosen because of their resiliency as well as their incredible looks.
A Gathering Place
Germani: In the previous configuration, the cooking happened in three different areas. I wanted to consolidate the task of cooking in one place, creating a hub for the families to gather around.
Colorful Art
Germani: We worked with the Fortoul Brothers – a local art studio – to create a more whimsical look to the whole project. They developed a story line with their art, and that gave the space a cohesive look.
Cozy Lighting
Germani: I wanted to give a very home-like feel to the kitchen, hence the use of the pendants from Pablo Lighting. The island is often a gathering point in the kitchen, and providing warm, comfortable lighting increases that feel.