Dream Bathroom, Canada Edition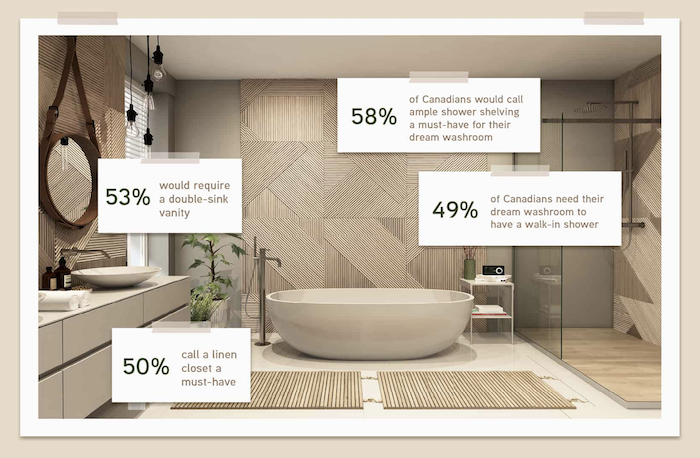 July 12, 2023
The average human will spend over two years in the washroom throughout their lifetime. It's the coveted space where we primp and prepare ourselves for the day, so why not make the bathroom one of our favorite spaces in our homes? To find out what Canadians' ultimate washroom looks like, we surveyed respondents all over Canada to determine how they would design their dream bathroom. We asked participants to share their preferences on various elements such as fixtures, paint colors, shower styles and vanity options. Keep reading to see what we found!
What Does Canada's Dream Bathroom Look Like?
The washroom is a magical space where you can let your guard down and take care of business in style – and Canadians have spoken when it comes to what they want that room to look like. We've got the stats to back up what features most Canadians want in their dream washroom.
Let's start from the ground up, literally. When it comes to flooring, 42% of Canadians want to feel like they're walking on ceramic tile, while 26% prefer the natural look of stone tile. For those who are a little more budget-conscious, vinyl flooring (tile or hardwood) was the third most popular choice at 22%.
Now, let's move on to the centerpiece of the bathroom, the tub. 25% of Canadians dream of soaking in a jetted bathtub, while 22% prefer a trendy, freestanding tub. Canada's multitaskers had their say, as a shower/tub combo was a close third at 20%.
According to Canadians, a floating vanity is the way to go. 35% of Canadians want their vanity to be floating to give their washroom a sleek and modern look.
Moving onto hardware, Canadians want their faucets, handles, lighting fixtures, and other accessories to be either matte black or stainless steel. Both options came in at 27% as the top choices.
Let's talk about the shower now, shall we? Rain, rain, don't go away – because 53% of Canadians want a rainfall shower, making it the most popular shower option by a pretty wide margin.
Finally, let's talk countertops. Marble countertops take the crown as the most popular choice at 33%. Quartz is a close second at 21%, and natural stone comes in third at 18%.
Must-Have Features in the Canada Dream Bathroom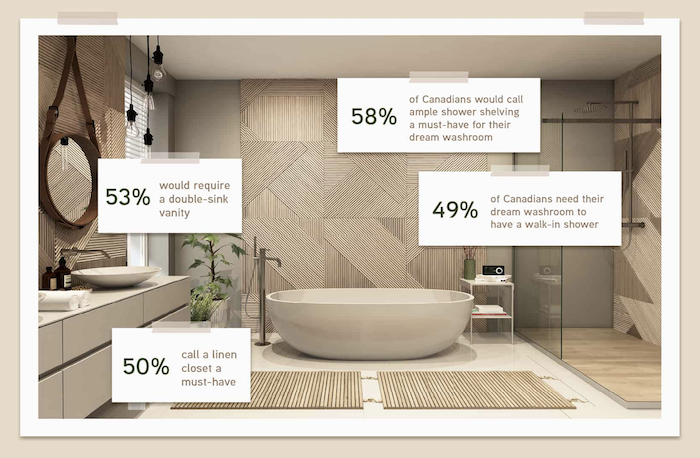 Next, let's dive into the must-have features Canadians want in their dream washrooms!
First up, ample shower shelving is the most popular must-have feature, with 58% of Canadians saying it's a necessity. Because let's be real – nobody wants to juggle shampoo bottles and soap bars while trying to get clean.
Next up, we have the bidet, a must-have for 54% of Canadians who want to take their hygiene game to the next level. From keeping things fresh to reducing toilet paper usage, the bidet is gaining popularity among Canadians as a coveted feature in their dream washrooms.
When it comes to organization, a linen closet for towels and toiletries is a must-have for 50% of Canadians. And speaking of storage, a medicine cabinet is also a requirement for 54%.
Another 49% of respondents prefer a spacious shower experience, opting for a walk-in shower instead. Interestingly, only 28% of Canadians consider a water closet a must-have.
Finally, we asked Canadians where they stand in the fashion vs. function debate. While 85% of Canadians prioritize function over fashion, 15% would choose an incredibly fashionable washroom over a functional one.
Hey, we all want to feel like we're living in the lap of luxury sometimes, right?
How Important is a Great Washroom to Canadians?
Finally, let's look at just how important a great washroom is to Canadians.
More than one-third of Canadians would pass on buying a home if the washroom didn't meet their standards.
Believe it or not, 1 in 4 Canadians would give up their car for a year to have their dream washroom for free. That's right – they'd rather walk or take public transportation than give up the opportunity to have their ideal washroom.
If that wasn't enough, nearly 1 in 5 Canadians would give up their smartphone for a year for a shot at their dream washroom.
And asked if they would part with their pet for a year to have their perfect bathroom, a little more than 17% of respondents answered in the affirmative.
It's not just about personal preferences, either. Canadians can be pretty judgmental about the state of someone else's washroom.
In fact, 41% of Canadians have admitted to judging others because of how their guest washroom looks. So if you're thinking about skipping a deep clean before your next gathering, you might want to reconsider.
For other Canadians, a subpar washroom is a dealbreaker when buying a home. One-third of respondents said they would pass on purchasing a home entirely if it didn't meet their standards.
So there you have it – Canadians take their washrooms seriously. From giving up their smartphone to taking public transportation for a year, it's clear that many Canadians will go to great lengths to achieve washroom perfection.
—By Doyle James, president, Mr. Rooter Plumbing