Dunn-Edwards Paints Names "Honey Glow" Color of the Year for 2017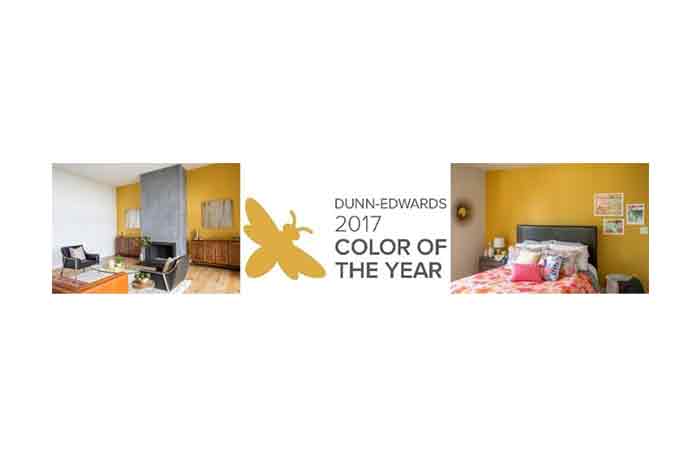 October 20, 2016
Dunn-Edwards Paints has announced its 2017 Color of the Year – Honey Glow – a warm, golden yellow with brown undertones. "This is a great color to make a bold statement in a room," said Sara McLean, color expert for Dunn-Edwards. "Whether it's applied to every wall or featured in accessories, the cheerful spirit that radiates from this color will re-energize any room."
Ten percent of sales of paint tinted in Honey Glow will go to HoneyLove.org, a nonprofit organization that encourages urban beekeeping and educates people about making their garden bee friendly by avoiding pesticides, providing water and shelter, and adding pollinator-friendly plants.
McLean selected Honey Glow after extensive research on color trends in everything from pop culture and fashion to world events and local street culture.  "Honey Glow embodies the trend toward the warming of all colors – from neutrals to non-neutrals," she explained.
She suggests painting an accent wall, paired with white or gray, and bring in pillows, throws and other accessories in a Honey Glow color.  "People who love to travel and collect artifacts from around the world will be attracted to this global color.  It can pretty much match with everything from earthy, neutral palettes or colors like chocolate, red, gray, green and orange," she said.
Learn more about urban beekeeping and how you can protect honeybees in your own yard and your community at HoneyLove.org.