GE Appliances and Amazon Alexa Collaboration Enables Hands-free Convenience with Voice Control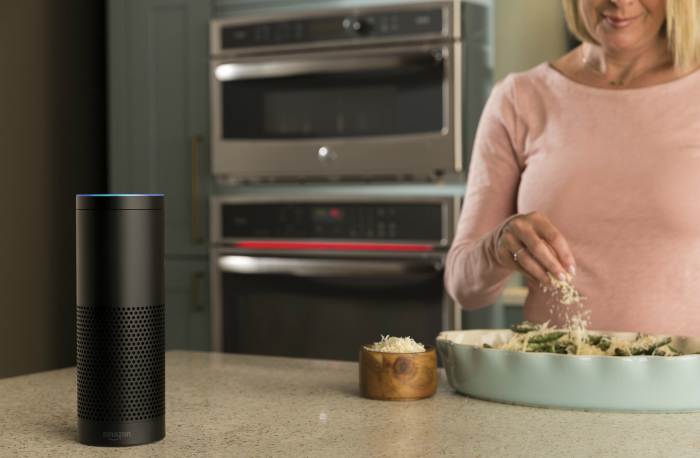 December 1, 2016
GE Appliances has added Amazon Alexa skill sets to its connected appliances just in time for the holidays. Owners now have the option to preheat the oven or check on the internal temperature of that ham or roast while it's cooking, all with the sound of their voice.
The Alexa skill built for GE Appliances and Monogram products has a unique name, which is "Geneva." Launched in September of this year, GE Appliances, a Haier company, is the first Alexa skill to control a broad range of kitchen appliances, including refrigerators, dishwashers, wall ovens, ranges, laundry and more.
For example, using the command "Alexa, tell Geneva to preheat my oven" will start Geneva's functions. Geneva will also offer helpful reminders, for example to remind you to make sure that the fruitcake you are baking is placed in the center of the oven.
Additionally, the connected oven meat probe is now part of the skillset. Simply saying "Alexa, ask Geneva for oven status" will result in Geneva telling you if the oven is preheating or reached the final temperature, what mode it is in and the current temperature of the meet probe. No more need to walk away from the holiday movie or leave your guests to check on the meat probe temperature. An integrated meat probe can also reduce the risk of over or undercooking with faulty, plastic thermometers.
With the connected suite of GE Appliances and Monogram-branded appliances, owners can monitor and maintain their home from virtually anywhere. From the kitchen to the laundry room, connected products work with Amazon Alexa, Amazon Dash Replenishment and IFTTT—allowing owners to stay on top of their appliances from near or far using their voice or a mobile device.