Graham & Brown Announces Design of the Year 2024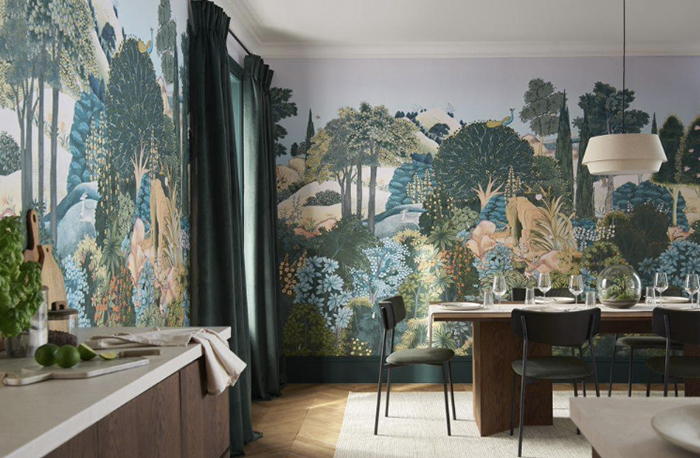 September 21, 2023
UK brand Graham & Brown has announced its Design of the Year — New Eden — and Color of the Year — viridis. This year, the brand is celebrating a Decade of Design, with the 2024 launch marking its 10th Design of the Year. 
Inspired by the Japanese art of Omotenashi, New Eden was created to offer a welcoming atmosphere and produce a utopian ambiance in the home based on the trend that encourages people to open their homes up to others, welcome the outside in and create an aura of acceptance for those who enter.
Inspired by the Japanese art of Omotenashi, the Design of the Year in emerald features a dramatic forest scape full of hidden treasures. Pops of color emerge through the design with yellow, orange and pink tones complementing the emerald tree canopies. The lively handpainted design is full of flora and fauna, interspersed with exotic bird life and rocky terrain. The deep green tones introduce depth to the design, while the use of golden, blue and rusty hues add a playful pop of color. 
"When creating our Design of the Year 2024, we really wanted to highlight the need to create a calm and welcoming space for yourself and others, our utopia trend is the embodiment of this," said Maryanne Cartwright, head of design. "We wanted to highlight the healing and rejuvenating qualities of nature and the need to create calm and take the time to slow down in this bustling world. 
"As we look ahead with the planet in mind our mindsets begin to shift and we form deeper connections with nature, gardens have become an extension of the kitchen, bringing the outdoors in and creating an essential entertaining area. With the powerful health benefits of biophilia and forest bathing, we have captured this essence in New Eden to enable you to create these natural spaces indoors and ensure there is a welcoming environment for guests."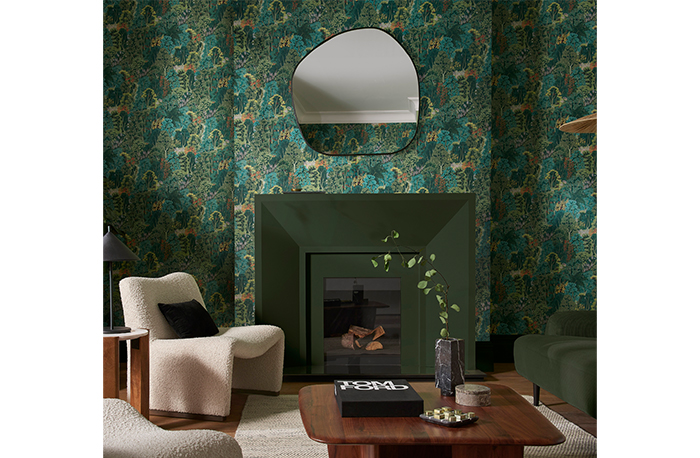 In addition to emerald, New Eden is offered in five other colorways — the vibrant majestic, moody porcelain, opulent mulberry, regal navy and calming viridis. The design is available as wallpaper, a custom wall mural, and made-to-measure curtains and blinds. In January 2024, New Eden will be available as cushions and bed linen. 
Color of the Year 2024: Viridis 
To complement the New Eden emerald wallpaper design, Graham & Brown has announced its Colour of the Year 2024 — viridis. A beautiful muted green color, viridis has been conscientiously curated to create a warm and welcoming space, offering a
calming atmosphere for its guests. It is a complex yet flexible hue, adding depth to a space and blurring the lines between the outside and inside. A natural and uplifting shade, it provides an inventive alternative to the greige interior schemes. 
Viridis is the perfect embodiment of fertile green hills. It can be used in small, cozy spaces to create a calming effect or in larger rooms to transform the space into a sophisticated yet relaxing space. It is especially perfect for the entertaining and entrance areas where outside and inside meet.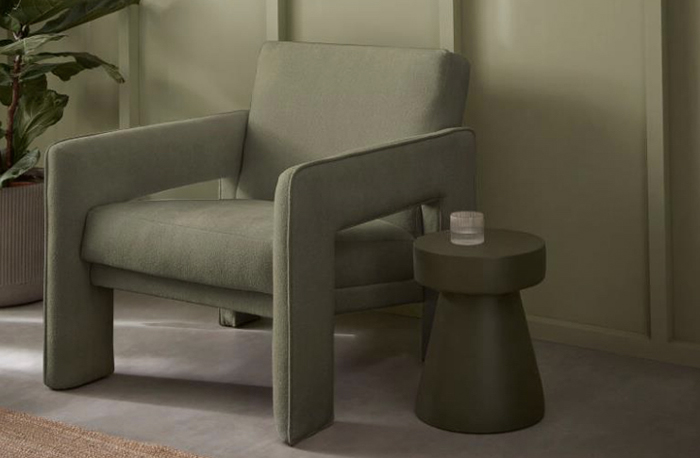 "Viridis is the perfect color partner for New Eden, as it creates such a calming effect with tones of new beginnings, perfect for entertaining," said Cartwright. "When choosing our Color of the Year 2024, we wanted to continue the theme of the utopia trend and began looking into color psychology and the hues that bring calm and peace. Viridis, a soothing, mid-green hue reflects harmony and stability, enabling those in its vicinity to relax and revitalize."
Like all Graham & Brown paint, viridis is an eco-paint, it is water-based, odorless and ultra-low VOC, resulting in a more environmentally friendly product. The paint cans are fully recyclable, and there is no animal testing involved in any Graham & Brown products.