High Point Market Authority Releases Style Report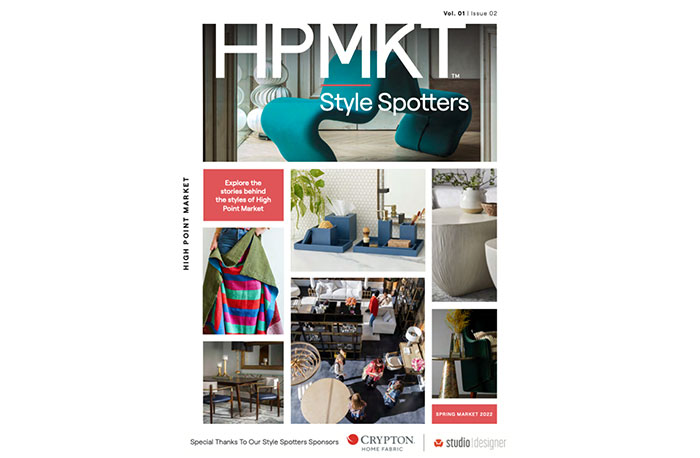 June 29, 2022
The High Point Market Authority (HPMA) released its biannual Style Report, meticulously refreshed to introduce a storytelling component into the product overviews contained within. Comprised of 20 Style Stories, this report is a compilation of some of the unique and intriguing product insights found at the recent Spring High Point Market. 
The 43-page Style Report, sponsored by Crypton Home Fabric and Studio Designer, was produced by HPMA's talented 2022 Style Spotters team, who perused an abundance of new product introductions and dove into numerous brand backstories to curate this collection of stories. 
The stories are presented as part of three compelling categories. "Behind the Scenes" tells the story behind a product or brand, giving the reader a deeper understanding and appreciation of how a piece is made, the culture it came from, the artisans who make it or the science behind it. "On the Scene" is a story built around a style, a product category, colors, textures or any number of themes. "Must be Seen" is a celebration of a favorite product, collection or brand, sharing why it is beloved and a must-see stop at High Point Market. 
Highlighting artistry and several nods to the creativity and craftmanship involved in product development, Volume 1, Issue 2 covers an array of timely product insights. From "Globally Inspired Furniture" to "A Fusion of Sustainability and Artistry" to "The Evolution of Bouclé," among others, the report features dozens of exhibitors and products seen at High Point Market. All 20 stories can be seen and downloaded here.
"The 2022 Style Spotters are particularly interesting as they are anything but predictable," stated Style Spotters Advisors Gary Inman and Shay Geyer in the report's introduction. "Their furniture, lighting, art and accessories selections ranged from tried and true traditional to mid-century, post-modern, Art-deco or unique artisan made and vintage. The diversity of their vision and curation underscores the vast array of design options one can find at High Point Market."
Style Spotters who contributed to the Style Report include:
•      Kelly Collier-Clark, Plot Twist Design
•      Kelly Finley, Joy Street Design
•      Jacob Laws, Jacob Laws Interior Design
•      Jennifer Mabley, Mabley Handler Interior Design
•      Rachel Mautner, Rachel Mautner Interior Design 
•      Kurt Jacob Miller, Jacob Lukas Design
•      Monika Nessbach, Designbar LLC
•      Lucy Penfield, Lucy Interior Design
•      Jana Platina Phipps, Home Couture Collective
•      DuVäl Reynolds, DuVäl Design LLC
Additional product insights from Spring Market can be found in individual galleries each Style Spotter created based on their top product selections, spotted while walking Market this past April. These galleries can be found on the High Point Market website.
The award-winning Style Spotters program features 10 home fashion pacesetters who showcase their favorite products and top trends from High Point Market exhibitors via image galleries, product previews, Style Spotters LIVE! events, two post-Market Style Reports and various media interviews. Mentored by Geyer and Inman, program alumni and HPMA's Style Spotters Advisors, each Style Spotter serves for two markets during a calendar year.