Highlights from Salone del Mobile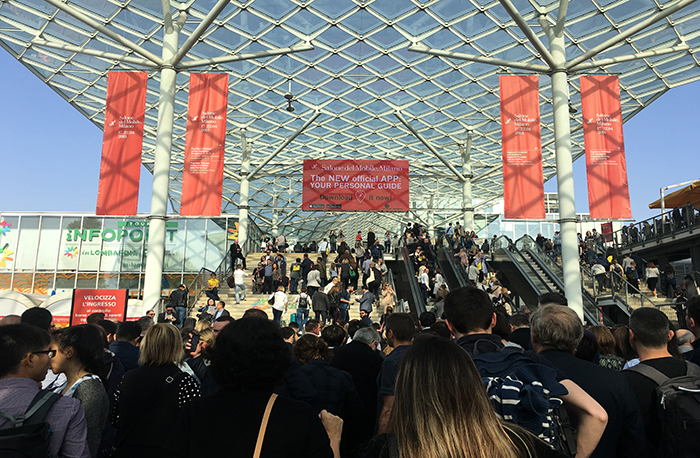 April 23, 2018
Milan, Italy, is the host of the international fair Salone del Mobile, which this year included the biennial kitchen show, EuroCucina, as well as the bath exhibition, Salone del Bagno, and FTK, which showcases technology in the kitchen. KBB joined the more than 300,000 visitors who descended on the city to find out what is trending in Europe.
Click HERE to view a gallery of kitchen & bath products from Salone del Mobile.
Here are just a few of the trends that stood out:
Getting Thinner. Everything from countertops to washbasins and vanities in the bathroom are slimmer, allowing consumers with limited space to take advantage of every square inch. The washbasin bowl from Kartell by Laufen boasts a drawer element with a 12-mm top in orange. Designers Ludovica and Roberto Palomba used SaphirKeramik from Laufen, an extra-thin but very strong material, to create the new silhouette.
Anti-Bacterial Properties. In both the kitchen and bath, health and wellbeing are growing priorities. Manufacturers are catering to that with products like the FREE Bathtub from PLANIT. The tub is made out of Solid Surface, a material with flexibility and anti-bacterial properties that was shown for the first time at the show. FREE is available with a coordinated back support fitted with different grooves that allow for diverse positions.
Customization. Clients today want a space personalized just for their needs and tastes. AQUA MAXIMUM from Fiandre is a collection of customizable shower trays and washbasins that match with the Maximum Fiandre Extralite bathroom surfaces. Each type of washbasin, top or shower tray can be made in different standard-size variants: from the integrated single or double washbasins, both the up and down waterfall version, to the pedestal washbasin and single or double shower trays.
Universal Design. Creating products that work for everyone is starting to show up more and more. Duravit's Shower + Bath (currently only available in Europe) takes the danger out of a tub/shower combo with a low rotating door, allowing consumers to have both without sacrificing safety.
Metallic Finishes. Along with black – which hasn't gone anywhere – trending finishes today in Europe include rose gold, gunmetal and gold. GRAFF's INCANTO Collection of faucets features the gunmetal distressed finish, which has a rugged surface and an industrial feel, as well as the unfinished brass and unfinished brushed brass that will change color over time.
Look for our May/June issue for a complete look at the trends showcased at Salone del Mobile's kitchen and bath exhibitions.