Homeownership Education Lacking, Survey Says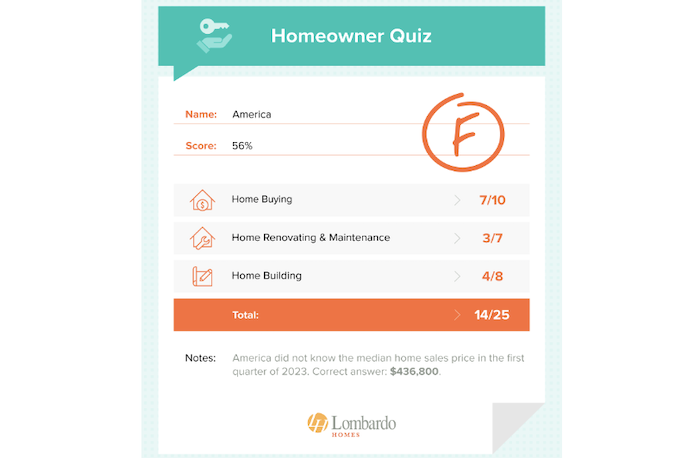 August 7, 2023
Homeownership Education Lacking, Survey Says
This story was originally published on August 7, 2023; it was updated on August 22, 2023.
It's something we've all wondered about – how much do Americans really know about homeownership? A new study by Lombardo Homes reveals some eye-opening knowledge gaps in home buying, renovating and building.
Here's the shocker: America failed the homeowner knowledge quiz, scoring only 14 out of 25 questions correctly. It's clear many Americans could use some schooling in homeownership.
The study highlights struggles in understanding mortgage terms, the cost of buying a home in 2023, and crucial aspects of home renovation and maintenance. Turns out, most Americans are a bit clueless when it comes to things like water heater lifespans and the materials used on exterior walls.
Only 14 out of 25 questions were answered correctly on the Homeowner Knowledge Quiz
The overall grade percentage on an A-F academic scale resulted in a failing score
Americans scored better in the home buying category, answering 7 out of 10 questions correctly
However, respondents underestimated the cost of buying a home in 2023, with only 24% answering the median home sales price correctly
The worst scores came from the home renovating and maintenance section, with only 3 out of 7 questions answered correctly
Respondents lacked knowledge about the lifespan of a traditional tank-type water heater and the material installed over exterior wall framing (sheathing)
Americans performed slightly better in the home building category, answering 4 out of 8 questions correctly
However, respondents didn't know the concept of a "punch list" and underestimated the average cost to build a new home in 2023
Underscoring the need for homeowners – and prospective homeowners – to be better informed is the latest Fannie Mae Home Price Index, which measures the average, quarterly price change for all single-family properties in the United States, excluding condos.
Doug Duncan, Fannie Mae senior vice president and chief economist, commented on the Q2 2023 FNM-HPI results. "Once again, home price growth surprised to the upside. Housing demand remains resilient, which continues to butt up against the near-historically limited supply of existing homes for sale. Moreover, the 'lock-in effect,' in which homeowners are disincentivized to list their homes for sale because of how high mortgage rates have risen, is seriously inhibiting the supply of existing homes available for sale. At nearly 8 percent on a seasonally adjusted annualized basis, this past quarter's home price growth was well above the historical average."
Read the full Homeowner Knowledge Quiz here.
—By Leslie Clagett, KBB managing editor