Houzz Launches Visual Match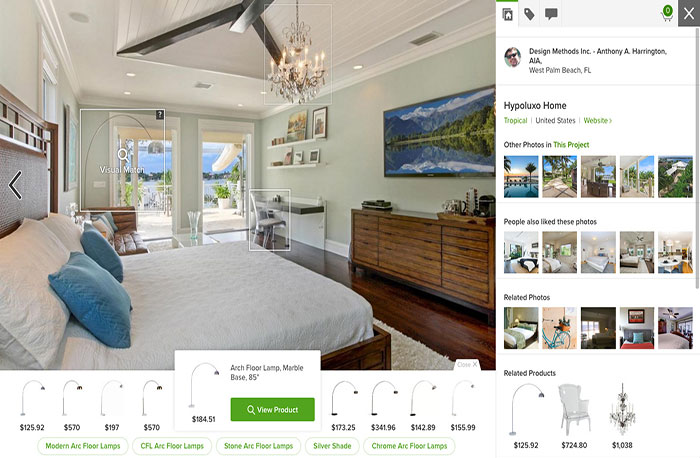 September 14, 2016
Houzz, the leading platform for home remodeling and design, today launched Visual Match, a new visual recognition tool that makes it easy for people to discover and buy on Houzz the types of products and materials that inspire them in photos. Available for desktop and in the free Houzz app for iPhone, iPad and Android, Visual Match applies deep learning technology to scan the more than 11 million retina-quality home photos on Houzz to identify furniture and decor in living spaces and surface visually similar inventory from the Houzz Marketplace. There are more than 6 million products available for purchase from over 15,000 merchants on Houzz today.
"People come to Houzz because they want to get everything they need to improve their homes in one place, from inspiration to execution," said Alon Cohen, Houzz co-founder and president. "Visual Match makes it even easier for people to take action on inspiration, enabling them to view a photo in the Houzz app, tap a product in the photo that they love, and use View in My Room to see the product in their own space before purchasing."
Houzz has been reimagining the shopping experience with new technology that helps people discover — and instantly buy — the best products for their homes. Earlier this year, Houzz introduced View in My Room, which enables people to place and see any product from the Houzz Marketplace in their own rooms. Fifty-percent of users who have made purchases in the latest version of the Houzz app used View in My Room to preview the product in their home.
Since its beta launch in the U.S. was announced in October 2014, the Houzz Marketplace for home products has grown exponentially, to more than 6 million products available for purchase and over 15,000 merchants. Sales have increased more than four times year over year, when comparing third quarter 2016 sales to date to the same time period of 2015. Top-selling items represent big-ticket renovation products and materials, such as bathtubs, tile and vanities, as well as home decor items and furnishings like sofas and bar stools.
Houzz has more than 40 million monthly unique users, over 90 percent of whom are homeowners, and over 1 million active home renovation and design professionals on the platform. Houzz users are active renovators and decorators; three in five (61 percent) U.S. homeowners on Houzz renovated in 2015 and two-thirds (65 percent) decorated their homes last year. Globally, the Houzz app has more than 400k reviews across iOS and Android with a five-star average rating. Houzz users flip through more than one billion photos on Houzz apps every month. Houzz was named the overall best Android app of the year in the inaugural Google Play Awards this year, and is an Editor's Choice app on Google Play. The Houzz app for iPhone and iPad is also listed among the "Essentials" on the App Store.