How Connected Elements Can Contribute to an Eco-Friendly Project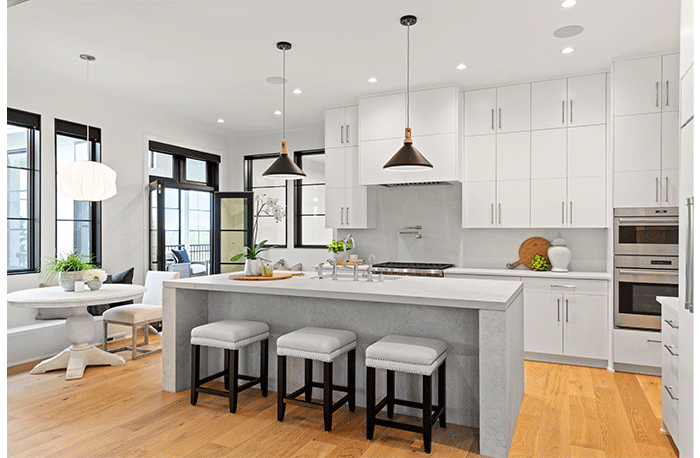 May 30, 2023
How Connected Elements Can Contribute to an Eco-Friendly Project
This article was originally published on May 30, 2023; it was updated on August 8, 2023 and August 22, 2023.
An eco-friendly project or home is typically defined as one that is designed to use resources thoughtfully, such as conserving energy and water and limiting waste by specifying long-lasting materials with limited need for replacement. One often overlooked aspect of a project is how lighting and shades in a home can make a meaningful difference.
Using automated lighting controls and smart shading systems, homeowners can use less energy and have greater control over their spaces. In 1961, with the invention of the dimmer, Lutron championed creating ambiance with lighting while reducing energy consumption in the home. In the U.S. alone, Lutron products save an estimated 10 billion kWh of electricity or approximately $1 billion in utility costs per year.
Above photo: Energy usage can be optimized with lighting control and motorized shades in the kitchen and throughout the home. Photo credit: Zawadski Homes & Spacecrafting
Let There Be Lighting
With proper smart and automated lighting, a home can be optimized to save energy, reduce waste and maximize overall comfort. On average, LED light bulbs last 50 times longer than a typical incandescent light bulb and 20-25 times longer than a typical halogen light bulb, while also using at least 75% less energy. If an LED light bulb is specified over an alternative, waste can be significantly reduced over time.
Automation is an often-overlooked element of energy efficiency. In transitional spaces like pantries, closets, hallways and laundry rooms in particular, automating the lighting control can dramatically reduce energy consumption, contributing to an eco-friendly project. By adding motion sensors to turn lights off when spaces are vacant or installing smart devices that can be programmed to homeowner schedules, automation can help turn off unneeded loads and save energy.
Beyond the sustainable benefits of automation, thoughtfully programmed lighting can also elevate homeowners' routines to make their days more convenient and comfortable.
Shades & Temperature Control for Eco-Friendly Project
Shading throughout a home can be both aesthetic and functional. Window treatments play a significant role in reducing heat gain, and smart shading can help homeowners regulate interior temperature, providing comfort and lowering energy use.
According to the U.S. Department of Energy, about 30% of a home's energy is lost through windows; this applies to heat gain and loss in both the winter and summer months. Effectively specifying window treatments can make a large difference, and designers and homeowners should keep the following in mind:
Roller shades are a popular choice because of their ability to block heat and glare while maintaining views of the outdoors.
Fabrics with an aluminum backing are highly effective at reflecting light and heat back out the window, helping keep spaces cooler during the summer.
Fabric color plays a role in maintaining temperature, as lighter colors tend to be better at reflecting light, whereas darker colors tend to absorb more heat.
Honeycomb shades are particularly effective at helping with insulation. They not only install tightly within a window, trapping heat between the shade and the glass, but feature a folded cell design, which traps hot air, reducing the amount of heat that enters the room.
Seventy-five percent of residential window coverings remain in the same position every day, according to a study by the U.S. Department of Energy, and shades that are left open are not being optimized for energy savings. To avoid falling into this 75%, homeowners can opt for automated shades that can be controlled with an app, with voice commands or with a remote or keypad on the wall. Shades can be set to automatically raise or lower to control the amount of sunlight and heat entering the room and – when paired with smart thermostats – can help precisely regulate the temperature within the home based on the sun's real-time impact.
Automated shades can also help reduce product waste. Manual shades tend to require more maintenance, with cords, fabric and other materials prone to damage from frequent handling, while automation can extend the lifespan of shade systems since they aren't as frequently touched.
Shade fabric materials can also contribute to waste reduction. Certain roller fabrics are designed with sustainability in mind, are composed of post-industrial and consumer plastic waste and are 100% recyclable. Products that use sustainable materials like this often can help contribute to LEED qualifications.
Set It & Forget It
Investing in the right home products up front to deliver long-term sustainable benefits enhances the daily experience for the homeowner. By installing automated shading and lighting, homeowners reduce waste and save energy, all while maintaining a more comfortable and convenient home environment.
By Margaret Block, Lutron Product Manager, lutron.com