Innit Unveils Connected Food Platform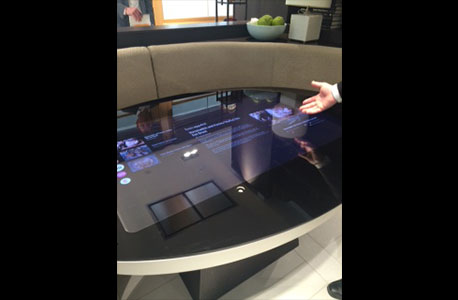 May 20, 2016
Innit today unveiled its Connected Food platform at the groundbreaking Pirch SoHo showroom, which opens this weekend in New York City. The Innit platform leverages information within food using advanced sensors, machine learning and nutritional science and seamlessly connects that information to the smart kitchen.
Consumers can now experience Innit's smart kitchen platform for themselves thanks to a partnership between Innit and Pirch, a revolutionary retail concept that presents and curates leading brands for indoor and outdoor kitchens and bath. In the new Pirch showroom in SoHo, featuring an interactive New York-style loft powered by Innit, consumers get a taste of how Innit's technology can connect food to smart kitchen appliances to solve multiple challenges. Using automated inventory management, Innit can suggest what's for dinner. Smart preparation stations sense food and automatically display digital recipes, how-to videos and step-by-step cooking instructions. Recipes and content from top publications are integrated directly into the kitchen, and expert multi-step recipes can be sent wirelessly to run on Innit Empowered smart ovens.
Starting next month, the new 32,000-sq-ft. Pirch showroom in Manhattan's iconic SoHo District will also showcase Innit in the Pirch Savor demo kitchen. Consumers will be able to work with chefs via live cooking demos and experience the Innit-enabled smart kitchen technology.
"In the age of connected appliances, the missing ingredient is connected food. Innit unlocks information within food and connects it to the smart kitchen to empower consumers through all stages of cooking, helping them live tastier, healthier lives," said Innit founder and president Eugenio Minvielle. "We're delighted to be working with Pirch to redefine the way that modern homes can enable simplicity and joy every day."
"At Pirch, we are passionate about introducing innovation that helps people live joyfully," said Jeffery R. Sears, CEO of Pirch. "Innit's approach of unlocking information within food and connecting it to appliances has immense potential to help people succeed in the kitchen. We're excited to showcase this vision together in our new SoHo showroom."
Innit emerged from stealth mode in November 2015 with $25 million in funding and a team led by senior executives from the food and technology sectors. Its core team of chefs, nutritionists and engineers combines the latest in food science and technology to transform food preparation and management by unlocking the information within food. Consumer trials, where home cooks will be able to test the Innit platform in their kitchens, are expected to begin in late 2016 with consumer availability of products in 2017.