Keeping Up with Smart Kitchens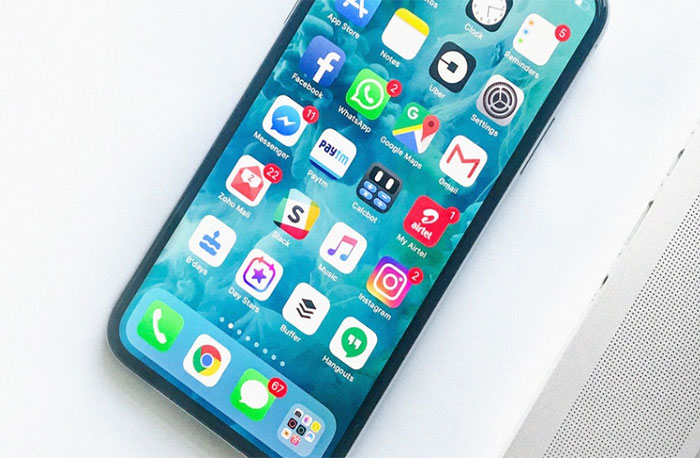 June 28, 2018
It's no secret that technology is a growing part of all aspects of our daily lives. We hold increasingly more sophisticated devices in our hands with every new generation of smart phone, so it's only natural that almost anything that can be plugged in can have a "smart" aspect built into it – even if it means retrofitting a device with a control module.
Homeowners can control almost any system in their houses from their smart device – home security and locks, interior and exterior lighting, heating and air conditioning – so why not have smart appliances in the kitchen that can provide this level of high tech and convenience?
And as the laws of supply and demand dictate, as more people want the merchandise, economies of scale rise, so prices come down, the technology becomes more ubiquitous, and smart appliances become more accessible to a wider audience. It's like anything else, really: think about how many families shared one cell phone or one computer just 20 years ago – now almost everyone has a smartphone of their own, and the devices are nearly indispensable. The same thing will happen with smart appliances.
Evolution and Benefits
Overall, the most significant strides in appliance technology have been in efficiency and connectivity. Most of the newest generation of appliances displayed at the Kitchen & Bath Industry Show in January can be connected via Wi-Fi to apps on phones, as well as to home assistants like Google Home or Amazon's Alexa or Echo.
But it's important that the industry communicates to consumers the broader benefits of connected-appliance technology. Yes, a homeowner can remotely preheat the oven on the way home from the supermarket to get something in the oven right away on a time-crunched weeknight, but there's much more to it than that. A smart appliance can send an alert when something is wrong – like a water filter needs replacing, or the ice maker is clogged – and can self-diagnose a problem, potentially saving one or more trips from a repair service. These tech-driven innovations now afford more precise control over appliance functions.
Wi-Fi connectivity also means smart appliances can get software updates automatically. Energy efficiency has been enhanced in the latest generation of appliances, which is good for the environment as well as cost efficient for consumers. NKBA research shows that consumers are most likely to start getting used to the idea of technology in the kitchen with home assistants, docking or charging stations and smart TVs.
Stoves & Ovens
Smart ovens and cooktops can be connected to the internet via Wi-Fi and to a smartphone or other smart device. Some of the advances involve being able to adjust heat, control temperature or turn the appliance on or off via phone app or voice command – through Alexa or Google Home – which is very convenient when you're handling, say, chicken and need to pre-heat, helping prevent the spread of bacteria and cross-contamination.
Multiple compartments in an oven allow you to cook different foods at different temperatures, while flexible burner configurations and induction burners give the home chef lots of options on the stovetop as well. Other advances in cooktop technology include high-BTU burners for searing or boiling water quickly and simmer burners.
Controlling temperature, pre-heating or turning off the oven remotely and getting an alert when the desired temperature is reached – all on the smartphone – can help prevent foods from overcooking or burning. Some smart ovens can look up recipes and set the temperature and cook time based on the instructions. And you can pop something in the oven, leave the kitchen to do something else and get an alert on your phone when the cook time is finished. Finally, advances in coating technology inside ovens enhance the efficiency of the self-cleaning function, while on stovetops, they make cleanup faster and easier.
If a homeowner can't afford a new range right away, one option is a smart plug, which in effect retrofits the range to be a smart appliance. Depending on the model, of course, some appliances can plug into a smart module, which connects to the phone via app and also works with Alexa or Google Home. The plug also allows preheating, temperature control, alerts when the appliance is turned on or off or reaches the preheat temperature and a special "geofencing" technology can sense when the connected smartphone has left the building and send an alert asking whether to turn off the range.
Refrigerators
Built-in touch screen/control panels can also connect the refrigerator to the internet via Wi-Fi. These panels can serve as a hub of family information, calendars, school and activity schedules and can be connected to the family's smartphones and send reminders. There's no need for a dozen scraps of paper and notes stuck to the front of the fridge with magnets! Anyone can access email, watch TV and stream movies or music via this device. The home chef may look up and display recipes from this panel – sometimes based on the ingredients available in the fridge – and some fridges will even recite the instructions during the cooking process.
Other features include built-in coffee makers in addition to hot and cold water and ice in the door and scanners that read a product's barcode and put it on a shopping list and send the list to an app on the phone – so the homeowner can send the shopping list to the local supermarket, which in turn assembles the order for pick-up or delivery. Consumers can customize temperature by compartment or drawer, depending on what's in there, or turn the icemaker on or off from a smart connected device. Some units feature hands-free opening – great when you're holding a big platter to put in the refrigerator or are in the middle of making meatballs and need another ingredient.
Some smart refrigerators are equipped with interior cameras, so if you're at the store and can't recall if you need milk or eggs, just take a look inside the fridge. Similarly, some units can keep track of expiration dates or whether food is spoiling.
Dishwashers
The newest dishwashers are more efficient, especially in their use of water and electricity, as well as in the cleaning technology that attacks stubborn food particles. Many of the advances in dishwashers have come in the area of flexibility – multiple racks can be adjusted to accommodate different-size items, and some have special jets or options for various types of hard-to-clean things like baby bottles, pans and utensils. More powerful heating elements and blowers can cut drying time, while stronger jets clean faster, all saving energy and water. Some units also recycle rinse water, saving on consumption, and some have LED lights inside.
On the smart side, some dishwashers can be connected to phones via Wi-Fi and let you know when a cycle is finished, when detergent or rinse aid runs low and needs to be refilled or reordered, if there are any problems with filters or if there's a leak. Sensors in the unit can determine the size of the load and how dirty it is and adjust water levels and cycle time accordingly.
Washers & Dryers
These appliances bring the laundry room into the 21st century. As with other new-generation appliances, today's washers and dryers offer energy-efficient use of water and electricity, sensors that detect how much dirt is in the wash or how long to dry the load and can send alerts when cycles are finished. Apps allow for remote start and monitoring the cycle's progress, and the machine can evaluate when to operate during off-peak times in the particular community, saving energy costs. Some smart washers can adjust the intensity of the wash and spin based on the types of fabrics or loads, and some units have multiple washing compartments that allow two loads to run at different temperatures simultaneously.
A big advantage is self-diagnostics that can help troubleshoot a problem without needing a service call. If a technician is required, he'll know what's wrong ahead of time and will have the correct part, saving time and the cost of additional calls. Some machines, if connected to the family's calendar hub, for instance, can even remind everyone that the kids' uniforms need to be washed for a Little League game!
Is It Worth the Investment?
Whether a homeowner is replacing appliances, remodeling or building new, the next generation of appliances will bring exponentially greater energy and water efficiency, saving money, requiring less-frequent repairs and adding a level of convenience that homeowners might not even be aware of now.
An aesthetic advantage that's not necessarily "smart" but does reflect advances in appliance manufacturing are the surfaces that are now used for many units. Finishes that resist dirt, fingerprints, scratching and other marks keep the appliances looking better for a longer time and make cleanup easier and faster – another way appliances give us more time for family and make our lives better.
Originally published at NKBA.org