New Geberit Accessible Design Brochure Provides Solutions to Bathroom Accessibility Challenges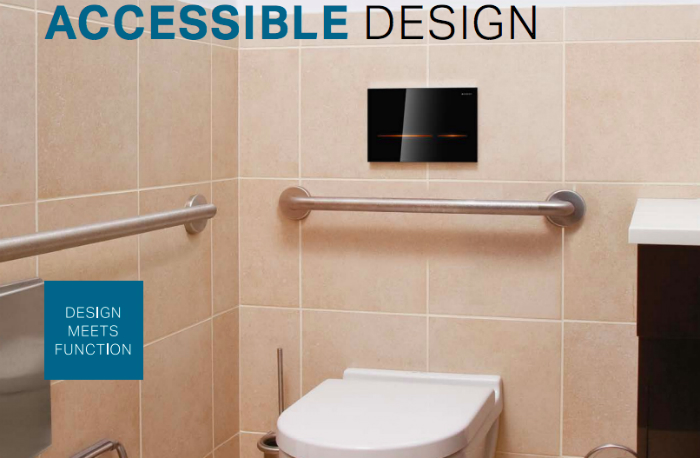 May 28, 2018
The new Accessible Design brochure from Geberit highlights the things to consider when designing an accessible bathroom. Subtitled "Enhancing Style and Comfort," the four-page brochure provides designers with an overview of the basic essentials for increased comfort such as touch-free flush actuation. Photos and diagrams throughout the brochure help demystify the process of designing and constructing ADA compliant bathroom compartments.
"Designers, architects, installers or other plumbing professionals will find the brochure packed with the fine points of in-wall toilet systems and compatible touch-free and remote flush actuators," said Ronn Jefferson, Geberit product manager. "The brochure comes complete with QR Codes for instant mobile access to Geberit product information. We've even included a link to the online Accessible Product Guide for anyone who needs additional help finding related products for their accessible bathroom projects."
Geberit systems increase accessibility, save water and offer increased reliability over standard bathroom plumbing hardware. The flexible, adaptable in-wall carrier systems are designed for easy installation, attaching to existing wall framing and supply and waste piping using standard tools. Once installed, the system is practically maintenance-free. Should it become necessary, however, simple change-out of components can be accomplished without the use of tools.
You can download Accessible Design at www.geberitnorthamerica.com/local-media/brochures/gna7247.pdf?lang=en or call 800-566-2100 to request a copy.