New Web Series with Katie Couric and Sur La Table Sponsored by Hansgrohe and GreenPan Launches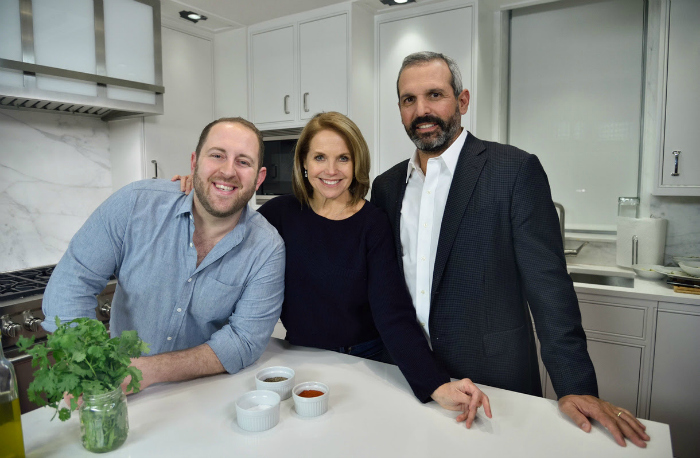 January 3, 2017
Award-winning journalist Katie Couric and husband John Molner have partnered with cookware retailer Sur La Table to launch a new cooking web series, Full Plate with Katie & John. The series, aimed at viewers with hectic schedules of their own, encourages even the busiest cook to prepare healthy meals at home. Five weekly episodes will feature Couric and Molner cooking up nutritious recipes that take less than 20 minutes to prepare with Sur La Table National Chef Joel Gamoran.
The series takes place in Couric's and Molner's home kitchen, offering a snapshot into their hectic lives. Episodes will launch each Sunday in January at 7 p.m. EST, on the Sur La Table homepage. A live event with Katie and John will be hosted at Sur La Table's Hell's Kitchen location in New York on Tuesday, January 31 at 4 p.m. EST. The series, co-produced by Katie Couric Media, is sponsored by healthy cookware brand GreenPan and kitchen and bath manufacturer Hansgrohe.
"John and I love cooking at home but can rarely find the time, so we are thrilled to partner with Sur La Table and Chef Joel Gamoran in creating these fast gourmet recipes," said Couric. "We look forward to sharing them with our busy viewers and showing them that they can do the same."
Couric is Global News Anchor for Yahoo, where she reports on world events, anchors groundbreaking interviews with major newsmakers and cultural figures and examines the important issues of our time. In addition to her long career in broadcast and journalism, Couric is a cancer advocate, documentary film producer and host of podcast, Katie Couric on the Earwolf channel which features candid conversations with some of the biggest names in news, politics and pop culture.
"We are excited to join this dynamic collaboration. Innovation is at the heart of Hansgrohe, and it is exemplified in our products for the kitchen and bath," said Angela Hoggan, digital marketing & communications manager at Hansgrohe.  "As Katie and John demonstrate in the web series, our latest Select technology allows for seamless and quick operation of the faucet in the kitchen –  perfect for busy healthy lifestyles."