NKBA's 2023 Luxury Outdoor Kitchen Report: Takeaways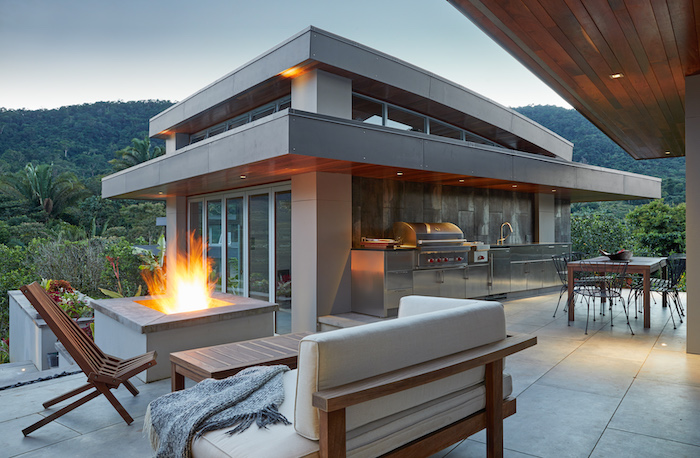 July 3, 2023
Outdoor kitchens are becoming a standard for luxury homes, and according to the recent release of the NKBA's 2023 Luxury Outdoor Kitchen Report, the demand is only increasing for this high-growth category. This presents a great opportunity for designers to expand expertise and create beautiful outdoor rooms, while providing clients a return on their investment. Designing for the outdoors requires as much energy and attention to detail as interior spaces and also has its own unique set of obstacles. Here, we highlight the top findings from the Luxury Outdoor Kitchen Report, which not only addresses these challenges but also offers design inspiration.
Defining a Luxury Outdoor Kitchen
NKBA's experts agree that designing a luxurious outdoor living space comes down to four things: experience, seamlessness, quality and amenities. Some of the key points they focused on include:
• Creating memorable experiences in an outdoor space that's perfect for cooking, entertaining and relaxing.
• Transitioning seamlessly from interior to exterior, with finishes and fixtures that effortlessly let rooms open to and merge with the outdoors.
• Elevating the outdoor space with quality cabinetry, countertops and other material choices. Durability is critical, and specifying the best-quality materials and fabrication is imperative.
• Designing with luxury amenities that go beyond convenience and give the space a custom quality – layered lighting, premium appliances, audio/video and other "wow" design elements.
More Than Just a Seasonal Space
When designing an outdoor space, designers should think about innovative products and technology, which enable homeowners to enjoy their outdoor space longer throughout the year, enhancing the value of their home. These might include:
• Infrared heaters, a fireplace/firepit, hot tub and layers of evening lighting extend days – and the season – in colder climates.
• Retractable bug screens keep insects away from cooking and dining areas without disrupting the view.
• Design around your client's passions. A sports fan might want a large-screen TV to watch the big game, or a home chef might want a teppanyaki grill to show off their cooking skills.
• Reclaiming unused yard areas to create new entertaining, dining or sports spaces – or consider building up to create a rooftop deck.
Design Principles, Inside and Out
Many design principles and processes are the same for designing an outdoor kitchen as for an indoor space, while some present a distinct set of challenges.
Outdoor Design Similarities
• Understand the needs and lifestyle of the clients – how they live, entertain, cook and serve – and apply their personal design aesthetic.
• Coordinate a team of specialists and organize the order or project segments. Also include a technology integrator, who will add audio-video, adjustable lighting and smart devices to create a comfortable ambience.
• Think of ways to use the same space for different purposes or occasions. For instance, a patio can double as a buffet area and later be cleared for dancing or games.
• Produce layers to the design – flooring, surfaces, lighting and upholstery – to create textural interest that defines the "rooms" of the outdoor space and draws the eye to different focal points.
• Consider the environment by choosing sustainable, renewable materials and try to source locally. Design for durability to minimize replacement and work with landscape specialists for native plantings.
Outdoor Design Differences
• Factor in the sun and wind when positioning seating areas; install wind or noise barriers as well as an overhead shelter for protection from rain or direct sunlight.
• Ensure that cold weather environments have easy shut-off valves for outdoor plumbing. Pipes should also be laid below the frost line (check local building codes).
• Choose purpose-built materials such as slip-resistant flooring and high-grade stainless steel. Ensure that appliances are designed to withstand the effects of weather, direct sunlight, fire or rust. Invest in high-quality furniture/product covers.
• Manage water by considering pitching or grooving surfaces to redirect water away from the living areas, and ensure proper drainage under cabinets.
—By Dianne M. Pogoda, NKBA writer