Pandemic Impacts on Home Renovation Trends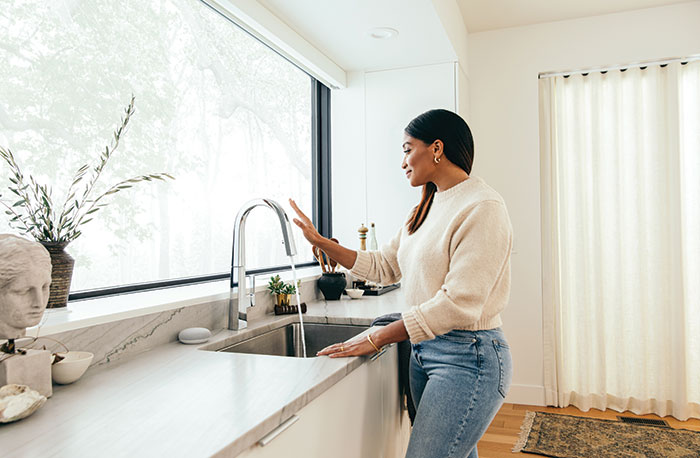 July 26, 2021
Last year, Ferguson Bath, Kitchen & Lighting Gallery asked consumers about their views on home renovations and showrooms with a survey that offered a slight nod to the early months of the pandemic. Recognizing that a year later, the pandemic has impacted the home design industry in major ways, the company decided to dig deeper to uncover some of the resulting trends.
An online survey of 1,108 U.S. adults ages 18 and older revealed that style and functionality are the top reasons homeowners made updates during the pandemic, and spending more time at home, including working from home, led to changes from the bathroom to the home office.
"These surveys allow us to keep a pulse on our customers and the market, as well as what design and retail trends are prevalent now and forecast what may be," said Miranda King, senior marketing business partner showroom/builder, Ferguson Bath, Kitchen & Lighting Gallery.
Not everything has changed in 2021. In a similar result to last year's survey, the kitchen (47%) and bathroom (44%) were the top choices for areas of the home respondents most wanted to upgrade. Those interested in updating outdoor spaces grew from 23% to 30%, while basements and offices also saw a slight uptick.
Working from Home
Not only being at home but working there has led to some shifts in how homeowners use their spaces and what they would like to change about them. The living room tied with the existing home office as the place where work has been getting done among the 34% of respondents who stated they began working at home during the pandemic.
"As homeowners transition to remote work, many incorporated desks into their master bedrooms or guest bedrooms," said King. "To make working from home more comfortable and to create a functional layout, they are incorporating mini-fridges, coffee makers and other small touches."
In addition to convenience in the home office space, many homeowners (62%) sought improved lighting to see their computer better (28%) or look better on video calls (22%). Half of those who made lighting changes updated their ceiling light, while adding a device to the computer, updating accent lighting or getting a better desk lamp was each claimed by about a third of respondents.
Smart Home Convenience and Hygiene
Nearly half of respondents (49%) stated they would purchase smart home products to make their lives easier. Other top reasons included saving time, improving energy efficiency and boosting safety. Although convenience factors like a refrigerator that notifies users when the door has been left open or a washer/dryer that lets users know when clothes are done appealed to almost a third of homeowners, the hygiene of a touchless faucet won in this category with 41% of Americans finding it an attractive feature.
This finding carried into the bathroom with many respondents stating interest in adding a bidet seat (26%) or a bidet (17%), and 22% of them saying they are more interested in doing so now than they were before the pandemic. Many (36%) cited sustainability as the reason, while improved hand hygiene and health benefits also ranked high. As far as homeowners not wanting smart home products, 53% stated they were too expensive, while 41% worried about data and privacy concerns.
The younger the generation, the more likely they were to say yes to these and other technology upgrades, including smart toilets, smart mirrors. In the 18-29 age group, 14% also expressed interest in adding a refrigerator in the bathroom.
"Convenience is the number one reason a homeowner may choose to put a refrigerator in the bathroom," said King. Uses might include storing formula or milk for overnight feedings, holding skincare products or keeping chilled wine at the ready for a luxurious bath experience.
"Regardless of its intended use, location-wise it may be easier to connect a refrigerator in the bathroom via plumbing and electrical, as well as hide a refrigerator in the bathroom verses the bedroom."
Fixr.com's 2021 Kitchen and Bathroom Trends: https://www.kbbonline.com/news/trends-inspirations/fixr-com-unveils-top-kitchen-and-bathroom-trends-in-2021/
Boosting Outdoor Living
Now back to outdoor spaces and the 30% of respondents who showed interest in updating them.
"As homeowners found themselves entertaining and spending more time at home, our team has seen a growing interest in personalizing their outdoor spaces," said King.
Popular upgrades include pizza ovens, wine fridges, ice makers, sinks, faucets, side burners, refrigerator drawers and more. And King explained this is an area where smart home trends are also relevant.
"There is an increasingly new trend to bring technology to outdoor spaces," she said. "Not only can homeowners control their outdoor lighting with smart technology, but some grills offer voice-activation technology and mobile apps."
— By Carrie Whitney