Pinterest Perspective on Bath Trends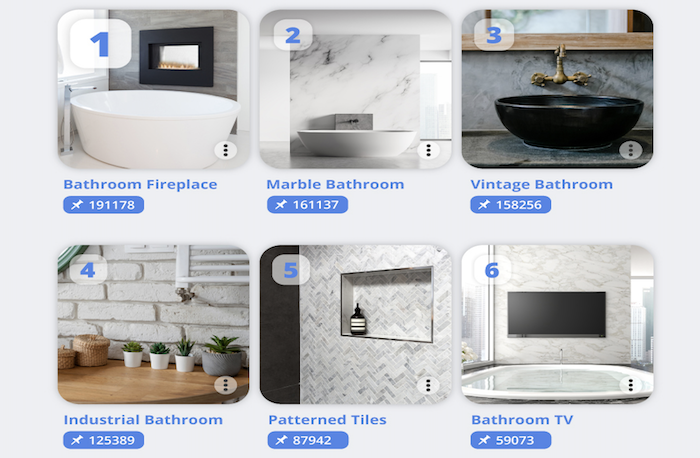 June 20, 2022
British bathroom retailer Showers to You was keen to uncover the latest design trends for summer 2022. By deep diving into Pinterest, they found the trendiest bathroom designs and ranked them in order of most to least popular. It's a sometimes surprising look at what's on the minds of potential clients.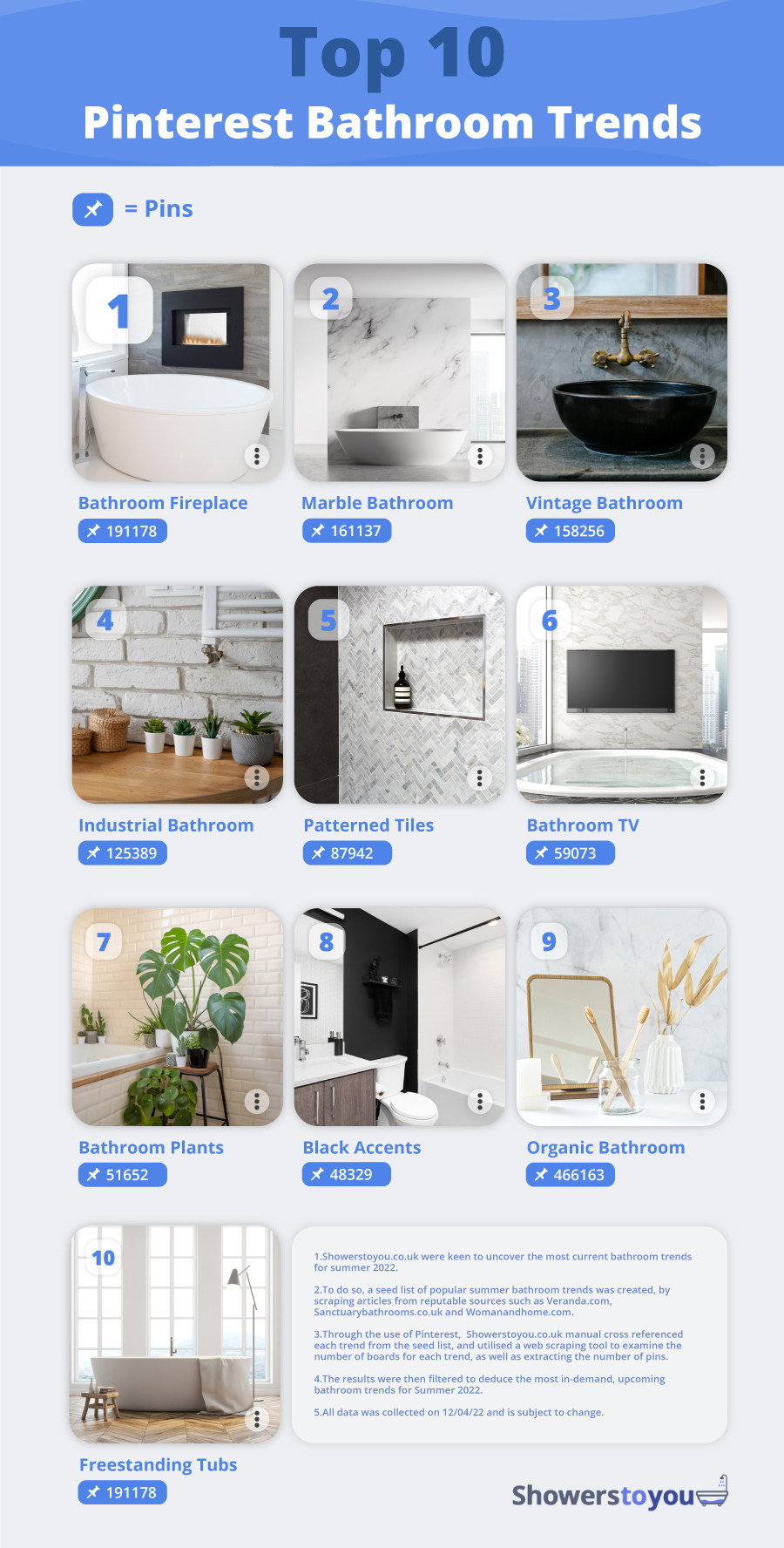 1. Bathroom Fireplace
Though the days of taking a bath in a metal tub in front of a fire may seem long gone, it is making something of a modernized resurgence. Bathroom fireplaces are increasingly popular online, with 992 boards and a huge 191,178 pins on Pinterest, and it makes sense. Who wouldn't want to soak in a luxurious bubble bath while a fire crackles nearby and step out of the tub into a toasty warm room?
2. Marble Bathroom
Marble has been a staple in luxury homes for centuries. Whether it's in furniture and tabletops, kitchens counters or bathrooms, marble is something that always seems to be in style in some form. According to data from Pinterest, with 999 boards and 161,137 pins, marble bathrooms are the modern version of the age-old trend. The contemporary marble bathroom incorporates sleek lines and minimalist fixtures. Most bathrooms in this trend are light in color, with accents of silver, grey and gold, though dark marble bathrooms can be strikingly beautiful and different.
3. Vintage Bathroom
Modern may be nice, but it seems that old really is gold. Vintage bathrooms have 1,000 boards and 158,256 pins on Pinterest, showing that you never can beat a classic. Free-standing baths, roll-top tubs and wrap-around shower curtains are key aspects to capturing that feeling of living in a period drama. Vibrant wallpapers in floral colors can add to the look, or go for old-fashioned paint in yellows and greens. Vintage style fixtures and fittings also work wonderfully.
4. Industrial Bathroom
The industrial look has swung in and out of fashion for many years. But the time has now arrived to put an industrial spin on classic bathrooms. Garnering 999 boards and 125,389 pins, it seems people across the globe are keen to get in on this trend. Think metallic finishes and exposed piping and dark paint and exposed brick. Many of the bathrooms on Pinterest also feature Crittall-style shower screens – black or metal frames with glass panels.
5. Patterned Tiles
For a while, it seems like color palettes have trended toward all-gray, everywhere. The times are now changing, including in the bathroom. Add some color and interest to the bathroom with patterned tiles – these can be Victorian-style floor tiles or modern, abstract patterns. This trend has 994 boards and 87,942 pins on Pinterest and is a great way to introduce some color into the space.
6. Bathroom TV
Having a TV in the bathroom has always been a mark of luxury – what could be better than watching your favorite film while soaking in a bubble bath? And thanks to improvements in technology, this is easier to achieve than ever. With 888 boards and 59,073 pins, it seems the people of Pinterest agree.
7. Bathroom Plants
Houseplants have been a fast-growing trend in all areas of the home, and the bathroom is no different. With 1,000 boards and 51,652 pins on Pinterest, bathrooms are becoming lush oases. Humidity-loving greens like peace lilies, birds of paradise and ferns can be displayed in floor planters, on shelves or hanging in macrame holders.
8. Bathrooms with Black Accents
While chrome or silver taps will always be a classic, there's something to be said for the edgy quality of black bathroom fittings. Matte or gloss finish, Pinterest-ers love them, with 380 boards and 48,329 pins. Crisp white tiles with black grout offer a stylish contrast, but a warm or jewel-toned wall paint can keep the bathroom from looking too stark.
9. Organic Bathroom
It may seem curious to describe a bathroom as "organic." This trend applies to the overall vibe of the room and the materials used to create it. Pinterest has 563 boards and 46,616 pins relating to this topic. For a bathroom to go organic, focus on soft and natural colors like pastel green, and use reclaimed wood and stone where possible.
10. Freestanding Tubs
From the iconic claw-foot to contemporary double-ended soaker, standalone tubs have been a popular fixture in recent years. There are 984 boards and 44,530 pins dedicated to just this on Pinterest. Double-ended tubs have the drain and overflow in the middle, so no matter which way your clients chose to recline, they can avoid the discomfort of leaning on them.