Poggenpohl Creates Kitchen Design for New Residence Project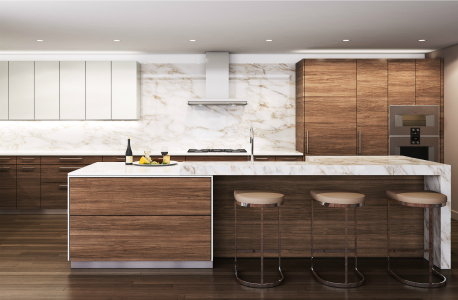 June 9, 2016
Poggenpohl has created a bespoke kitchen concept for the contemporary new residences, The River Oaks, located in Houston, Tex. The historically significant renovation project embodies a collective vision of some of today's most respected architects and designers, including Poggenpohl.
"Poggenpohl is so honored to be a part of such an iconic development project in Houston," states Cheryl Carpenter, designer and studio manager of Poggenpohl Houston. "This project is historic and significant in that it is one of the few development projects in Houston that is a renovation rather than rebuild. All of the elegance present in the original 1960s architecture will be left intact, creating a legacy that Poggenpohl is truly proud to be a part of." 
Located on Westheimer Road in the heart of Houston, The River Oaks sits on lush three-acre grounds and offers expansive floor plans and views of Houston's skyline. Each of the 79 residences is designed to evoke an elegant and contemporary style. Units will range in size from 1,563 to 16,000 square feet.  Amenities include 24-hour concierge service and valet parking, two pools surrounded by beautiful sitting gardens, outdoor kitchens, a fitness center and yoga and massage rooms.
The original River Oaks building, known as River Oaks Apartments, was designed by Houston architect Cameron Fairchild in the early 1960s. The mid-century building, offering rental-only apartments became known for its grounds, and Miesian-style architecture. For the remodel, Arel Capital assembled a partnership of local real estate and architectural talent including Rottet Studio, EDI International, GT Leech and partners Poggenpohl, Gaggenau and Cosentino.