Remodeler Confidence High Despite Continued Labor Shortages, Houzz Barometer Finds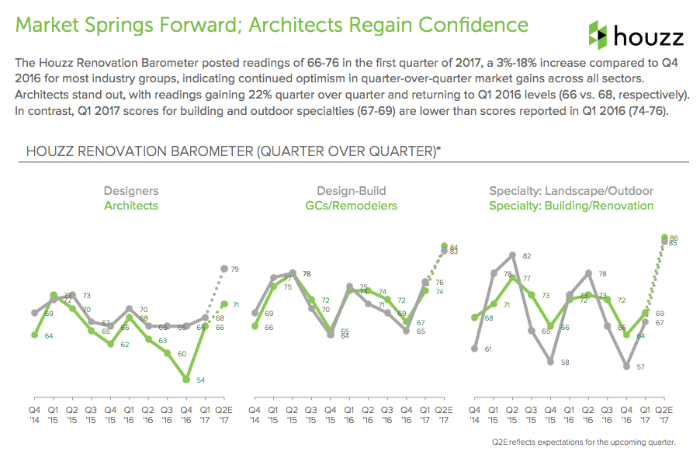 April 14, 2017
Houzz Inc. has released the Q1 2017 Houzz Renovation Barometer, which tracks confidence in the home renovation market among industry professionals. The Q1 2017 Barometer reflected widespread quarter-over-quarter confidence for all industry sectors including architects, designers, general contractors/remodelers, design-build firms, building/renovation specialty firms and outdoor specialty firms, with readings of 66 or higher (66-76 out of 100).
Architects have reversed a three-quarter downward trend in confidence with scores returning to Q1 2016 levels. In contrast, building and outdoor specialty firms' confidence dipped slightly relative to Q1 2016, especially in the Northeast, likely due to mid-March winter storm activity. Despite this, outlook for Q2 is positive across industry sectors.
While confidence remains high, labor shortages continue to hinder industry growth, as reported by 75 percent of general contractors, remodelers and design-build firms. Shortages remain highest in the Midwest (85 percent), but have eased slightly in the South (73 percent in Q1 2017 versus 81 percent in Q3 2016). Finish carpenters and general laborers remain in shortest supply (41 percent and 36 percent, respectively). To attract young workers, firms are stepping up efforts to spread awareness of job opportunities in the industry. This includes leveraging social media (24 percent), giving talks at local high schools and/or colleges (7 and 6 percent, respectively), and organizing company-wide recruiting events (6 percent). Many are also offering on-the-job training (41 percent).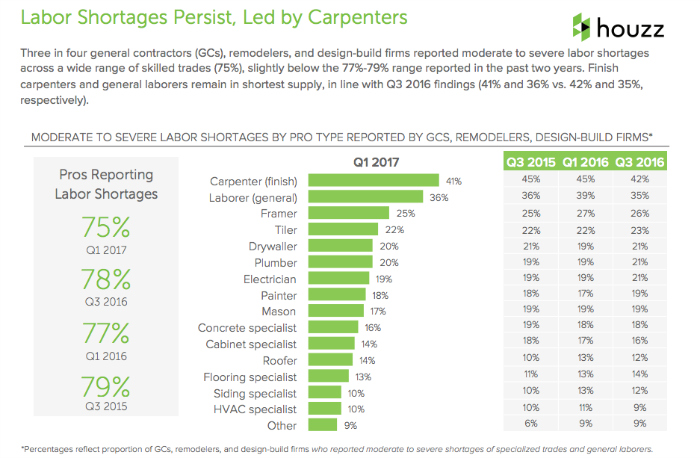 "While confidence remains high across industry groups, the high expectations for 2017 reported at the start of the year have been put a bit on hold due to weather conditions," said Nino Sitchinava, principal economist at Houzz. "Winter storms in the Northeast and rains in the West prevented many outdoor and exterior project inquiries converting into jobs in Q1, somewhat affecting professional confidence among specialty firms. Yet, expectations for Q2 are strong, and renewed confidence among architects signals larger scale projects on the horizon."
Size and number of new projects continues to grow
Firms continued to report quarter-over-quarter increase in the number of inquiries and the number and size of new projects in Q1 2017, as reflected by Barometer readings exceeding 50 across all industry groups (69-80, 67-77, and 58-71, respectively). This reading was particularly strong for architects, whose scores for new inquiries and number of new projects jumped 32 percent and 20 percent, respectively.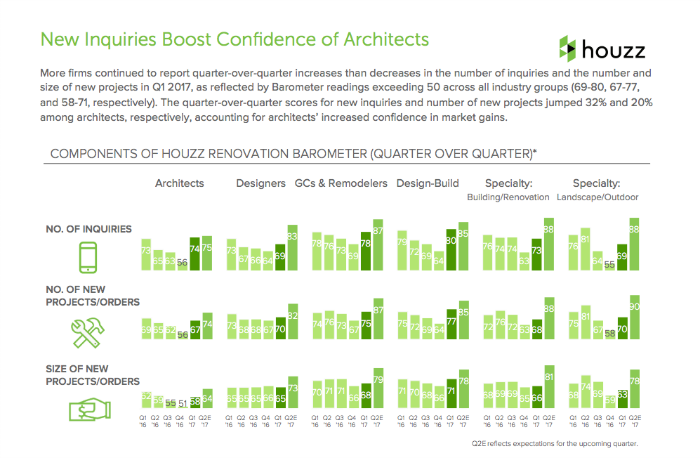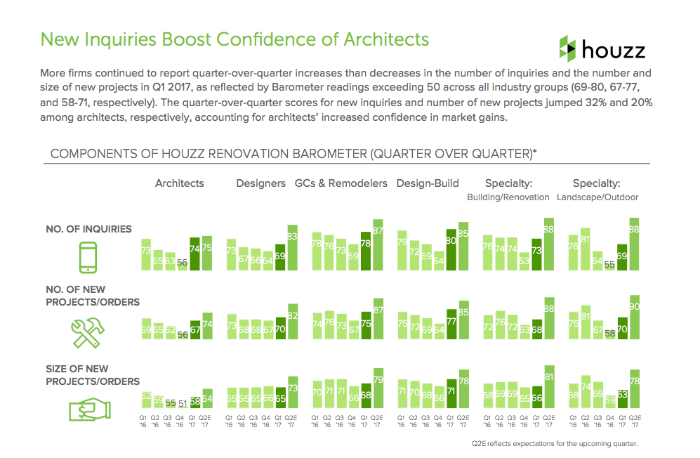 Year-over-year confidence remains high
The Barometer posted high year-over-year readings of 65-77 in Q1 2017, exceeding scores for Q4 2016. Design-build firms and remodelers continue to project high confidence in year-over year market gains (77 and 76, respectively), while architects show a renewed confidence in the market (65, up from 61 last quarter).
The full Q1 2017 Houzz Renovation Barometer can be found at https://info.houzz.com/houzzBarometer.html.
There are more than 1.5 million active home remodeling and design professionals on Houzz, including architects, interior designers, general contractors and design-build firms, among others.