Sherwin-Williams Names 2018 Color of the Year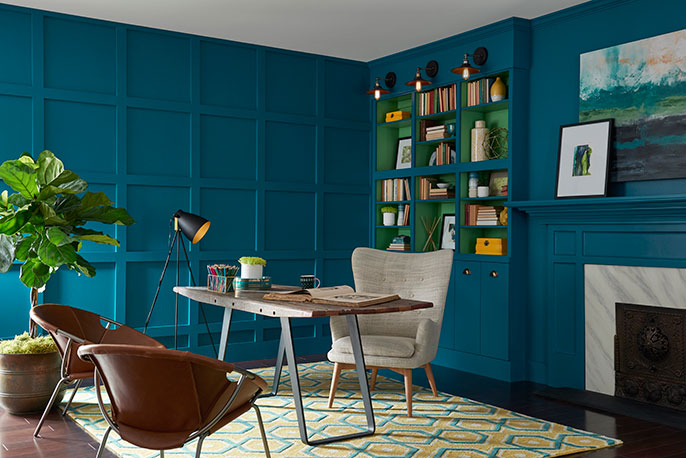 October 3, 2017
A fusion of rich blue with jewel-toned green, the 2018 Color of the Year, Oceanside SW 6496, represents the growing desire for color that is both accessible and elusive. A complex, deep color, Oceanside offers a sense of the familiar with a hint of the unknown, bridging between old and new, light and dark.
"Green–blues in deep values, such as Oceanside, respond to changes in light, which is a quality that creates intense dimension," says Sue Wadden, director of color marketing at Sherwin-Williams. "It is a tremendously versatile color, and harmonizes with other diverse color groups."
Bringing the Color of the Year into the Home
Blues evoke a multitude of moods and associations depending on hue, shade and application. Despite this variety, they are universally perceived as intelligent, honest and interesting—making blue the most beloved color worldwide. Oceanside's multi-dimensional look could create a welcoming statement as a lively color for a front door. This green–meets–blue tone can also boost creative thinking and clarity of thought in a home office, or invite meditation and introspection in bedrooms or reading nooks.
"People today have a growing sense of adventure, and it is making its way into even the coziest corners of our homes. We are craving things that remind us of bright folklore, like mermaids and expeditions across continents. Oceanside is the color of wanderlust right in our own homes," says Wadden.
Oceanside's versatility allows it to play well with many colors. It is a bright counterpart to equally eye–catching colors, such as Exuberant Pink SW 6840 or Honey Bees SW 9018, or it can rest relaxingly alongside other blues, such as In the Navy SW 9178..
It is also the ideal companion for corals and copper metallic tones. Oceanside is universally embraced by design styles from mid–century modern to Mediterranean-inspired, and traditional to ultra–contemporary.