Sherwin-Williams Releases Colormix 2017 Forecast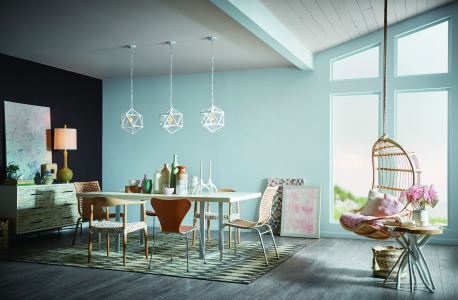 June 14, 2016
Just unveiled, colormix 2017: The Sherwin-Williams Color Forecast projects a sense of restlessness that will translate to color in new ways next year. With the backdrop of an ever-changing societal and cultural landscape, the four color palettes that make up the year's forecast share a vision of renewed spirituality, body and soul nourishment and a determination to define a sense of self.
"Our forecast this year is an exploration of the trends and influences that are emerging to drive design towards a state of restless energy," said Sue Wadden, director of color marketing for Sherwin-Williams. "Each of our four palettes tell a distinct color story, offering opportunities for homeowners and professionals alike to explore color in new and exciting ways."
The Sherwin-Williams team of design and color experts, led by Wadden, developed the 2017 forecast based on extensive research and insights into global trends. Each of the team's four palettes, named Noir, Holistic, Intrepid and Unbounded, consists of 10 colors.
Noir is driven by Baroque and Romanticism trends, a renewed interest in faith and spirit and celebration of the night. The palette is rich with colors that evoke vine-ripe fruits, Nordic blues, moody neutrals and golden yellow. Holistic pays homage to sustainable design and transparency as the new standards. Doing good is the new looking good, and the colors of this holistic palette include arctic neutrals, blush rose, wild browns and forest floor green. For Intrepid, the team put the focus on youth culture and global collaboration within a retro palette, which includes fiery oranges, vibrant kimono colors and the simplicity of black, white and gray. Finally, global consciousness is captured in the Unbounded palette's earthy mustards and browns as well as ocean blues and corals.
Exploring the colors from colormix 2017 is easy with ColorSnap, an integrated system of colors and tools designed to help consumers and professionals make confident and efficient paint color selections. In addition to ColorSnap Studio, the redesigned in-store color display, the system includes a refreshed and integrated online set of tools including ColorSnap Visualizer for iPhone, iPad and Android, as well as online, plus an expanded set of tools available for professionals.