Soft Modern Design Explained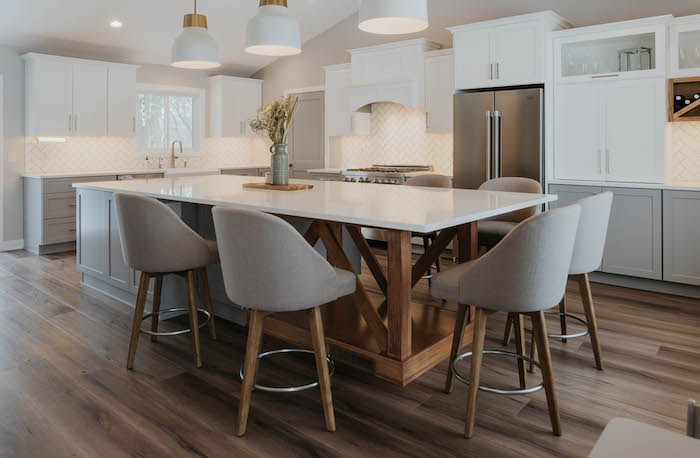 August 1, 2023
In this post-pandemic era, homeowners crave interiors that are clean and streamlined. Many find themselves led towards modern design styles. Conventional modern design is notorious for being clean but often stark and flat. Blanched color palettes are heavy with institutional whites, creating a feel that can be too sterile. Designers are now starting to build a more inviting feel: soft modern design. The aesthetic they are constructing calls for more nuanced colors and textures. It uses warm layers of color like raw sugar, meringue and nougat to create the sensuality and dimensionality we have been craving.
Textile and décor choices for soft modern interiors reflect patterns inspired by tribal prints and southwestern styling but reduce these intense patterns to simplified lines. Comfortable boucle fabrics appear in accent chairs and pillows to soften otherwise clean cotton color seating. Organic décor elements with toffee, caramel and walnut-brown hues assist in anchoring and softening modern spaces. Carefully combined gloss and matte textures generate drama in spaces even while colors remain neutral.
In the kitchen, tall airy walls are now dressed with windows instead of cabinetry, setting interiors awash in natural light. Suede and honed countertops soften glare and add velvety texture to work surfaces. Countertops cut from natural quartzite are preferred by designers to bring balance and movement into soft modern spaces. Natural-cut tile creates dimension well beyond the bathroom or kitchen. Hand-glazed tile weaves an artisan touch into any area requiring durability and frequent cleaning.
Designers and their clients continue to focus on clean interiors so modern design styles will continue to dominate the market. Whether in décor or design, the warmer approach of soft modern design offers many an alternative. With a combination of nuanced neutrals and carefully curated texture, it is what many have been seeking.
—By Anneke Huisman, a cabinetry design and sales specialist for Standale Home Studio in Grand Rapids, Mich.
Photos: Leigh Ann Cobb