Spring Color Palette Picks from RONA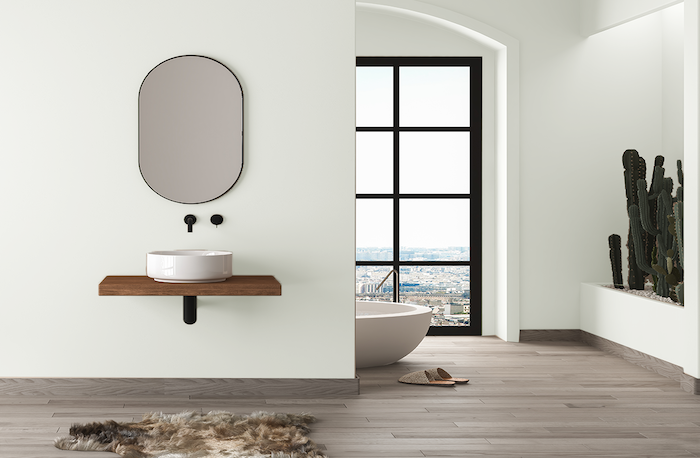 April 22, 2023
When spring cleaning this year, remember your walls. A fresh coat of paint is the simplest and most economical way to breathe new life into a room. And the spring color palette of grounded, soothing hues are sure to deliver an instant boost.
That's the message of Canadian home improvement retailer RONA, which carries the SICO and Valspar lines of paint, in unveiling earthy pastels as the hottest paint shades for spring and summer, designed to give rooms a lift all year long.
"This season's color palette moves away from cold grays towards color-infused neutrals, such as warmer whites, greiges, beiges and taupes, all with pink undertones," said Lydia Thammavong, head designer, styles and trends at RONA. "The new shades deliver warmth, character and a cozy cocooning effect to a room without overpowering the space."
"Moving forward, we'll see people embracing color more and more, and as a result, living spaces will be infused with a lot more personality," Thammavong said. "Pastels and brighter shades, paired with warm neutrals and earthy tones, create an invigorating yet soothing and welcoming space."
Super versatile, the new pastels emit a feel of nature and are reminiscent of spring, from soft lilac and pink blossoms and sun-kissed earthen planters, to soft green buds and tranquil blue skies, she explained.
RONA's star paint colors for spring and summer are SICO's Soothing Violet (6038-21), Coastal Breeze (6199-31) pale sage, Light of Hope (6217-11) soft mint green, and Pilsener (6069-31) pale terracotta, and Valspar's Gentle Violet (4002-3A), Green Trellis (5006-3C) warm sage and Rising Tide (4008-3A) muted blue-green.
Spring Color Palette
"Nature is still an inspiration, and bringing the outdoors inside a recurring theme, but now we're witnessing more self-expression and welcoming mid-tones and saturated colors on our walls, driven by nostalgia or a desire for more lively interiors," said Thammavong. "After a long winter amid uncertain times, people are craving the outdoors like never before and these colors go a long way in delivering an instant pick-me-up and touch of nature all year round."
Thammavong offers these tips to infuse a touch of earthy pastels into home decor:
If you want to add color to a room, but feel intimidated, begin by painting an accent wall and gradually build up from there.
It's also possible to inject color by painting only a section of a wall with a shape – such as a square or circle – or a motif like stripes or arches.
Start by painting a piece of furniture with one of this season's hot colors to give the room a dynamic focal point.
Paint only one area of a room in a more saturated color to add personality to the space. For example, if the walls of the room are beige, consider painting the wall space peeking out from behind an open-back bookcase in a rich, complementary shade.
Get creative and use the new pastels to add artistic flair to the walls. Instead of a traditional headboard in a bedroom, for example, create the illusion of one with paint.
"Whether you choose to paint part of a wall or your whole room with this season's colourful tones, it's important to use high-quality paint to ensure long-lasting results," Thammavong emphasized.