The Classic Kitchen Work Triangle Has Evolved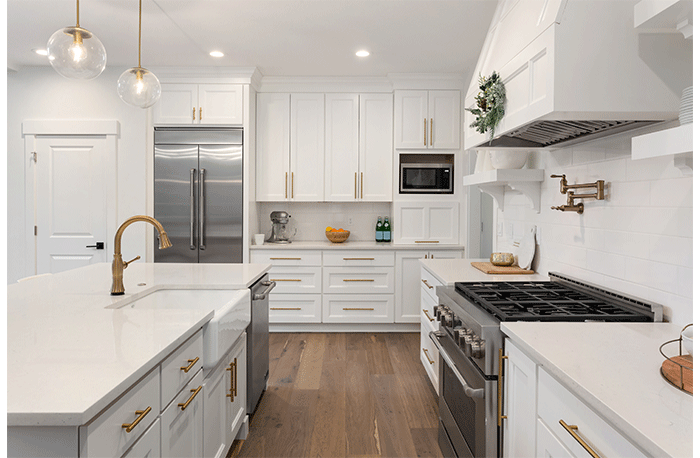 April 27, 2023
This article was originally published on April 27, 2023; it was updated on May 16, 2023.
Say kitchen work triangle to homeowners about to renovate, and it usually rings a bell. Most are familiar with the classic three-leg approach to the working dynamic of a kitchen: the distance between sink, range and refrigerator. This has been standard for basic kitchen layouts for decades. 
The National Kitchen & Bath Association has established that no leg of the triangle should be less than 4 feet or more than 9 feet, and the total distance of the three sides should not exceed 26 feet. The triangle shouldn't have a traffic pattern cutting through it, nor should it cut across an island. This was considered the ideal when kitchens had just one sink, one cooking station and one refrigerator-freezer. 
Change Can Be a Good Thing
Today, however, the "heart of the home" is no longer a small, closed-off room in the back of the house where the chef toils while family or guests gather elsewhere. A relaxed lifestyle now dominates the way most people live and entertain, often turning the kitchen into a gathering spot for a multitasking family, dinner guests who help prepare the meal or friends who drop by for a quick visit. 
The triangle is still a cornerstone of many kitchen layouts, however, it has evolved and now may include two or more triangles, or at least a few more legs. This is especially the case in larger kitchens with multiple sinks, refrigeration or cooking stations and prep areas. And innovative solutions for efficient flow make kitchen operations smoother and easier. 
"The concept of the kitchen triangle has been a great rule of thumb when kitchens tended to be small and appliances tended to be large," said Kerrie Kelly, creative director for Kerrie Kelly Design Studio in Sacramento, Calif. "But times have changed and so have our kitchen designs. While we can loosely keep the working triangle intact for its efficiency, we also have a bit more flexibility, taking 'zones' and workflow into consideration to effectively support our modern lifestyle."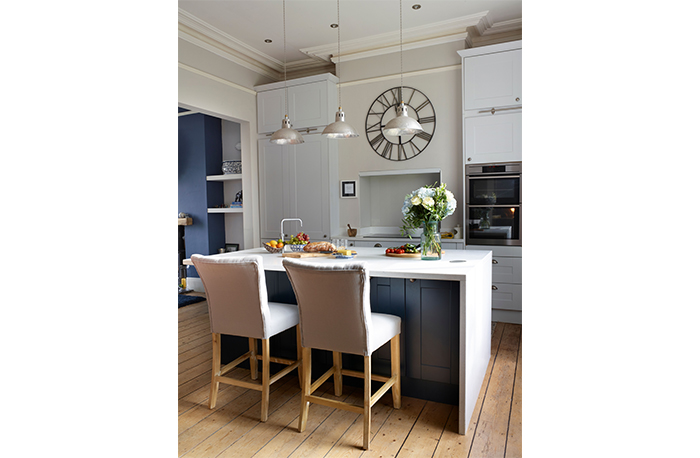 Kitchen Revolution
A confluence of factors transformed the heart of the home from messy workspace to gracious gathering spot. While the COVID-19 pandemic certainly hastened the process, the metamorphosis was already well under way. 
The open-concept floor plan, popular for several decades, has encouraged mingling in an area once considered off limits. Open sight lines to other parts of the living space make the home feel more spacious, too.

 
Today's kitchens aren't limited to three working points, nor to a single cook or even a single generation. Many more households are multigenerational today – nearly 20% of the U.S. population lives with three or more generations in the home, according to Pew Research, up from about 12% in 1980. And everyone needs space in which to work or gather.

 
Kitchens are multipurpose rooms. Besides cooking and eating, they are spaces for homework, sometimes home schooling, remote work and socializing. 

 
"The classic kitchen work triangle is still relevant, especially for smaller kitchens where there isn't ample room for work zones," said kitchen designer Ebony Stephenson, CLIPP, CAPS, principal of Designs by Ebony in Newport News, Va. "But kitchen layouts have morphed toward zones for multiple users so each person can work comfortably. For instance, my family loves to cook together, but we each have a different task. When I redesigned my father's kitchen in 2019, we made sure there was plenty of counter space so we could all spread out yet still be together. We designed also included enough space for dancing, because our family loves to listen to music and dance as we prepare our meals." 
Solutions for the Modern Kitchen
As kitchens have grown, they've sprouted multiple work areas, sinks and sometimes more than one island. Kelly says there are five main zones to consider when planning and that the key is about placing items where they're most relevant and easy to access. 
The five zones consist of perishable food storage, including the refrigerator and freezer; dry food storage stocked with larder cupboards; prep space with working surfaces; a cooking zone that includes the oven, cooktop and/or range; and a wet zone for clean-up via the sink and dishwasher.  
"Larger kitchens may also include a sixth zone for entertaining, which allows family and friends to gather and be with the cook while out of harm's way," added Kelly. "Good kitchen design should be both beautiful and functional while catering to the client's needs. It's our job as designers to share the pros and cons of appliance, island and plumbing layouts to develop the best solutions, whether using the classic kitchen triangle or work zones, depending on the space we are addressing." 
By Benoît Morneau, product manager for Richelieu
Photo credit: beak/Adobe Stock