The Importance of Illumination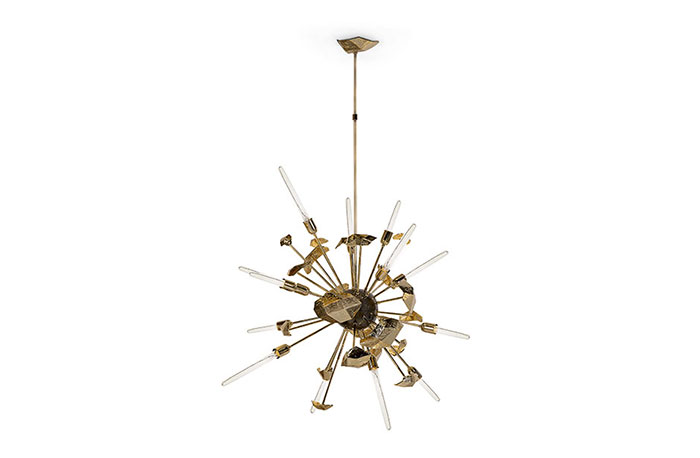 June 26, 2017
Above Image: The Supernova Chandelier from Boca do Lobo
Quality lighting not only can make a design more beautiful, it also can make a house more eco-friendly and naturally beneficial for its owners. Designs that were impossible in previous years are now on the market because of LED technology, which allows for more unusual shapes and colors. In addition, customizable lighting and products that mimic natural daylight allow homeowners to have individualized, healthier homes.
KBB Magazine spoke with three lighting experts to find out more about how lighting is changing in the industry, what consumers are looking for and what the future holds for this integral product.
View a gallery of lighting products here.
What the Consumer Wants
"The introduction of LED has completely changed the approach to lighting over the last few years. We've noticed that warmer LEDs have definitively helped residential consumers to accept the change from incandescent or halogen. People are looking for the ability to control their lights and adapt the light output. Light plays a big role in the well-being of people, and this has recently been strongly recognized by consumers."
–Giuseppe Butti, CEO and North America & Latin America Country Manager, Luceplan
"People want natural light. Vibrant white light energizes you in the morning, and warm candlelight relaxes you in the evening. In a recent survey commissioned by Ketra and conducted by Harris Poll reveals that nearly nine out of 10 Americans (89 percent) say that exposure to natural light has a major/moderate positive impact on mood, while 87 percent say exposure to natural light has a positive impact on productivity, alertness and brain function. People know intuitively what science is now proving – natural light affects our mood and health."
-Nav Sooch, CEO of Ketra Lighting
"Light can bring depth to domestic interior spaces, which is a fundamental design element important to consumers today. A pleasant home, one a person has the desire to return to, is certainly a house with nice warm lighting. Light is, perhaps, one of the most beautiful and fundamental aspects of design. That's why nowadays consumers ask to bring this harmony and well-being inside their homes."
– Roberto Palomba and Ludovica Palomba, lighting designers and Foscarini collaborators
Today's Biggest Trends
"As light becomes more important in everyday life, people are looking for very noninvasive lighting fixtures – minimalistic fixtures that also deliver a good light. Alternatively, they are looking for statement pieces or pieces that can really characterize a space. In both cases, the most important factors are always quality and efficiency of the light."
– Butti, CEO and North America & Latin America Country Manager, Luceplan

"The conversation around the intersection of wellness and the indoor environment is increasing not just in the lighting industry but across all design sectors for commercial and residential applications. Our lights expose people to the right type of light during the day and evening, leading to improved alertness and sleep, which is linked to health benefits like helping prevent breast cancer, diabetes, mental health issues and cardiovascular disease."
– Sooch, CEO of Ketra Lighting
"We must say there is no doubt that the big trend in the lighting market today goes toward experimenting with new materials, while glass still continues to be an undisputed trend."
–Palomba and Palomba, lighting designers and Foscarini collaborators
The Future of Lighting
"The lighting world continues to evolve on two fronts: on the one hand we are going toward more technologically advanced lighting, and on the other hand [we are moving] toward a focus on more elaborate, decorative lighting. It takes an advanced manufacturing technique and accurate calibration to produce a specific illumination that gives a high quality of light and can also work nicely as a design element in a domestic environment. Technical requirements today are in fact increasingly high, and the quality of lamps overall is higher than in the past years."
-Butti, CEO and North America & Latin America Country Manager, Luceplan
"First of all, as customers realize the impact lighting can have on health, they are going to start seeing natural light as a health requirement, not just a plus. Secondly, we see the future of smart lights requiring no human intervention and that are intelligent and intuitive. They will slowly brighten in the morning and dim in the evening without ever flipping a switch. Finally, expect to see a trend toward complete flexibility and customization in lighting. Consumers are going to want to create experiences for their friends and loved ones in their homes with light – the same way people use music to set a mood."
– Nav Sooch, CEO of Ketra Lighting
"Connectivity is the key word for the future of light – to be able to connect and interact with your lights. Odile Decq's new Petale RGB/DMX for Luceplan is a great example of this. The new tunable white LED allows us to dim the lights and change the color temperature over the course of the day. Additionally, the RGB feature introduces the possibility to change colors completely and truly personalize our surroundings."
– Palomba and Palomba, lighting designers and Foscarini collaborators