Top 2016 Paint Trends for the Home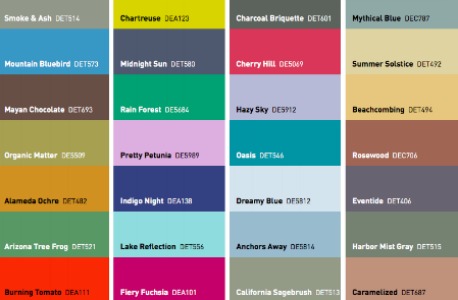 June 17, 2015
Dunn-Edwards Paints has examined color inspiration in literature, art, film, history and fashion to forecast five color trends that will be popular next year. The trends report, titled "2016:Home," outlines five paint palettes that can evoke different themes and moods within a home, mimicking romantic 19th-century settings or spiritual meditation retreats.
According to the report, these trends fit certain personas: romantic, gypsy, adventurer, nostalgic and visionary.
"To the Manor Born" is inspired by Romanticism and medieval design, and this trend takes cues from floral designs, historic architecture (Victorian, Colonial and Gothic) and opulent jewelry and fashion. "To the Manor Born" blends hushed neutrals like fleshy pinks, mauve and shades of gray for a palette that is strangely surreal, fantastical and macabre – think Pride and Prejudice meets Edgar Allan Poe. 
"Midnight at Bar Do Copa" is Inspired by the streets of Rio de Janeiro, Indian spice markets and Frida Kahlo. This color palette offers a mix of deep indigo and navy blues playing with vivid candy colors like fuchsia and coral to create an electric palette observed in bustling cultures abroad. 
The "An Island to Myself" trend explores the relationship between the digital world and spiritual retreats. "An Island to Myself" was inspired by Asian monks and technological innovations and includes crisp blues, soft gray, violet, taupe and cloud whites to enhance a quiet space for meditation. This trend focuses on simplicity and purity. 
"Back at the Ranch" colors evoke a weathered, sun-drenched atmosphere of a saloon, safari lodge or farmhouse. The palette includes earthy naturals like cinnamon with bright accents like marigold and tomato red. This is for the home that displays low-key decor with honest materials like wood, leather or Mexican-inspired embroidery. 
Finally, "Summer Camp" is a trend that embodies the home away from home, like summer family vacations by the lake, camping trips and festivals. "Summer Camp" is a playful palette reminiscent of family outings and home decor of the 50s and 60s. It includes sunny colors, sorbet hues and vintage blues.
The Dunn-Edwards Paints report includes a design checklist, suggested materials and color palette for each trend.