US Houzz & Home Study Report Released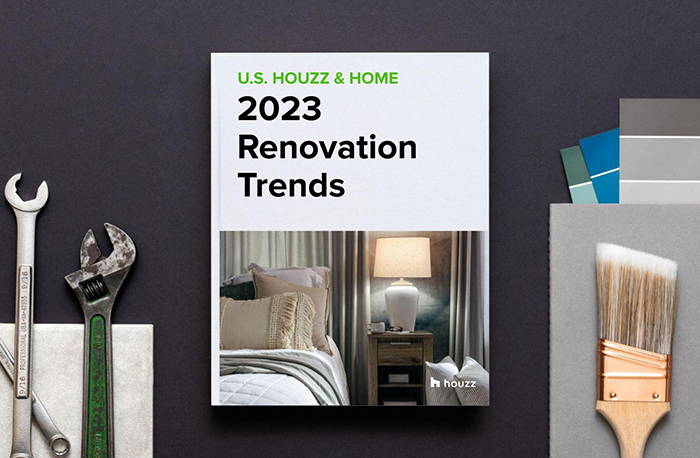 March 23, 2023
Homeowners are renovating their homes for the long run, according to the 12th-annual U.S. Houzz & Home Study of more than 46,000 U.S. respondents. More than 3 in 5 homeowners state that they plan to stay in their homes for 11 years or more following a 2022 renovation (61%). Additionally, the share of homeowners undertaking renovations with a plan to sell their home soon has declined by half since 2018 (6% compared with 12% in 2018). 
Nearly three in five homeowners remodeled or decorated their homes in 2022 (58% and 57%, respectively) and nearly half made repairs (48%). The median spend* for home renovations in 2022 was $22,000, whereas the median for higher-budget updates (with the top 10% of spend) reached $140,000 or more. Renovation activity continues into 2023, with more than half of homeowners planning projects this year (55%), at an anticipated median spend of $15,000 and $85,000 for higher-budget projects. That said, many home remodeling and design professionals expect slowed growth in 2023, following strong years in 2021 and 2022, according to the 2023 Houzz U.S. State of the Industry.**
While the majority of homeowners continued to rely on savings to fund home renovations (82%), financing projects with secured home loans became more prevalent (16%, compared with 14% in 2020). For projects with a median spend of more than $50,000, more than a quarter chose secured home loans (26%). Credit cards are also a common option for renovations (28%); however, the share of homeowners using them to fund projects fell by 10 percentage points year over year. 
"Faced with shortages of housing stock and high interest rates, we're seeing homeowners update their current home to make the space more functional for the long term," said Liza Hausman, vice president of industry marketing at Houzz. "We're also seeing an uptick in additions, with the vast majority of homeowners hiring professionals to achieve their goals."
One in 10 homeowners undertook an addition as part of their remodeling project in 2022 (10%), compared with 8% each year from 2018 through 2021. The rooms most associated with additions include kitchens, bathrooms and living rooms. Additions typically require professional guidance to meet local guidelines and permitting. In fact, more than 9 in 10 renovating homeowners (91%) relied on professional help for their remodeling projects in 2022, up by 2 percentage points year over year (89%). 
Kitchens and Bathrooms Are the Main Attraction
According to the Houzz & Home Study, interior spaces are the most popular areas to renovate (72%), and homeowners tackle an average of nearly three interior projects at a time. Kitchen and bathroom remodels remain the top projects, and a larger share of homeowners upgraded these spaces in 2022 (28% and 25%, respectively) compared with 2021 (27% and 24%, respectively). Kitchens and primary bathrooms also command the highest median spend at $20,000 and $13,500, respectively. 
Aging Homes Call for Systems Upgrades
As the median home age in the U.S. continues to increase, homeowners focus on home system improvements. Nearly 3 in 10 homeowners upgraded plumbing in 2022, closely followed by electrical and home automation (29%, 28% and 25%, respectively). Electrical upgrades gained 4 percentage points in 2022 after remaining stable at 24% for the previous two years. Among typical home system upgrades, cooling and heating systems commanded the highest median spend in 2022 at $5,500 and $5,000, respectively, and are undertaken by more than 1 in 5 renovating homeowners.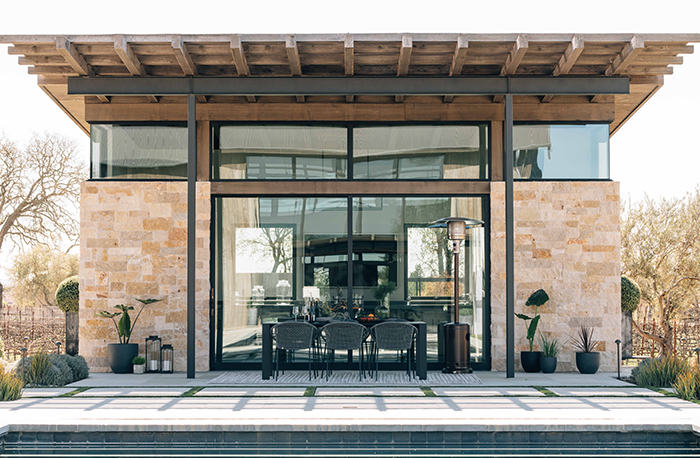 Baby Boomers Lead in Renovation Activity
Baby boomers*** continued to lead in renovation activity (59%); followed at a distance by Gen Xers and Millennials (27% and 9%, respectively). That said, Gen Xers surpassed Baby Boomers in median spend in 2022 for the first time ($25,000 versus $24,000, respectively). Gen Xers and Millennials were slightly more likely to pursue an addition (10%, each) than Baby Boomers (9%). 
Construction and Design Pro Hiring Jumps
While homeowners hired specialty service providers most frequently, construction professionals, such as general contractors and kitchen or bathroom remodelers, came in a close second in 2022 (46% and 44%, respectively). The share of homeowners who relied on construction pros grew by 6 percentage points (from 38% in 2021) and design-related pros saw the same increase, growing from 20% in 2021 to 26% in 2022. 
Smart Lighting Gets a Big Boost
Light fixtures were the most popular indoor technology purchase among renovating homeowners in 2022 (55%) and the share of renovators choosing it grew by 4 percentage points year over year. Notably, the share of homeowners opting for smart lighting, which can be controlled from a mobile device, grew from 14% in 2021 to 17% in 2022.
Download the report here.