What's Cooking in Today's Kitchens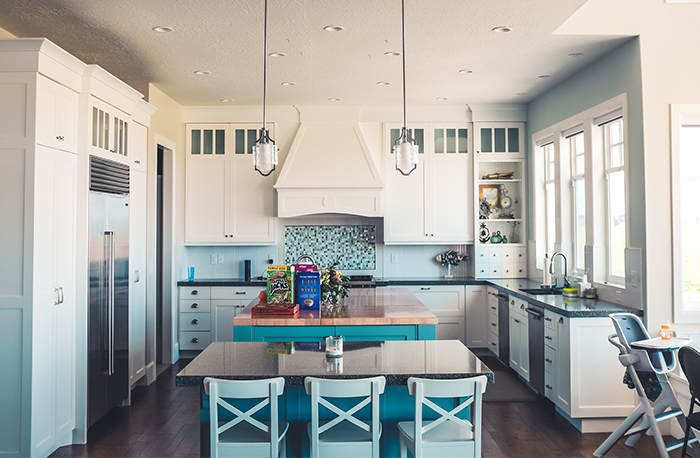 October 15, 2018
Trends. It's a word that can concurrently make people curious and at the same time roll their eyes. As one of the respondents to our most recent poll of the Houzz community of consumers and industry professionals said, "I don't believe in trends; I do believe in what works for you and what makes your kitchen (and home) comfortable and special."
"Trends dictate design to some degree, but kitchens are designed traditionally to be as efficient as possible," said one pro. "Unless you are building your forever home, build a home that will appeal to the next owner as well as suit your current desires. Pet-friendly, smart kitchens add cost and may not be items the general public may want. Remember leisure suits?"
So maybe our question, "What kitchen design trend do you think will become the new norm?" should have been referring to lifestyles instead. At any rate, we asked about eco-friendly/sustainable design; accessible/wellness design; pet-friendly design; smart/connected design; and efficient/time-saving design.
The poll tally as of press time was a total of 1,290 votes – one of our most popular polls to date. We wanted to see what respondents are frequently seeing and what is most important to them.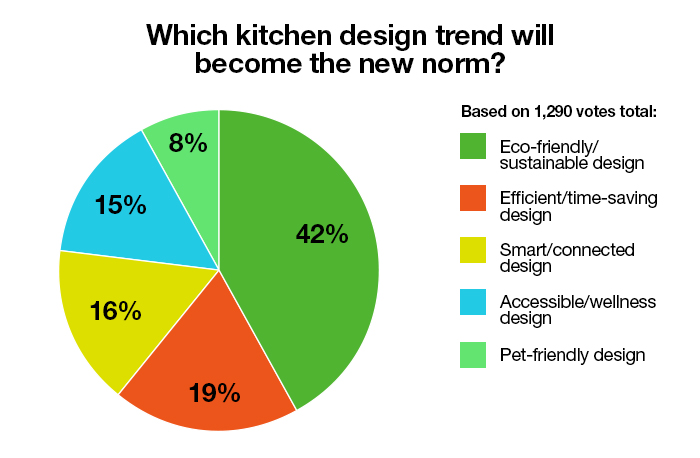 Talking Tech
"As for the fridge telling me when I'm out of things, I'm usually out of bananas, bread and apples, none of which I keep in my fridge – can I get a smart pantry instead?" asked one consumer. "On the other hand, I seldom carry my fridge to the supermarket when shopping: I have been known to take photos on my telephone of the shopping list stuck on the fridge though. Is that smart enough?"
"I think the question should be more about what sort of new(ish) technologies will likely be incorporated into all homes in the future rather than about trends per se," said another member of the Houzz community. "There have been plenty of innovations that went far beyond the notion of 'trend' – dishwashers, microwaves and induction cooktops seem to me examples of technological advances that have become very common because they actually make kitchens more functional."
One Houzz pro is all for minimalist, easy to clean, no needing to figure [anything] out. "Write it down folks and buy stock, tech is on the way out!"
"I am not really impressed with what technology has done to the lifespan of appliances. How many people have 40- or 50-year-old refrigerators in their basement that still work because they did not have a circuit board or complicated electronics?" asked one member of the Houzz community. "Now we have ovens with self-cleaning modes that can't be used because they destroy the electronics."
One consumer would like to be able to turn on the KitchenAid remotely by simply asking Alexa, Google, Nest or Amazon Dash to turn it on. "It will happen, just hoping it happens soon."
All About Accessibility
"One thing you used to be able to get that is no longer available is a refrigerator and freezer unit (Revco) that was meant to be mounted chest high, like ovens," said one consumer. "Kitchens are getting big enough that they might be able to handle this. I could not reach the top back shelf of the last refrigerator I had."
"I think accessible/wellness design appeals to a modest percentage of the population, but certainly not to everyone," said another consumer. "I suspect most people wouldn't look into these changes until they're actually needed, so these might be more appealing to renovators than to builders.
Adding Efficiency
"I almost wanted to vote for all of them, but it depends on who is doing the renovation," said a member of the Houzz community. "There are a lot of 'senior' people responding to these polls, but do they have the money or the patience to go through a remodel? I picked the last one, because we all want more time in the day, no matter what age you are."
According to one pro, "Almost by definition, a kitchen should be efficient. Add in sustainable with bamboo flooring and recycled glass countertops and easy-access drawers rather than doors. You can keep 'smart' kitchens, and pet friendly is really only by need."
Being Sustainable
According to one consumer, eco-friendly is here to stay. "Everyone's interested in efficiency in that it lowers power bills. I think a great number of people will pay more up front for an appliance that'll save money down the road (for example, front-load washing machines)."
"Hey, we need to go sustainable, reduce electricity consumption, use real wood or bamboo floors and cabinets," said a pro member of the Houzz community. "And no melamine, avoid plastic bins, etc. It is time we wake up here!"
Don't Forget Fido
Out of the five different types of design, pet friendly had some interest, but some respondents feel this appeals to a very small percentage of people. One pro and at least one homeowner feel differently.
"My dog cubby in the lower cabinet with no door is a breeze to keep clean; most of the time I just use a floor duster to dust out the hair," said the Pro respondent. "I still adore that steel liner I had made for a deep drawer in my kitchen in which I keep their kibble. It makes feeding them so quick and easy, and there is no odor, nor do they attempt to get into that drawer."
"My secret splurge would be a dog-friendly mudroom where I could hose off and dry three Golden Retrievers before the dirt ends up between the cracks of our well-scuffed pine floors," said one homeowner. "I guess I can dream!"
Some respondents wanted a little bit out of all five choices, one saying that energy-saving appliances, built-in areas for feeding pets, accessible counters and cabinets are all good ideas. "Efficiency of design is critical, especially as urban spaces become ever smaller. More durable surfaces for cabinets and countertops that cut down on cleaning would also be welcome."