Canova Aurea Medicine Cabinet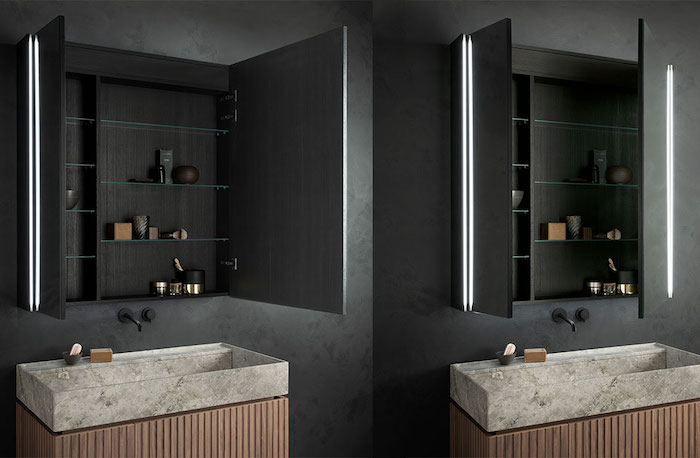 March 9, 2022
Canova introduces the Aurea Medicine Cabinet, bathroom storage that is characterized by a contemporary and clean look and unique details. Fabricated in Italy, Aurea is a frameless cabinet that can be recessed into the wall or surface mounted. The structure and interiors are made of black, double-coated textured melamine; black hinges coordinate with the carcass, further giving the Canova Aurea an elegant look. The cabinet features a discreet finger-pull underneath the mirror and soft-close hinges on the doors. The warm 3000K ambient LED strips on the side and under the cabinet create a luminous ensemble, while the interiors, fitted with seven thin adjustable glass shelves offer ample storage space. The Canova Aurea medicine cabinet composition comes in different finishes, colors and design (e.g. additional mirrors, anti-fog feature) and is fully customizable to adapt to any space and wall conditions.
The brand name Canova derives from Venetian dialect ca' nova, which means "new home". Canova offers top Italian craftsmanship and beauty to luxury residences worldwide. Established in 2003 in New York City by engineer Bartolomeo Bellati and designer Stefano Venier, Canova specializes in tailor-made kitchens, bathrooms and millwork for single family residences and multi-unit developments.
The 60,000-square-meter Canova manufacturing plant is located in the Venetian region of Italy, the global heart of the quality furniture-making industry. All the wood processing is performed with rigorous attention to details, utilizing precise, cutting-edge technologies, including a five-axis CNC machine.