Duravit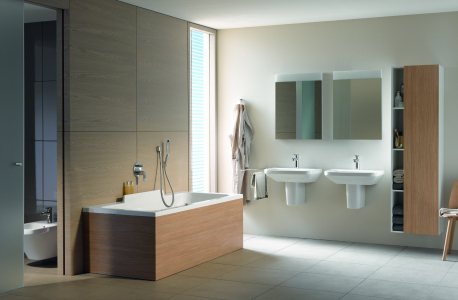 April 5, 2016
Duravit is extending its DuraStyle bathroom series with additional furniture. Designed by Matteo Thun and first released in 2013, DuraStyle offers a slim profile in its ceramics and minimal geometry in its furniture. DuraStyle now includes a range of tall cabinets in new sizes. With these items, Duravit will also add a bi-color option into the mix for the more daring designer who wants to use two different finishes in one piece.
DuraStyle's new furniture includes tall cabinets with a clean, unobtrusive look in keeping with the line's aesthetic. With four or five glass shelves, the cabinets provide generous storage and are available in 11 different furniture finishes, as well as the bi-color option. The bi-color finish lets users mix and match their favorite options for a custom DuraStyle piece, combining White and Terra bases with other colors for a fresh look.
Duravit will further expand the DuraStyle line in fall 2016 with the release of additional wall-hung vanities and compact furniture washbasins.