MandiCasa by Dario Snaidero Sartus Bathroom Collection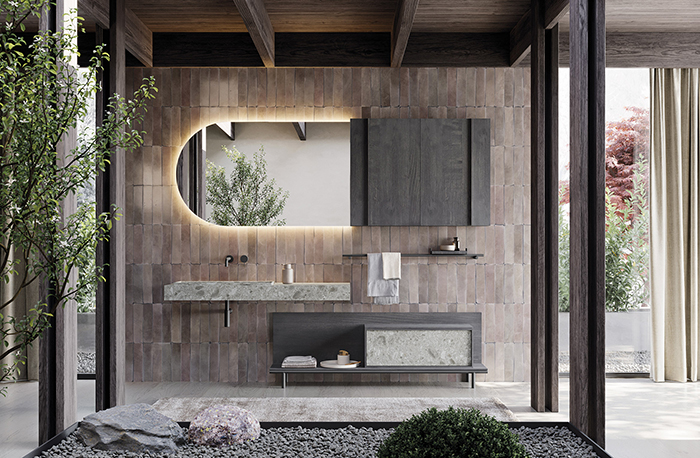 September 5, 2023
This article was originally published on September 5, 2023; it was updated on September 18, 2023.
Designed by Italian architect Stefano Cavazzana for MandiCasa by Dario Snaidero, the new luxury Sartus Bathroom collection transforms decorative details into essential elements. The concept offers a contemporary solution that brings the bathroom closer to the living areas of the home, in both functionality and aesthetics.
At the core of the MandiCasa Sartus design is the distinctive wooden frame that defines the contours of the cabinets while serving as a minimalist handle. Every bathroom can feature its own unique combination of floating vanities, floor-standing cabinets, open and closed storage units, and cabinets with legs.
Another element — the versatile metal bar — creates the support structure for the Drappers bookcase and storage system, which can include shelves and cabinets to create wall or freestanding units. Used on its own attached to the wall, the metal bar becomes a multi-purpose rail accessorized with towel holders, shelves and trays for a variety of objects.
Floating vanities and cabinets with legs combine with the above elements allowing you to create designs with distinct visual rhythms.
When combined together, these versatile modular elements create designs with compositional rhythm that bring the luxury bath closer to other living spaces, in both functionality and aesthetics.
By combining Italian heritage with more than 45 years of experience in the North American market, MandiCasa delivers best-in-class service and style. The team has a strong foundation in the North American luxury residential market, as well as extensive experience with multi-family projects. Led by Dario Snaidero, his company has supported more than 215 projects across America, with a significant footprint in the US and Canada working with top developers.