Brizo Kintsu Bath Collection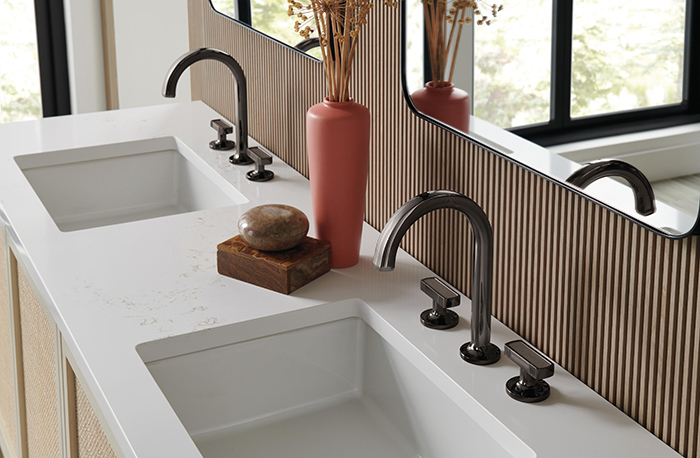 February 24, 2021
The Kintsu Bath Collection by Brizo balances simplicity with intricacy, consistency with variety, and opposition with equality. Drawn from "Kintsugi," a Japanese method of joining pieces of cracked pottery with gold, the name "Kintsu" represents the way in which Japandi style merges two design philosophies for a stunning aesthetic.
Tranquil contours reflect the elegant minimalism of Scandinavian design, while a motif of broken geometries throughout the collection channels the principles of Japanese wabi-sabi, celebrating the beauty found in imperfections. Epitomizing this concept, the Single-Handle Lavatory Faucet features clean lines that are interrupted as the faucet turns on and off, while widespread handles represent a re-imagination of the traditional cross shape for architectural intrigue.
The collection demonstrates Brizo's reverence for natural materials and embraces the importance of individual expression with five knob handle options, including mother of pearl, concrete, teak, all-metal with a void design, and a custom option that allows for unique inlays.