Dornbracht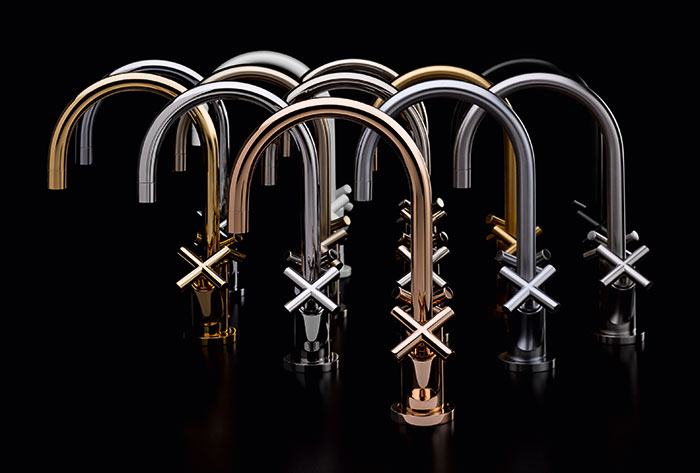 May 5, 2017
Dornbracht and Sieger Design revolutionized design in the bathroom with Tara twenty-five years ago. Since its launch in 1992, Tara has become an award-winning faucet that has set the new standard for high design in the bathroom. To mark its anniversary, Dornbracht is launching the fittings series in the exquisite cyprum finish.
Hardly any other fitting has made such a radical and lasting impression on bathroom design as Tara. With its minimalist design, characteristic cross-handles and slender, semi-circular spout, it was like nothing ever seen in the 1990's. But despite – or actually because – of its progressive design language, it did not take Tara long to became an icon. Ten years after its market launch, a book dedicated to its success story was published: "Tara. Homage to a Bathroom Fitting and an Archetype."
Dornbracht has consistently updated this story ever since. In 2008, the Tara design was subtly revised – fully in keeping with the guiding principle of "you don't change a classic, you refine it." A reduction in the diameter of the handles and rosettes and minimal lengthening of the body of the fitting have now given Tara a more slender, more upright and more delicate look. The contours of all Tara fittings have been sharpened overall, to make the perfect geometry and symmetry of the clear design language even more apparent.
 "Tara is the perfect embodiment of the Dornbracht design principles of Proportion, Precision, Progressiveness, Personality and Performance", says Managing Partner Andreas Dornbracht. These principles form the basis of a lasting aesthetic quality that is guided not by prevailing taste, but by universal design principles. "Although launched 25 years ago, Tara has lost nothing of its contemporary relevance and it is still the epitome of avant-garde in the bathroom."
The distinguishing features of a classic such as Tara are its versatility and its ability to work in many different settings. As with all the Dornbracht series, numerous variants are available: from chrome, platinum and champagne, to brass and gold, in different matte and polished versions. It is this great variety that allows Tara to match the tone of bathroom architecture, or even create a distinctive contrast. Whether classic or progressive – it always looks relevant and contemporary. Tara opens up numerous options for personalizing bathroom design and also provides a response to the megatrend of individualization.
Tara in cyprum is further proof of the versatility of this iconic fittings series. The sheen of the rose-gold finish with 18-carat gold and copper is particularly fine, and radiates warmth and elegance.
Tara is available in numerous versions for basin, bath, shower and bidet, and also as a kitchen fitting. All variants are available with levers, as well as the classic cross-handles. A perfectly matched range of accessories rounds off the series.