Kohler Aureus Vessel Sink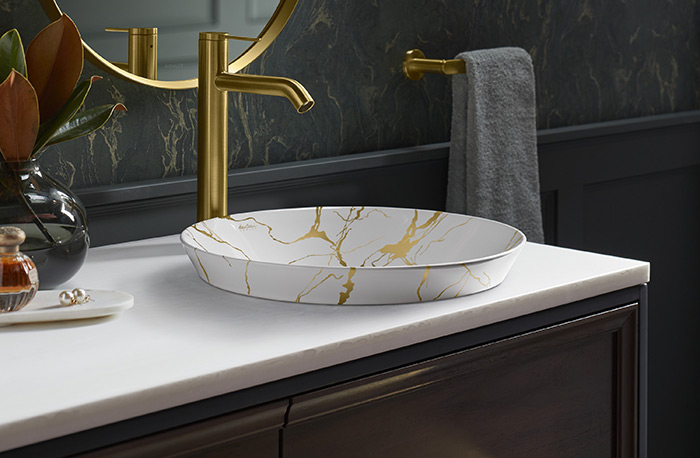 February 24, 2023
Kohler expands its Artists Editions Collection with the addition of the Aureus Vessel Sink. Featuring bold veins and subtle hints of gold, Aureus finds inspiration in both the natural veining pattern of marble and Kintsukuroi, the process of fixing pottery with gold, silver or platinum.
Artist Edition sinks are handcrafted by artisans using distinct glazes and patterns, and each sink begins with an intensive study of patterns, drawing influence from all over the world. The Aureus sink mixes two design inspirations – an Asian art and marble. The Asian art Kintsukuroi, which means golden repair, is the process of fixing broken pottery with lacquer resin dusted or mixed with powdered gold, silver or platinum. As an art philosophy, it speaks to cracked and repaired beauty. In looking at marble, the sink draws inspiration from the natural veining patterns. Combined, these influences are seen in Aureus's contemporary design with bold veins and subtle hints of gold and brown. The gloss white basin adds a sense of freshness and contrasts with the depth of the matte metallic veining. 
Kohler's Aureus is made of vitreous china and is available in both square and round shapes. The pattern is highly abstract, allowing for the design to work across various bathroom styles.