Kreoo Artik Green Nabhi Collection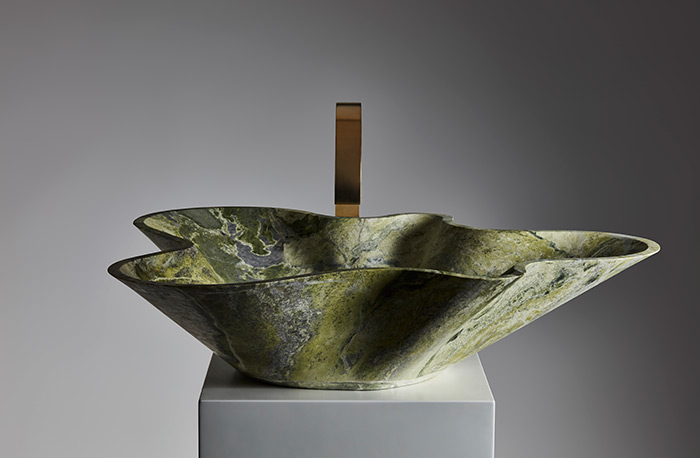 February 22, 2023
Kreoo introduces the new Artik Green marble for its bathroom collections, including the Nabhi collection of countertop washbasins.
Artik Green brings nature to life and gets knotty among its veins, hinting at magic between earth and sky. Progressive shades from light to dark green, marbling of gray and wisteria build to create a complex, three-dimensional and unique texture that recalls a forest seen from above or the show of the polar lights. From 2023, Kreoo has the exclusivity of this magic material to realize its pieces, from sinks and freestanding basins to room-centered bathtubs and complements. These items are iconic in their design, details and thickness, but they are now ultimately elevated to art products thanks to the material itself, which gives the condensation of painted geographies in its surface.

Shapes and proportions characterize the different declinations of Nabhi, a wide collection of countertop washbasins that includes rectangular, squared, circular and oval solutions in different configurations. The products are defined by the accurate study of the thicknesses, the gentle radius of the corners and the availability of numerous types of marble for customization, as well as dimensional variations. Nabhi is a family of bowls for bathrooms with great flexibility.