Kreoo Nami Collection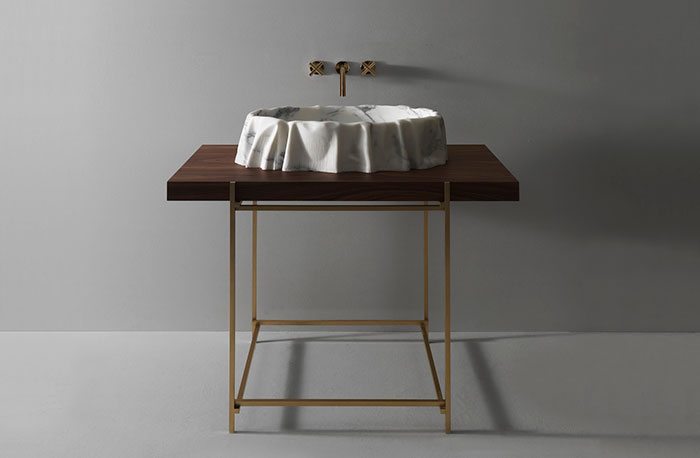 May 6, 2022
With the Nami collection, Kreoo aims to pay homage to the highest expression of the Italian history of art and to the unique process by which Michelangelo was able to engrave in marble his masterpieces. The washbasin, designed by Enzo Berti, recalls the drape of the veil of the "Pietà": the external shape of the basin resembles a worked fabric, with folds at different depths and an impressive effect of chiaroscuros that follow each other in a natural way defining an uneven upper profile. 
The softness of Nami's features is the result of a complex prototyping process. To create it, the designer started from a velvet drape laid over an oval bowl, which was scanned in 3D and then transformed into a digital image. The result was then reproduced by shaping the soft waves on marble thanks to an evolved industrial process followed by hand chiseling. The manual treatment is further visible in the vertical signs that accompany the fluid shape of the washbasin. It allows enriching the shades of marble with the texture of a precious yarn, giving it a particular tactile effect and guaranteeing the unrepeatability of each piece.  
The external appearance of the washbasin contrasts nicely with the perfectly smooth internal surface. Kreoo's Nami is available in five types of marble — White Carrara, Bianco del Re, Calacatta Carrara, Crema Marfil and Grigio St. Marie — and in one size.