Not Only White with HIMACS Noon Basin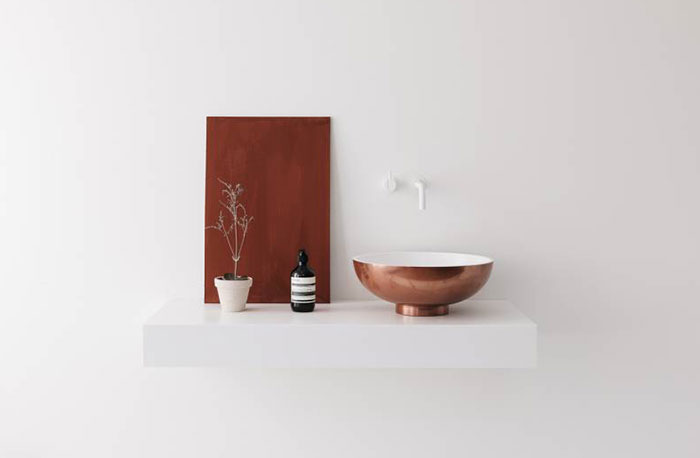 May 4, 2022
After the success of the Noon basin collection from Not Only White with HIMACS, the Dutch brand has been inspired by the elegance and subtlety of its models to design a new version of the Noon model. This latest new launch from the company, designed by Marike Andeweg and in collaboration with the solid surface material from LX HAUSYS, is coated in a thin layer of copper and seeks to give bathrooms a sophisticated hint of color.  
The new version of the Noon model, like the original, is made from HIMACS, chosen from a wide variety of materials because its properties mean it is possible to create uniform pieces that are totally seamless, among other advantages. This characteristic gives it a pure and smooth surface, allowing it to be positioned on a worktop or directly on the wall.  
A classic from this brand, with its traditional shape and the fact that it is the smallest round basin in the collection, the new model is also distinctive for its copper coating, achieved thanks to the use of the new Synergy 3D technology that enabled the coating to be 3D printed. With its subtlety and delicacy, this thin layer of copper gives the basin a bright reddish gleam that contrasts with the white of the solid surface. This play between contrasts and colors turns the Noon basin into the hero of the bathroom, transforming it into a stylish and minimalist space. 
The model is available in white with a copper coating, and it is possible to combine it with all kinds of colors and textures. It comes in a single size — 424mm in diameter and 160mm in height.